Still in beta! You can also browse all toolkits, and check out this blog post for more information about how we're organizing toolkits into types and disciplines.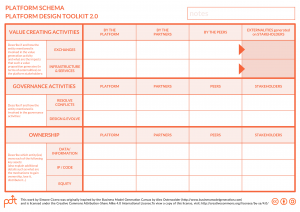 Platform Design Toolkit is based on the tradition of service design thinking and the publishers intend it to overcome the limitations in traditional, linear, business modeling approaches. This methodology is based on a multi-sided, ecosystem based, platform model instead of a traditional product or service design. Those interested in building their "government as a platform" strategy or building a suite of digital or non-digital products or services would likely find value in this approach but should be adapted for a public sector context.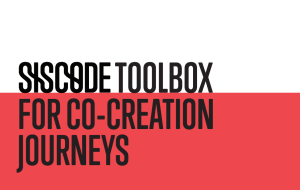 The main goal of the SISCODE Toolbox is to provide support for the co-creation labs in making sense of existing data, tools and toolkits. Co-creation is a non-linear process that involves multiple actors and stakeholders in the ideation, implementation and assessment of product services, policies and systems. The resource aims to improve their efficiency and effectiveness, and the satisfaction of those who take part in the process. The SISCODE Toolbox aims to facilitate the design and implementation of co-creation journeys, focussing on better understanding and prioritisation of the particularities of each context. The selection of tools and toolkits intend to support the development of design-based processes from the problem analysis to the ideation of a solution, the development of a prototype and its experimentation in a real-world context. The resource includes a set of canvases and basic instructions for their use.

An collection of communication tools used in service design processes that deal with complex systems, organised by design activities, representations, recipients, and contents. The website is the result of the research activity done by Roberta Tassi during her graduation thesis investigating the relation between communication design and service design, starting from the observation of the existing practices in the field of service design.
Each tool contains a description, how-to instructions, and case studies of its use.