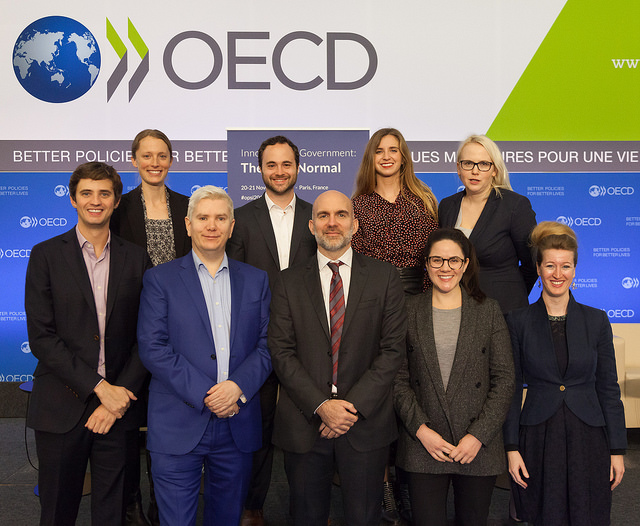 Who we are
The Observatory for Public Sector Innovation (OPSI) team are specialists in public sector innovation. We work with governments to understand and encourage new approaches to address society's complex problems.
We value creativity, modernisation and a clear-eyed focus on citizens' needs.
From our first-hand experience, we know that an innovative public sector makes better policy, builds constructive partnerships and delivers better services.
The challenge
Yet, public sector reform like this is not easy.
This is because governments are large, complex institutions. Often, we see that the public sector is organised and staffed in a way that might have easily fulfilled yesterday's requirements but are not suitable to address volatile and complex policy problems of today, let alone those of tomorrow.
The choice
Therefore, public sectors around the world face a choice.
Globalism and globalisation, growing economic inequality, climate change and disruptive technology challenge governments. Governments can continue with their 'business-as-usual' approach of piecemeal interventions, silos and slow (or no) uptake of new technology.
Or they can innovate.
They can connect and mobilise their different parts to generate holistic solutions, empower actors to be change makers and activate citizens to be co-designers of solutions for a better future.
At this tipping point, we can see that the old ways of working, no longer work.
If governments do not innovate better and more systematically, they risk irrelevancy. They will fail to keep pace with the society they are supposed to govern. In the end, they will lose the trust of the public who deserve better.
The change
Promisingly, there are 'pockets' of change. There are many good examples of public sector innovation. Although, many governments making great strides with innovation, we need to see every one walking the walk.
What we do
OPSI champions change and helps governments find ways to turn the 'new' into the 'normal'. We do this so that public sector innovation is not accidental but strategic and systemic. Our projects generate cutting-edge insights, surface exemplary case studies, find best practice, and build skills.
Join us
We want to work with you. If you are a leader who cares about your organisation's capacity to achieve its mandate, a public manager who wants to empower staff or a public servant who wants the opportunity and support to find new ways to achieve outcomes, get in contact with us.
Discover our specific projects and see how we can work with you.
Join our community to connect and collaborate with your international counterparts.
Tell us your public sector innovation story so we can learn from you.
Subscribe for the latest public sector innovation research, news and events.