Anticipatory Innovation Governance: Shaping the future through proactive policy making

Overview
Today's challenges – such as automation, climate change, ageing populations, pandemics, and deployment of artificial intelligence – have unpredictable and unintended consequences at both global and individual levels. Complex systems have become the norm rather than the exception. In this environment, "reactive" approaches to policy making have increasingly proven ineffective. Waiting until a crisis has struck to start imagining a way out of it can be far most costly (in both human and financial terms) than anticipating and preparing for the crisis before it occurs. As the health crisis due to the spread of COVID-19 has clearly demonstrated, we need to invest in anticipation.
To bridge this gap, governments need a new approach to policymaking that enables them to effectively address complex problems and uncertainty with new tools and instruments. This approach should be future-oriented, but also involve an action-oriented, innovation function based on anticipation. Despite the fact that foresight tools are increasingly integrated into policymaking, governments often lack a practical understanding of how to anticipate uncertain futures but also how to act on them today to achieve desired outcomes. This paper introduces the concept of anticipation and discusses the emerging practice around anticipatory innovation governance as a broad-based capacity governments can use to spur on innovations (defined as novel to the context, implemented and value shifting products, services and processes) connected to uncertain futures in the hopes of shaping the former through the innovative practice. This makes it different from traditional anticipation approaches: the aim is to not only create knowledge about what might happen, but also shape and prepare for it through innovation.
This paper provides an initial overview of anticipatory innovation governance within the context of academic and policy discussions on the future of policymaking. It discusses how such an approach turns the policymaking process on its head. Rather than policy determining the activities of individuals and groups within a system, individual experiments contribute to shaping policy and its effectiveness. This is done by outlining the parameters around which policymakers wish to make change and then by conducting one or more series of experiments testing and iterating on these parameters continuously with individuals or groups that would be affected and in a real world setting. As a result, governments are able to move towards their ideal future not by simply anticipating potential outcomes and developing innovative policy approaches to address them, but by taking action to ensure that these policy approaches work.
This paper builds on an extensive literature review on complexity and policymaking and OECD work in the area of policy innovation, system thinking, anticipation, emerging technology and foresight. The paper also draws on the discussion with experts from national governments and inter-national organisations conducted by the Observatory of Public Sector Innovation.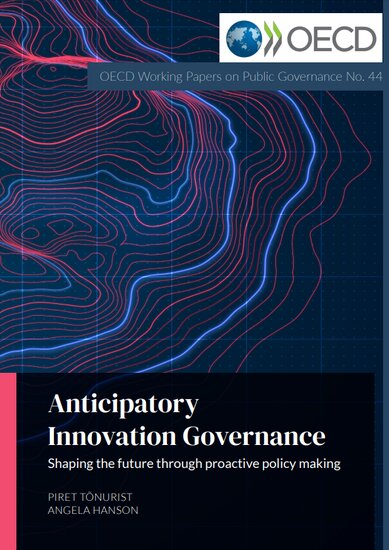 Anticipatory Innovation Governance: Shaping the future through proactive policy making
Published 24 December 2020.