Open Government for Stronger Democracies
15nov13:0014:30Open Government for Stronger DemocraciesLaunch of the Global Assessment on Open Government13:00 - 14:30 View in my time Event Organized ByOECD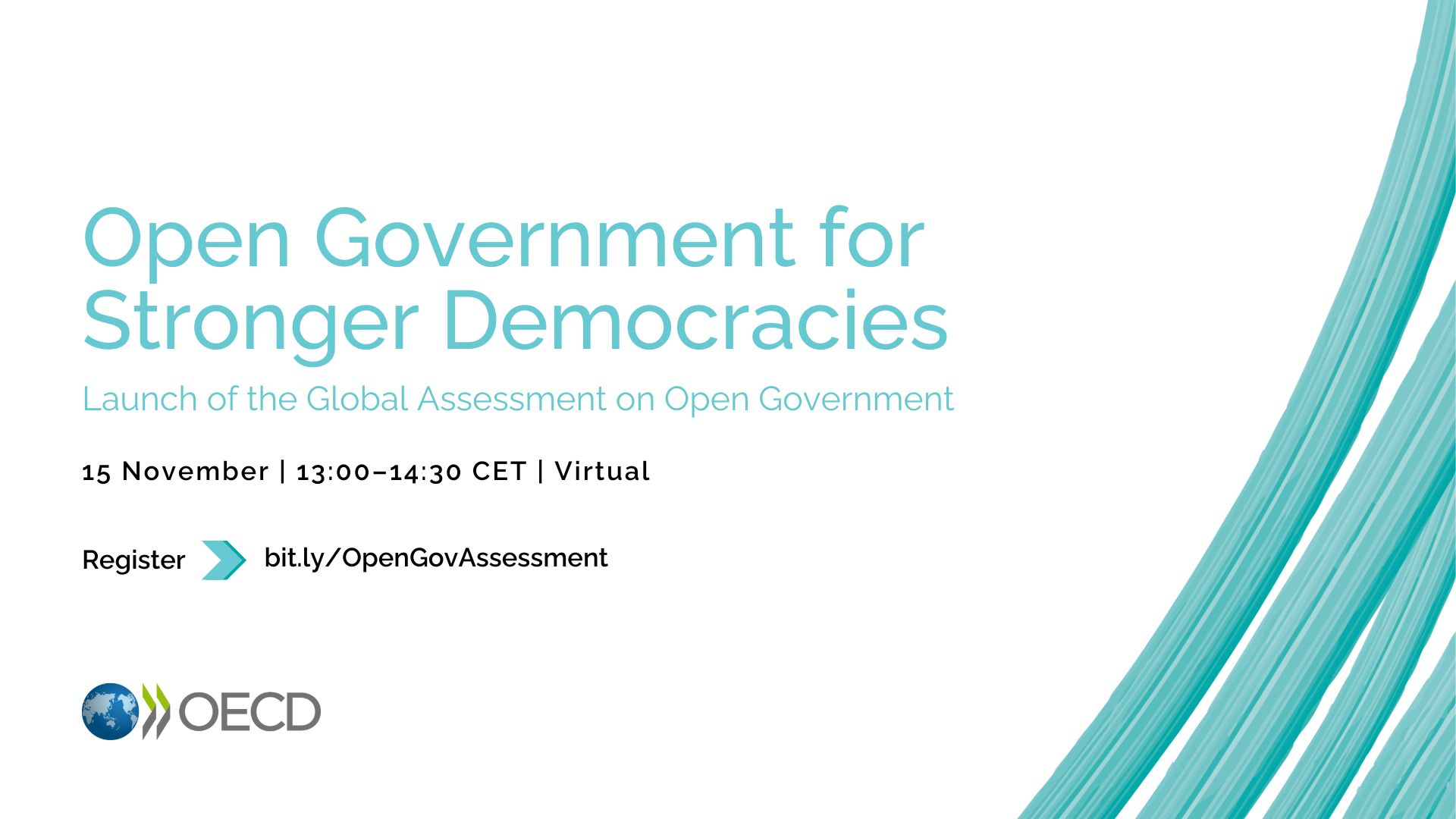 Event Details

Join us for the public launch event of the OECD report "Open Government for Stronger Democracies: A Global Assessment".

The principles of open government are being increasingly mainstreamed across public administrations and implemented at all levels of government and in different policy sectors. The 2017 OECD Recommendation on Open Government remains the first and only internationally recognised legal instrument on open government, and has been instrumental in advancing democracy, public trust, inclusive growth, and national open government agendas.

The upcoming OECD report takes stock of the dissemination of the Recommendation, the progress made in its implementation, and its continued relevance for countries worldwide.

Followed by high-level opening remarks, the OECD Secretariat will present the key findings of the report, highlighting implementation gaps, trends, and best practices. International experts will provide reactions and reflections on the report, offering insights into its implications and how it can guide countries in setting ambitious benchmarks for the future.

Opening remarks:

• Elsa Pilichowski, Director for Public Governance, OECD

• Sanjay Pradhan, CEO, Open Government Partnership (OGP)

• Anna-Kaisa Ikonen, Minister of Local and Regional Government, Finland

Panelists:

• Katju Holkeri, Chair of the OECD Working Party on Open Government and Senior Ministerial Adviser, Ministry of Finance, Finland

• Paul Maassen, Chief, Country Support, OGP

• Alvaro Ramirez Alujas, Professor at University of Chile and Principal investigator of the Research Group for Government, Public Administration and Public Policies

Register for the event here.
Time

(Wednesday) 13:00 - 14:30 View in my time
Organizer

The Organisation for Economic Co-operation and Development (OECD) is an international organisation that works to build better policies for better lives. Our goal is to shape policies that foster prosperity, equality, opportunity and well-being for all.