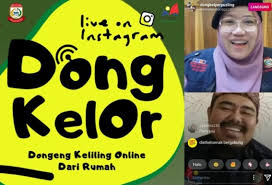 Innovative response
The Makassar City Library Services Office in South Sulawesi runs a variety of library outreach activities, such as mobile library services and travelling storytelling. Due to the COVID-19 pandemic, however, these face-to-face activities had to cease operation. To keep children entertained and ensure they remain intellectually active during the pandemic, the Makassar City Library Services Office came up with the idea to run storytelling events online. Called DONGKELOR, or Online Travelling Storytelling, the first episode was held using Instagram on 2 May 2020, National Education Day, with weekly episodes launched every Saturday thereafter. Episodes are also recorded and saved to YouTube.
Specific issues addressed and anticipated impact
The DONGKELOR activities keep children entertained, intellectually active, and mentally stimulated during the pandemic. Schools are shut across Makassar and families are encouraged to stay at home as much as possible, so ensuring children are entertained is important. The storytelling events also inform children and their families about COVID-19 at the same time. Feedback sent via Instagram shows that teachers are also using the DONGKELOR videos in their online classes, meaning the program has a wide reach.
Organisations/institutions involved
Makassar City Library Services Office
Potential issues
At the beginning, the staff involved in DONGKELOR had to quickly learn how to make high quality, interesting and entertaining videos, as well as how to use video broadcasting and recording services such as Instagram and YouTube. Fortunately the team is very motivated and was able to overcome these initial challenges.
The other challenge is that not all children and families have access to the internet.
Issues being addressed:
Information and practice sharing (with public and/or internal)

Public service delivery under new circumstances

Social effects of the crisis
Date Submitted:
3 November 2020