AI holds great promise for the public sector, and governments are in a unique position in relation to AI. They are capable of setting national priorities, investments and regulations for AI, and can also use it to redefine the ways in which the public sector creates policies and services. While the potential benefits of AI are significant, attaining them is not an easy task. Government use of AI trails that of the private sector; the field is complex and has a steep learning curve; and the purpose of, and context within, government are unique and present a number of challenges.
To help government officials understand AI and navigate considerations specific to the public sector, OPSI launched Hello, World: Artificial Intelligence and its Use in the Public Sector  (download link below) on 28 November 2019. "Hello, World!" is often the very first computer program written by someone learning how to code, and we want this primer to be able to help pubic officials take their first steps in exploring AI. This is the second in a series of primer on topics of interest for the innovation community, following on from the June 2018 Blockchains Unchained.
This primer benefited greatly from a public consultation held from 1 August through 15 September 2019. Through the consultation, OPSI received about 1,500 comments from over 75 individuals or organisations, including governments, academics, AI experts, businesses, and civil society organisations. OPSI made many revisions and additions to respond to the feedback received. Thank you to everyone who reviewed the draft report, and to all those who provided feedback!
As a companion piece for the draft primer, we have also developed an AI Strategies & Public Sector Components page, which discusses each country's complete or forthcoming national AI strategy. This includes a focus on the extent to which each specifically addresses public sector innovation and transformation. In addition, we also published an AI Resources page to serve as an evolving directory of tools and resources that we believes may be useful for civil servants and leaders.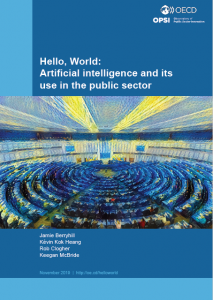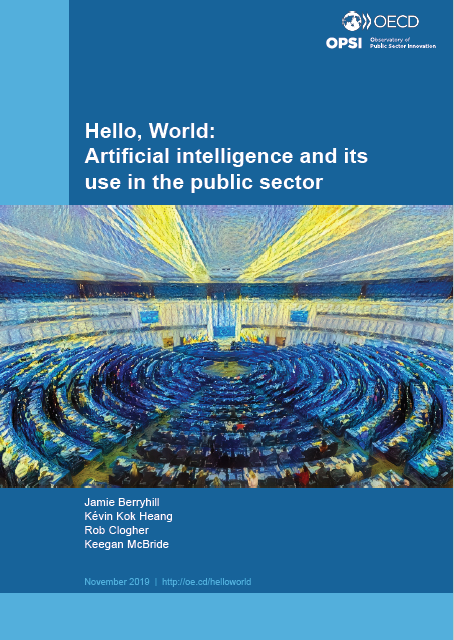 The final version of Hello, World: Artificial Intelligence and its Use in the Public Sector was launched on 28 November 2019. You can download it here.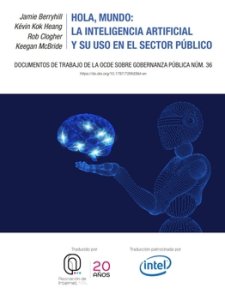 La versión final de Hola, mundo: la Inteligencia Artificial y su uso en el sector público fue lanzada el 28 de noviembre de 2019. Puede descargarla aquí.
La versión en español de este informe fue posible gracias a la Asociación Mexicana de Internet y INTEL. El equipo de OPSI agradece a la Asociación Mexicana de Internet y INTEL por su amable contribución.