Embracing Innovation in Government: Global trends 2020 – Innovative Responses to the COVID-19 Crisis

Introduction to 2020 trends
Under normal circumstances, the OECD Observatory of Public Sector Innovation (OPSI) and the United Arab Emirates (UAE) Mohammed Bin Rashid Centre for Government Innovation (MBRCGI) issue an annual report on key trends in government innovation. However, 2020 was not a normal year. Like the governments with whom we collaborate, much of our attention shifted to the COVID-19 crisis.
The focus for 2020 still intended to report on emerging trends that we uncovered, and to tell the stories of innovators who are working to make a difference in how government serves its people. But in order to provide information in a more timely way, the 2020 edition is instead presented as five reports over the course of the year, each focused on one of the innovative trends identified by OPSI and MBRCGI.
The year 2020 one of the most challenging years in most of our lifetimes. The COVID-19 pandemic rapidly and drastically changed the daily lives of nearly everyone, with more than half of the world's population placed in lockdown, the most severe economic recession in nearly a century, healthcare systems pushed to the brink of collapse and, tragically, hundreds of thousands of deaths.
Innovation is imperative to success in moving forward. In a chaotic situation with no precedent and no playbook, governments and their partners have few other choices but to act in new ways as they enter uncharted territory. In this context, the sharing of ideas and practices is critical: pandemics do not remain within borders and silos, and neither should the global response.
To facilitate this, OPSI issued a global Call for Innovative Government Responses to COVID-19 in order to gather innovative solutions being piloted by organisations responding to the crisis. Through research and analysis of the over 400 responses submitted be over 60 countries, OPSI and the MBRCGI have identified a number of key themes that are driving these public sector innovation efforts during the crisis, which are discussed in the report.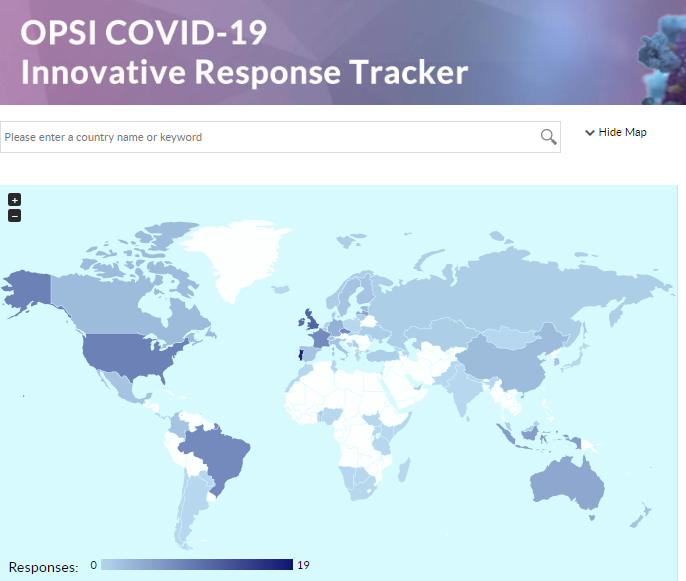 These themes are:
Theme 1: Rapid acceleration of digital innovation and transformation. Compressing years' worth of technological advancements into a few weeks and months.
Theme 2: Seeking bottom-up solutions and insights. Building conduits for new ideas, solutions and insights to come from citizens, residents and businesses.
Theme 3: Social solidarity and caring. The self-activation and mobilisation of millions of individuals who want to help their communities.
Theme 4: Reducing the spread through virus tracking and adaptive action. Taking actions that are critical to virus tracking and contact tracing in order to "flatten the curve" and limit the spread of the virus.
Theme 5: Forging a path to recovery. Devising exit strategies and ways to get economies back on track while also re-envisioning what the new normal should be.
Explore the digital story
OPSI has created a digital story version of this report, which walks readers through key themes, conclusions, and recommendations, as well as the case studies presented in the report.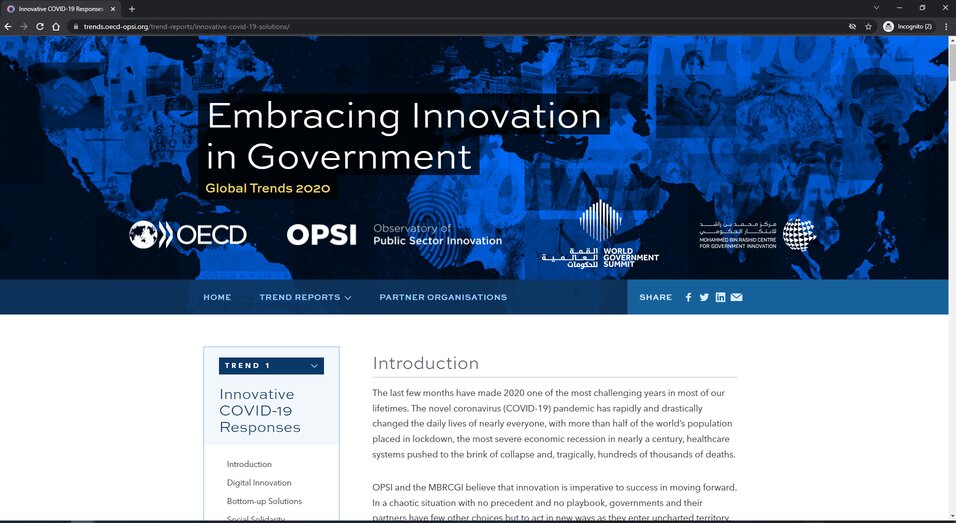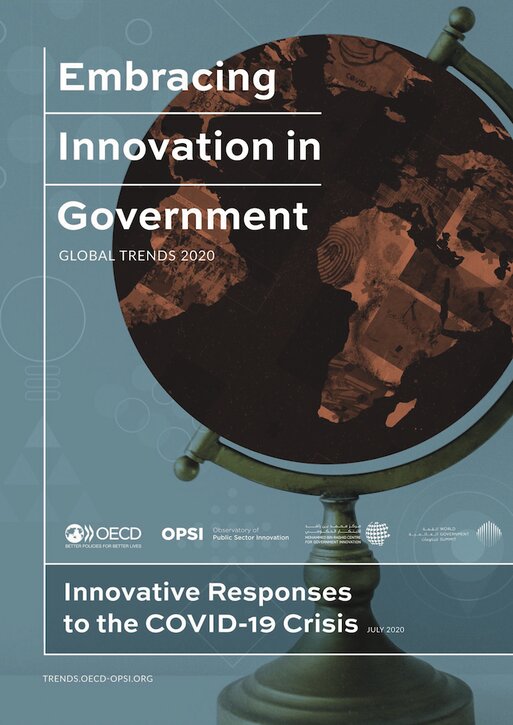 Embracing Innovation in Government: Global trends 2020 – Innovative Responses to the COVID-19 Crisis
Published on 1 July 2020.