Embracing Innovation in Government: Global trends 2020 – Public provider versus big brother

Introduction to 2020 trends
Under normal circumstances, the OECD Observatory of Public Sector Innovation (OPSI) and the United Arab Emirates (UAE) Mohammed Bin Rashid Centre for Government Innovation (MBRCGI) issue an annual report on key trends in government innovation. However, 2020 was not a normal year. Like the governments with whom we collaborate, much of our attention shifted to the COVID-19 crisis.
The focus for 2020 still intended to report on emerging trends that we uncovered, and to tell the stories of innovators who are working to make a difference in how government serves its people. But in order to provide information in a more timely way, the 2020 edition is instead presented as five reports over the course of the year, each focused on one of the innovative trends identified by OPSI and MBRCGI.
Public provider versus big brother
The fourth report in this series explores the powerful new technologies and opportunities that governments have at their disposal to let them better understand the needs of citizens. The research shows that governments must balance the tensions of using data harvesting and monitoring, and technologies that can identify individuals, to serve the public interest, with the inevitable concerns and legitimate fears about "big brother" and risks of infringing on freedoms and rights. Through the lens of navigating Public Provider versus Big Brother, innovation efforts fall into two key themes:
Theme 1: Data harvesting and monitoring. Governments have access to more detailed data than ever before, but such access involves risks and considerations which require serious reflection on the part of government.
Theme 2: Biometric technologies and facial recognition. A range of biometric tools offer opportunities to provide tailored services, as well as the unprecedented ability to identify and track individuals' behaviours and movements.
Explore the digital story
OPSI has created a digital story version of this report, which walks readers through key themes, conclusions, and recommendations, as well as the case studies presented in the report.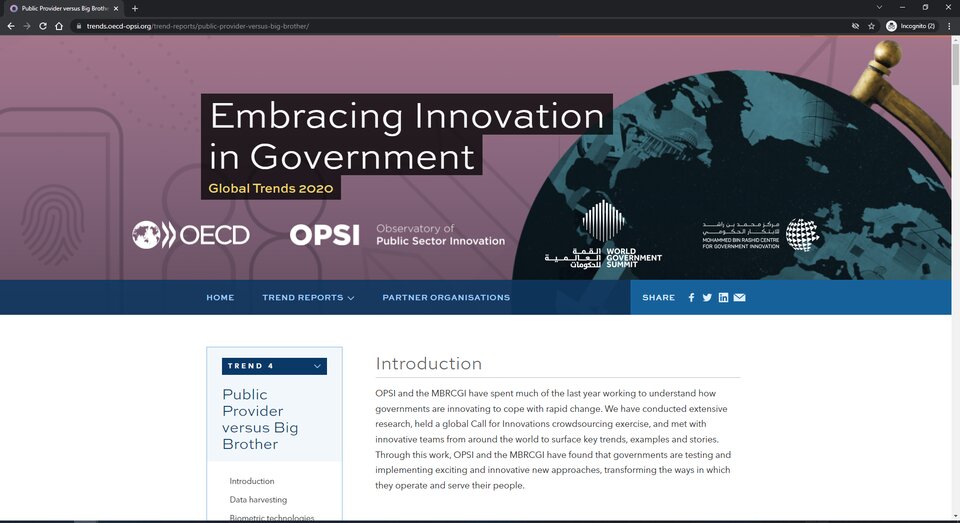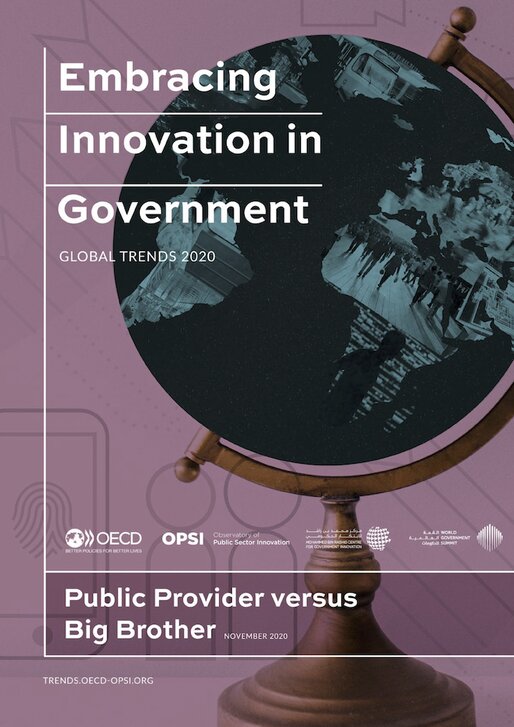 Embracing Innovation in Government: Global trends 2020 – Public provider versus big brother
Published on 2 November 2020.