The Innovation System of the Public Service of Brazil: An exploration of its past, present and future journey

Overview
Innovation is, and always has been, a defining part of the public sector. The public sector needs it to fulfil its obligations to government, to citizens and to service users. As the world evolves faster and faster, the operating context and the needs of citizens are also in flux, making innovation ever more relevant and essential.
Until now, the tendency of the public sector has been to rely upon innovation as a by-product of other processes, rather than to focus specifically upon it. This is no longer tenable. The public sector needs innovation to be a deliberate, continual, consistent and reliable resource, rather than an ad hoc, reactive, opportunistic or serendipitous process. Such a shift demands a systemic approach to public sector innovation.
The OECD's Observatory of Public Sector Innovation (OPSI) has collaborated with a number of governmental actors to explore what a systemic approach to innovation might involve for the Public Service of Brazil. While Brazil has a long history of public sector innovation, there is a clear need for greater innovation to address areas such as rising inequality, combatting corruption, fiscal constraints and enhancing trust in government.
The Government and the Public Service of Brazil have undertaken a range of initiatives to support, encourage or facilitate public sector innovation. These include innovation awards, networks, events, labs, training, leadership development, new legislation and the increased use of new methods and approaches. However, much of this innovation activity is driven by specific contextual factors rather than an underlying systemic approach that factors in collective needs and goals. Innovation is too often reactive rather than deliberate.
This report provides a framework for a systemic approach to public sector innovation, by:
examining the historical innovation journey of the Public Service of Brazil
investigating the lived experience of innovation
identifying what a systemic approach would involve and how existing activity compares
exploring how the existing system dynamics may play out in different scenarios
discussing key areas of opportunity for developing a more systemic approach.
Given that the innovation system will continually evolve as Brazil evolves, the report does not provide a set of recommendations, but instead outlines some key issues to help navigate the ongoing journey, no matter where it leads.
This report was conducted in parallel with, and complements, the companion report Innovation skills and leadership in Brazil's public sector. Together, these works will help Brazil develop a stronger, more deliberate approach to leadership and innovation.
Video presentation
On 25 November 2019, OPSI held a webinar on the key findings and conclusions on the innovation system of the public service of Brazil.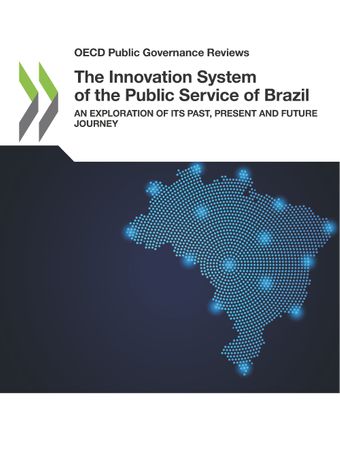 The Innovation System of the Public Service of Brazil: An exploration of its past, present and future journey
Published on 7 November 2019.