Strengthening the Innovative Capacity of the Public Sector of Latvia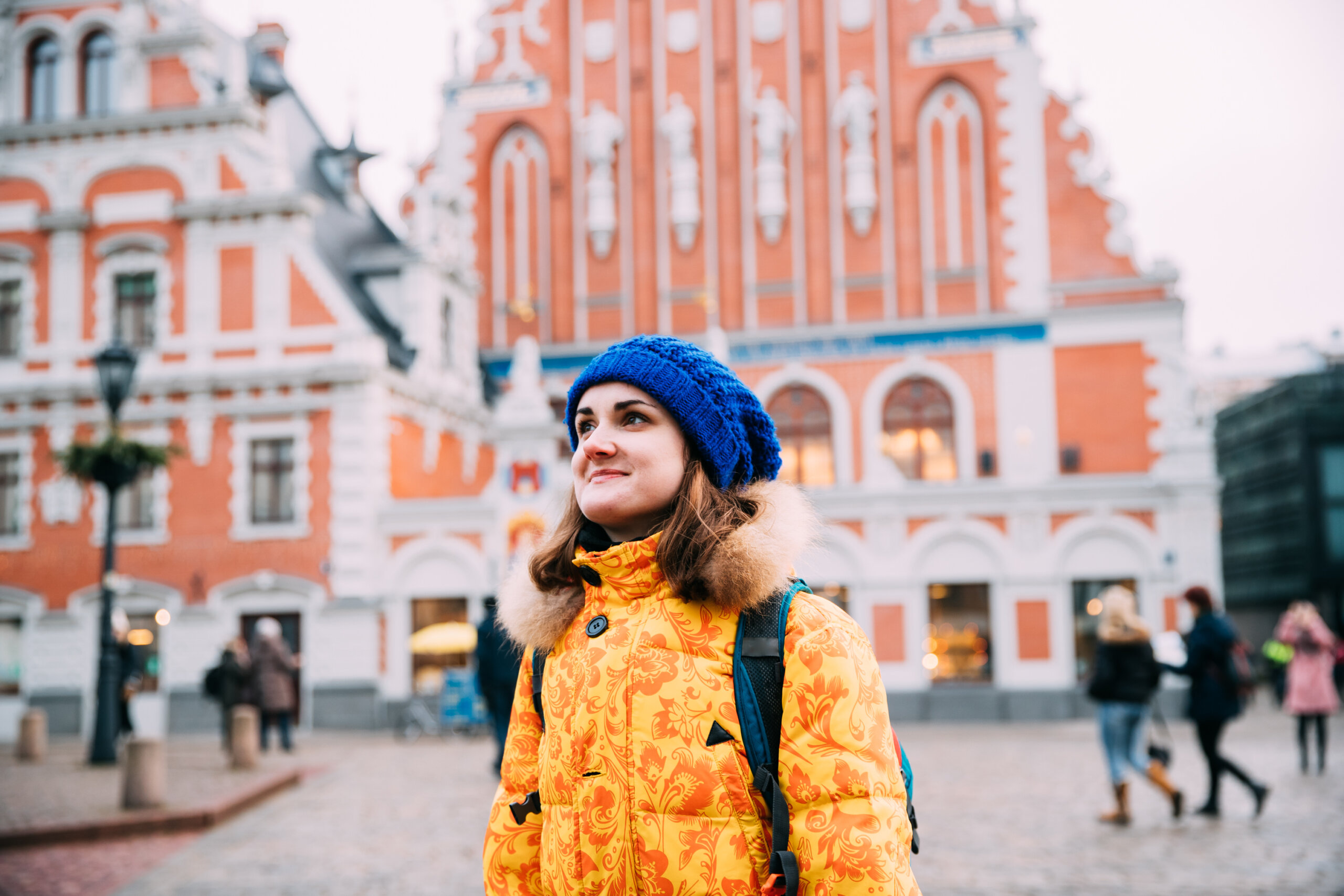 Introduction
The Government of Latvia has made some significant steps to support innovation in the public sector, yet more innovation is needed to meet today's complex challenges. While there are many inspiring examples of isolated innovative initiatives in Latvia, such as the Smart Municipality Programme and the Riga Neighbourhood Platform, the country has yet to fully capitalise on opportunities to enhance its overall innovative capacity and to empower public servants to work in new and novel ways.
Latvians are creative, there are a lot of people with great ideas who in their heart want to change things.

Interviewee from this project
The OECD publication, 'Strengthening the Innovative Capacity of the Public Sector of Latvia', provides a deep-dive investigation into Latvia's ability to apply innovative methods strategically and systematically. The report takes place against a backdrop of progress in Latvia – including the newly published Public Administration Modernisation Plan, Latvia's Innovation Laboratory, and preparations for a National Innovation Strategy – all of which offer great promise if they are supported by political will, and robust implementation plans and resourcing.
Unpacking the Framework for Change
"We need to find a way to enable those people – and to change the culture … this is how we get more, better things done." – Interviewee from this project
Through the lens of OECD Innovative Capacity Framework's four focus areas (purpose, potential, capacity and impact) , the report examines Latvia's national and municipal innovative capacity across three levels of perspective – the individual, organisational and systems level.
Purpose: What is driving the intent to innovate?
Potential: What determines whether innovative efforts are attempted?
Capacity: What is needed to carry out innovative efforts and integrate them into everyday practice?
Impact: How is the impact of innovative efforts understood and informing future practice?
The findings are drawn from more than 1000 surveys of civil servants (in national and municipal government) and civil society representatives, focus groups and workshops with representatives from a range of government institutions at different levels of seniority, interviews with civil servants, and a literature review.
Data is subsequently displayed via a heatmap, which further illuminates the challenges and opportunities for strengthening Latvia's innovative capacity. The heatmap highlights that the most urgent issues areas for Latvia's public sector lies at the system level potential (operating environment) and capacity (skills, staff and resources) to innovate.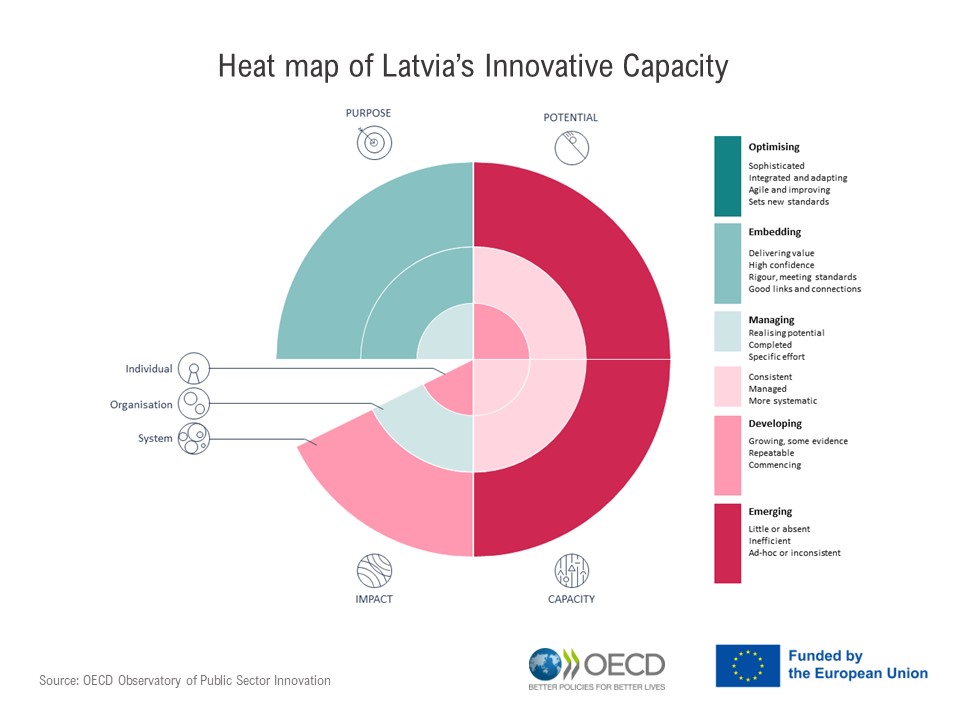 Key Findings
At its core, innovation in Latvia's public sector requires motivation, experimentation, skill-building, flexibility and effective measurement.
Drivers and motivators of innovation: Public servants in Latvia are all about improving citizens' lives and tackling pressing national issues. However, they often have to push hard against the public sector system to innovate – clear performance incentives for innovation could help reward innovative behaviour.
The public sector operating environment: In Latvia, public servants struggle to innovate due to time constraints, fear of failure, and complex bureaucratic processes – innovation doesn't happen naturally. To promote innovation, establishing safe spaces for trying new ideas and improving public services could help empower and equip public servants to innovate to create more effective public services.
Building capacity to innovate: Latvia's public sector workforce has untapped potential, but recruitment issues and limited funding hinder talent development. To foster innovation, investing in skills and diverse initiatives that go beyond mere efficiency could help to ensure the public service is equipped to innovate around current and future challenges.
Understanding impact: In Latvia, there are tools available for measuring policy impact such us auditing and budgeting. Yet some individuals lack training in effective measurement and data analysis which may help in understanding where innovation is needed most and whether innovations are working. Additionally, the establishment of forums to discuss both successes and failures can facilitate learning from innovative efforts.
You can't innovate without making mistakes.

Interviewee from this project
Moving Towards Action
Ultimately this report is a forward-looking report, and the following considerations were developed to support moving towards action:
Adopt a public sector innovation strategy and action plan, in collaboration with stakeholders and municipal governments, with a clear strategic vision and measurement indicators.
Implement a portfolio approach for innovative activities, including a national innovation fund and accessible public sector spaces.
Prioritize incentives to promote innovative behaviors.
Improve the relationship between audit and innovation, encouraging safe risk-taking.
Create interdisciplinary teams to identify how innovations can be implemented within existing governance frameworks.
Establish safe environments for learning and sharing innovation experiences.
Enhance capacity to measure impact and outcomes.
Strengthen communication around innovative projects for public awareness and knowledge sharing.
Overall, the report highlights that addressing these challenges and fostering a culture of innovation, both at the national and municipal levels, is key to unleashing Latvia's public sector's full potential and shaping a more dynamic future.
The report was funded by the European Union via the Technical Support Instrument, and implemented by the OECD, in cooperation with the European Commission.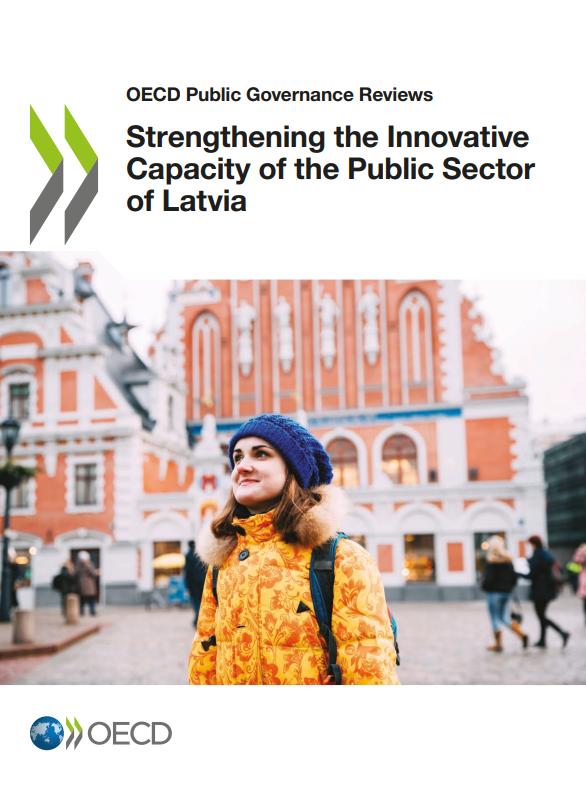 Strengthening the Innovative Capacity of the Public Sector of Latvia
Published: 10 October 2023