Still in beta! You can also browse all toolkits, and check out this blog post for more information about how we're organizing toolkits into types and disciplines.
This EU Quality of Public Administration Toolbox aims to support, guide, encourage and inspire those who want to build public administrations that will create prosperous, fair and resilient societies. The Toolbox tries to help countries with addressing country-specific policy recommendations and with delivering successful strategies and operational programmes.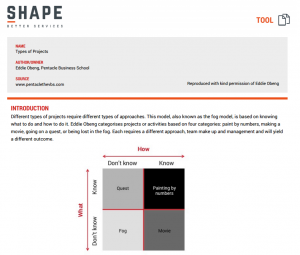 The stated aim of the resource is to enable public sector organisations to use design management thinking and methods currently used by leading companies in the private sector. There is a library tools that are available for free (one must subscribe to access the case studies.) Many of these are commonly-used design methods which have been tweaked and re-branded as Shape Better Services resources. The library content is free to view but using their online guidance requires a paid subscription.