Still in beta! You can also browse all toolkits, and check out this blog post for more information about how we're organizing toolkits into types and disciplines.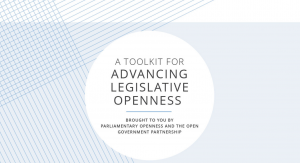 This resource aims to enrich the efforts of parliaments and their civil society counterparts to engage in collaborative processes, either as part of the Open Government Partnership National Action Plan or otherwise. The first section focuses on the development of open parliament commitments. The second section shares the experiences of a variety of parliaments and civil society organisations in collaborating in the creation of parliamentary openness commitments and in developing ongoing mechanisms for dialogue on openness. The final section shares some of the types of commitments that parliaments have made to become more open, accountable and engaging of citizens. It also lists additional resources that can be drawn upon to advance parliamentary openness.
The resource is available in English, Spanish, and French.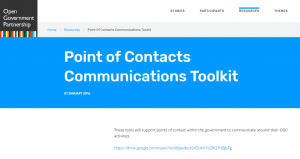 This is a collection of tools for an Open Government Partnership communications team, including the OGP's tips on blogging, branding, talking points, press guide, etc.
While this is specifically created for Open Government Partnership partners, it it can be adapted for other public sector initiatives, services, or programs.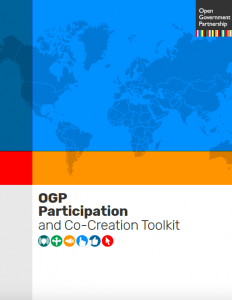 This resource describes open government good practices and presents them to encourage further adoption and innovation. The publisher's goal is to help government reformers and civil society partners in improving the quality and output of co-creation processes across the Open Government Partnership (OGP). The resource was created to aid OGP partners but is applicable to others interested in open government.
The Toolkit contains content organised in a Question & Answer format, a matrix of participation and co-creation standards, and a map of 100 case studies from 39 countries.