Still in beta! You can also browse all toolkits, and check out this blog post for more information about how we're organizing toolkits into types and disciplines.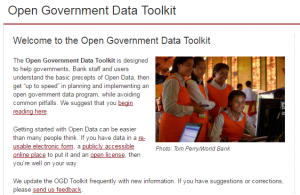 A collection of online guidance and knowledge to assist countries and others in setting up open data strategies and platforms.
The resource is comprised seven sections:
Open Data Essentials, Starting an Open Data Initiative,Technology Options, Demand & Engagement, Supply & Quality of Data, Readiness Assessment Tool, and Technical Assistance and Funding.