Sharing our lessons from teaching design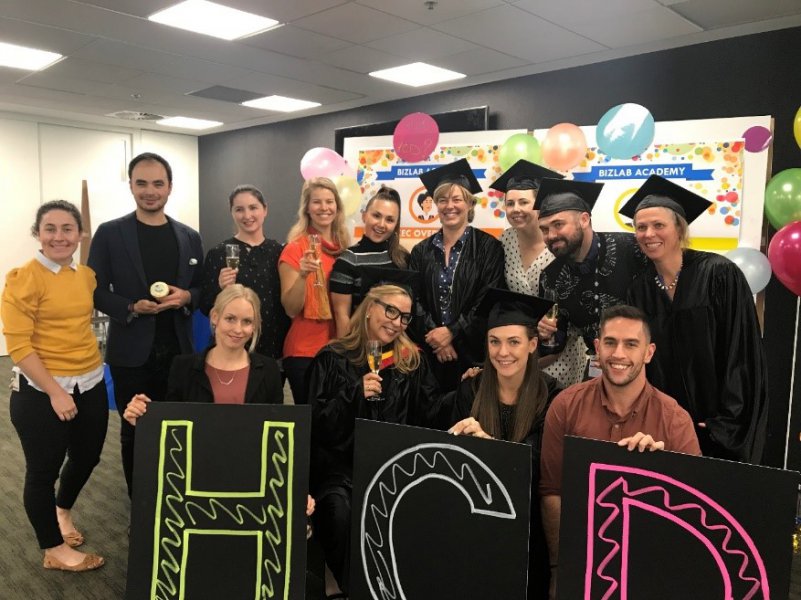 This guest post is written by Leeanne Douglas from BizLab within the Australian Government.
We have learned lots of lessons running the first human centred design academy in the Australian Government. It has been a bit of trial and error for us, so we thought we would share a few things that might help others in the same position.
BizLab, an innovation hub within Australia's Department of Industry, Innovation and Science, was established in 2016. When it was set up, staff were recruited from many different disciplines and we planned to train them in design thinking and human centred design (HCD) approaches. Good plan, but who would we get to train the staff? Our first thought was to ask how other agencies build their design thinking capability. We reached out to other government departments and found that they either trained their staff on-the-job, using home-grown practices, or they hired consultants at an extraordinary cost. We had a lightbulb moment – why not create our own training academy to fill this gap in the market?
After a few trial sessions and an internal pilot, the BizLab Academy was officially launched in 2018. At BizLab Academy, we teach HCD to employees from our own department but also the rest of the Australian Public Service (APS). The academy aims to strengthen the public sector's capability for evidence-based policy and service design, while at the same time instilling a citizen-centric culture and building an alumni of human centred design practitioners and advocates.
Our approach is to not only deliver training, but to also create a multiplier effect by training other HCD practitioners to deliver our course within their own organisations. One of our key principles is to share – whether it be our thinking, our experience or our resources. To that end, we are sharing our Academy 1.01 course material with you today, as well as some lessons we have learnt along the way. Here they are:
Use experienced HCD practitioners as presenters. We found you get the most traction by talking about first-hand experiences of using HCD techniques in projects. How this approach influenced real life projects and changed the direction of already-formed 'solutions'. The examples need to be relevant and appropriate for the participants in the room. If you have a room full of government workers, you need examples of where HCD has been used in government.
Just start, and iterate, iterate, iterate. We held our first course in July 2018, and have delivered it every month since. Each month we change, improve and iterate the content to make sure we are constantly improving the experience for the participants, and getting the key messages across.
Follow your own methodology. It is important to demonstrate you are using the methodology you are teaching. Call out when you are trying something new. Announce you are prototyping new techniques and ask for feedback on how it went. We are doing this often with all of our iterations.
Have compelling case studies. Sharing interesting stories of previous projects demonstrates to participants how HCD may be applied. Telling stories is better than teaching theory. Creating case studies from these stories will also provide a resource that will help graduates share what they have learnt with others.
Have fun! We add elements of fun through our warm-ups and when demonstrating how to use the skills. The presenters' role-play of how not to conduct an interview is enormously embarrassing to perform, but the laughter it sparks will reinforce that lesson better than any delivery of the same information in a dry and factual way.
Our challenge now is how to make the training 'stick'. We have all been on training courses where we have left all excited, but failed to apply the learnings to our work once we leave the classroom. To try to address this, we have established an alumni program to stay in touch with our graduates and support them once they return to their jobs. We are about to run a series of experiments to determine what will be of most use to the alumni……stay tuned. We will share our results later on in the year.