Still in beta! You can also browse all toolkits, and check out this blog post for more information about how we're organizing toolkits into types and disciplines.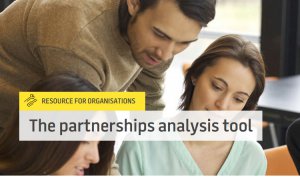 The resource was designed to help organisations: develop a clearer understanding of the range of purposes of collaborations, reflect on the partnerships they have established, and focus on ways to strengthen new and existing partnerships by engaging in discussion about issues and ways forward. The resource contains guidance as well as an interactive partnership assessment tool.
Although it was created with the health sector in mind, it is relevant for other sectors as well.
For innovation projects, Part 2: Choosing Partners may be problematic to assess since partners, approaches, and core business may be unknown.