Government Beyond Recovery: learning from crisis to build a future-fit public sector

Virtual Conference – Government Beyond Recovery: Towards a future-fit public sector: 18-19 October 2021
As we hurry to buy plane tickets to the next tropical destination or catch the latest James Bond movie in theatres, the sudden and dramatic restrictions we all experienced in early 2020 can feel like a distant memory. In the early days of COVID-19, many of us reflected critically on the things that mattered most in our lives and work; committing ourselves, out of necessity, to finding innovative and creative ways to function in a context of uncertainty.
A year later, do we remember what these things are? Our upcoming conference, Government Beyond Recovery: Towards a future-fit public sector, held from 18-19 October, is a deliberate opportunity to reflect back on these things, while also thinking forward: exploring how we can bring these learnings into action today, to build a public sector fit for the future. Ultimately, we want to explore the question:
How can recovery serve as a launchpad for better governance and a better future for society?
At the Government After Shock conference in November 2020, we took the time to reflect on the things that matter most in the context of governments and public governance. We considered how the COVID-19 pandemic changed our perspectives and approaches within governments. In particular, we focused on three key questions:
What do we need to keep?
What do we need to leave behind?
What should we do differently?
With over 6000 participants around the world, we had a chance to think deliberately about how we could learn from the crisis to build better governments and support better public outcomes.
Out of these conversations, six key takeaways emerged: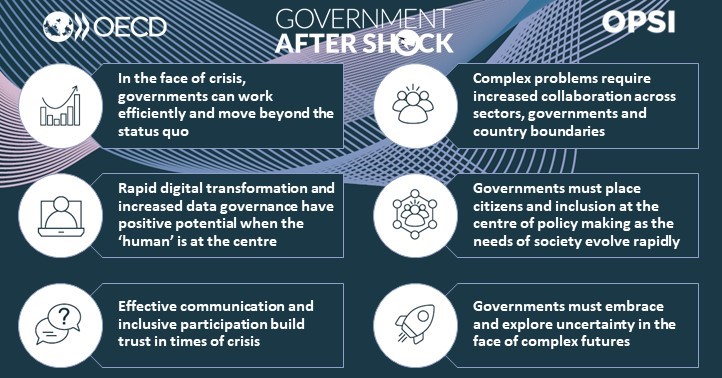 As many countries move into recovery, now is the time to build on the strong consensus around these points and embed them as principles of good governance. It is the moment for governments and society to prove that they have learned from the successes and failures of the last year and are using these learnings to deliver concrete, deliberate action to anticipate and overcome future crises.
"We must admit that the biggest risk to us all, one that is solidly based on evidence, is doing too little, too late."
– Jesus Cordero, Data Privacy Officer, Lawyer and Expert on Digital Rights, LegalTech (at the Government After Shock conference)
Government Beyond Recovery
On 18 &19 October 2021 at the Government Beyond Recovery conference, we will be convening around this opportunity to shape a better, more future-fit public sector. This event is geared to practitioners, researchers, public servants, and political leaders who are eager to explore how they can deliberately improve governance approaches to achieve better outcomes now and into the future. It will focus on concrete methods and approaches that governments can leverage to deliberately improve the capacity of the public sector to innovate, and to systemically introduce inclusive approaches into our governance systems. It is hosted collaboratively between the OECD, Slovenian Presidency of the Council of the European Union, and European Institute of Public Administration with the support of the European Commission's Horizon 2020 Programme.
Government Beyond Recovery will build on three key consensus points from the Government After Shock event, which form foundational principles for public governance:
Governments must embrace and explore uncertainty in the face of complex futures

Governments must place citizens and inclusion at the centre of policy making as the needs of society evolve rapidly
Complex problems require increased collaboration across sectors, governments and country boundaries
These key principles will form the basis of the panel discussions on:
This is a critical moment for governments to imagine new futures and new possibilities and to be deliberate in how they prepare for, and steer towards, potential futures. We hope you join us on 18-19 October – you can register directly on the conference website.
"We need to have the ability to imagine futures that do not exist yet and paths that take us there so that we are not bound by the current reality."
– Tytti Yli-Viikari, Auditor General, Finland (at the Government After Shock event)