What do public administrations have to do with digital startups? | ¿Qué tienen que ver las administraciones públicas con las startups digitales?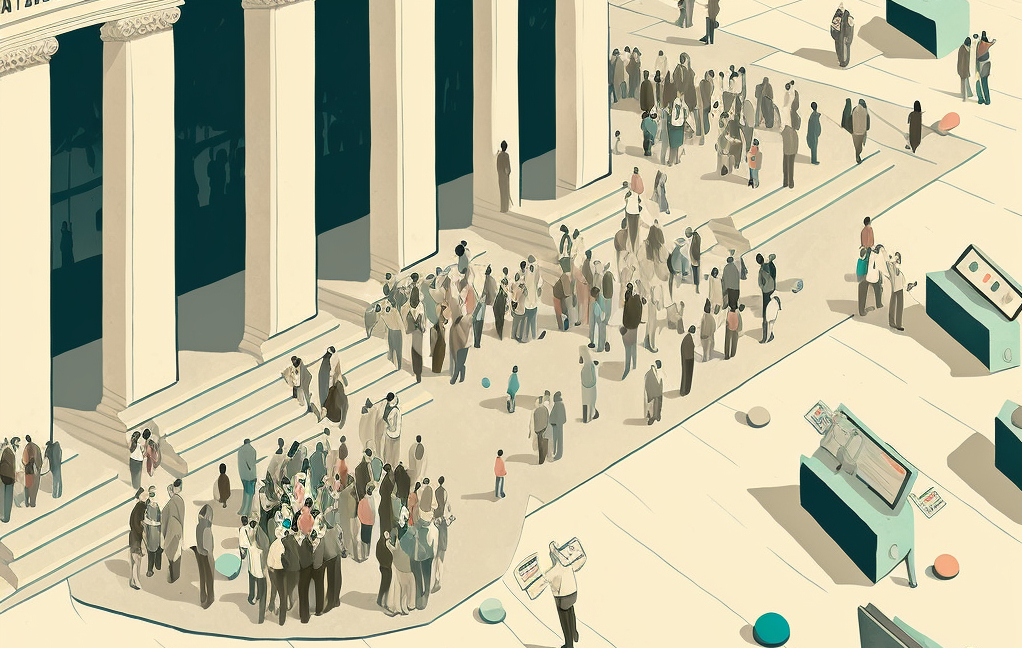 English
What do public administrations have to do with digital startups? A priori not much, given how diametrically opposed their institutional cultures, their value metrics, and their corporate goals are. But this is rapidly changing, boosted by the post-pandemic digital acceleration. Last November, the global govtech summit organized by the accelerator Public gathered in The Hague to take stock of the global state of play of govtech ecosystems. The concept of govtech refers principally to the use of emerging technologies and digital products and services by governments sourced from start-ups, scale-ups, and small and medium enterprises.
In a complex period marked by multiple, overlapping crises, more and more governments are exploring new forms of collaboration with digital startups to accelerate the transformation of their administrations and speed up the integration of new technologies in the public sector, fueled by developments in data analytics, artificial intelligence and machine learning. The post-pandemic recovery requires more agile delivery of public services and user-centered government services.
However, the long times and administrative complexities of government procurement are often antithetical to the speed and creativity of digital entrepreneurship ecosystems. In fact, many of those startups that seek to work with the administrations succumb in the attempt, in what is called the "valley of death." According to a recent study by Gartner, a technology consultancy, the purchase of technology in the public sector lasts, on average, 22 months. This is three times more than in the private sector.
Govtech ecosystems offer a new type of public-private partnerships to tackle enduring policy challenges and delivery bottlenecks by facilitating the uptake of digital innovations in government administrations, particularly in local governments. This newfound interest of governments in these public purpose technologies is due to a conjunction of factors.
The first is linked to the growing demand for innovation by the government administrations and local authorities that, at the same time, finds a greater supply of innovation by a new generation of digital entrepreneurs with a public vocation. These new "public ventures" seek to achieve social impact by resolving public problems and service delivery challenges, be they called civictech, edtech, healthtech, fintech, regtech, urbantech or greentech. Their dynamism is not only confined in more mature digital economies, but also emerging economies seeking to leapfrog digital transformation, such as in Latin America, according to the govtech maturity index developed by the Development Bank of Latin America, CAF. Indeed, for Idoia Ortiz de Artiñano, a visionary govtech entrepreneur "Latin America is the next frontier for govtech."
The other factor is the rapid growth of the public market for government technologies, driven by the rapid digitization of administrations. In fact, the public sector is the world's main buyer of technology. According to Gartner, the global market for government technology will reach 566 billion dollars in 2022, a growth of 5% compared to 2021, when it had already grown 9.1% compared to 2020. It is expected to exceed 600 billion dollars in 2023. This growth is mainly driven by the purchase of digital services and software.
A third factor is the post-pandemic recovery and resilience programs on the twin green and digital transitions. At least 20% of the 672.5 billion euros of the European recovery and resilience plan must be allocated to the digital transition and 37% to the green transition. For example, Spain's recovery, transformation and resilience plan will allocate 28% of its 69.5 billion to the digital transition and 40% to the ecological transition, both cross-cutting axes of the plan. The digital modernization of public administrations also occupies a special place, with an allocation of 4.2 billion euros. In 2022, the European Commission launched a number of initiatives to foster govtech ecosystems across Europe, such as the European GovTech Incubator.
Governments – national and subnational – are increasingly investing in agile and open innovation, and working with these public-minded startups to develop new solutions to old problems. Through the development of public challenges, government agencies go to the start-up market to seek solutions to specific problems that have the potential to be deployed and scaled.
Countries as diverse as Singapore and Colombia, Denmark and Germany, Britain and France, Poland and Lithuania, have deployed govtech labs, incubators and funds. In Luxembourg, for example, in 2019, the Ministry for Digitalization created its GovTechLab, a public innovation accelerator that seeks to generate a culture of agility, experimentation and collaborative governance, according to our recent review from the OECD. Similarly, Spain's digital transformation strategy España Digital 2025 foresees the creation of a GobTechLab to incubate digital solutions in government administrations. For Carme Artigas, Secretary of State for Digitization and Artificial Intelligence of Spain, "we cannot modernize the economy if the public administration is not modernized; if this is not done, we will have a 21st century administration with 19th century processes." In Colombia, with the support of the Development Bank of Latin America, the MiLab innovation lab has been developing govtech solutions with a public impact through open challenges.
Govtech ventures are pespecially relevant at the local level to solve concrete problems of citizens in their dealings with local bureaucracies. The GovTechLabMadrid of the provincial government of Madrid was the first govtech lab powered by the govtech accelerator Gobe. In the midst of a pandemic, 10 public challenges were launched for municipalities to pilot agile solutions, both in large cities such as Madrid, Las Rozas or Alcabendas, as well as small municipalities in the Sierra North. Likewise, the provincial government of Bizkaia recently launched its govtech accelerator, GovTechBizkaia. Over the next 3 years, it will work on 15 public challenges for its departments.
In particular, cities have embraced govtech ecosystems, partly to foster and leverage local tech entrepreneurship. Cities such as Madrid, Bogotá, Monterrey or Córdoba have developed their own govtech programs. For Madrid, working with startups is already part of its digital strategy to provide "more agile digital services in times of disruption," according to Fernando de Pablo, the city's chief digital officer. With support from the European Commission, Madrid will develop the first govtech incubator, starting with 6 challenges to pilot innovative solutions. With the support of Bloomberg Philanthropies, Bogotá has been strengthening its open innovation ecosystem with the creation of the Bogotá Public Innovation Lab and the District Data Analytics Agency (Ágata) to improve district public management. In Monterrey, the Secretary of Innovation and Government promotes digital innovation to streamline municipal services, partnering with govtech startups.
For its part, Córdoba developed an ambitious digital public innovation program through an investment fund in startups and scale-ups to streamline municipal administration and urban management, the Córdoba Smart City Fund, the first municipal venture capital fund for investment in govtech in Latin America. Financed by a local tax and supported by multilateral development banks, its first round of investment in October 2022 included 10 startups for almost $1.2 million. In addition to contributing to modernize administrations, these initiatives support local micro-entrepreneurs to develop digital solutions for administrations. For its mayor Martin Llaryora, it is about "being disruptive. This is a political decision: we are committed to innovation… We want to hack the way in which the municipality moves." It is thus no surprise that multilateral institutions such as the Inter-American Development Bank are investing in govtech ecosystems in cities in Latin America, though the GovTechLatam initiative launched in 2022.
At the govtech summit in The Hague last November, it was asked whether the wave was already passing. The conclusion reached by the participants was however the opposite: this wave is only beginning to rise. Govtechs and their civil society sisters, civic-techs, are central to renewing democracy in the digital age, as digital transformation ministers stressed at the OECD summit on trust and democracy by launching an initiative to reinforce them.
Español
¿Qué tienen que ver las administraciones públicas con las startups digitales? A priori no mucho, dado lo diametralmente opuestas que son sus culturas institucionales, sus métricas de valor, y sus metas corporativas. Pero esto está cambiando rápidamente tirado por la aceleración digital postpandemia, como lo resaltó la cumbre mundial govtech recién convocada en La Haya por la aceleradora de startups Public. En este periodo complejo marcado por múltiples crisis que se sobreponen, fortalecer la capacidad de entrega de los estados se ha vuelto imprescindible; para ello se necesita creatividad y nuevas alianzas público-privadas.
Son cada vez más los gobiernos que apuestan por nuevas formas de colaboración con startups digitales para acelerar la transformación de sus administraciones y agilizar la integración de nuevas tecnologías en el sector público, a menudo basadas en analítica de datos e inteligencia artificial. Los tiempos largos y las complejidades administrativas de la compra pública suelen ser antitéticos a la celeridad y creatividad de los ecosistemas de emprendimiento digital. De hecho, muchas de aquellas startups que buscan trabajar con las administraciones sucumben en el intento, en lo que se denomina el "valle de la muerte." Según un recién estudio por Gartner, una consultora tecnológica, la compra de tecnología en el sector público dura, en promedio, 22 meses. Esto es tres veces más que en el sector privado.
Los ecosistemas govtech ofrecen sin embargo un nuevo tipo de asociaciones público-privadas que buscan resolver algunos de los impedimentos a la innovación pública y el despliegue de nuevas tecnologías en las administraciones, en particular en los gobiernos locales. Esto se debe a una conjunción de factores. El primero está ligado a la creciente demanda de innovación por las mismas administraciones que, al mismo tiempo, encuentra una mayor oferta de innovación por una nueva generación de emprendedores digitales con vocación pública. Estos nuevos "emprendimientos públicos" buscan lograr impacto social en todos los ámbitos de política pública, llámense civictech, edtech, healthtech, Fintech, regtech, urbantech o greentech. El dinamismo de los emprendimientos con vocación pública no se confina a las economías digital más avanzadas, pero también las economías emergentes como las latinoamericanas, según el índice de madurez govtech desarrollado por el Banco de Desarrollo de América Latina CAF. De hecho, para la emprendedora govtech Idoia Ortiz de Artiñano, "América Latina es el próximo El Dorado para las govtech."
El otro factor es el crecimiento exponencial del mercado público de tecnologías de gobierno, impulsado por la rápida digitalización de las administraciones. De hecho, el sector público es el primer comprador de tecnología. Según la misma Gartner, el mercado global de tecnología gubernamental alcanzará los 566 mil millones de dólares en 2022, un crecimiento del 5% en comparación con 2021, cuando ya había crecido del 9.1% en relación con 2020. Tendría que superar los 600 mil millones de dólares en 2023. Este crecimiento viene impulsado por la compra de servicios y software digitales.
Un tercer factor son las subvenciones europeas para acompañar las transiciones verde y digital. Al menos 20% de los 672.5 mil millones de euros del plan de recuperación y resiliencia europeo debe estar destinados a la transición digital y 37% a la transición verde. El plan de recuperación, transformación y resiliencia de España destinará un 28% de sus 69.5 mil millones a la transición digital y 40% a la transición ecológica, ambos ejes transversales del plan. La modernización digital de las administraciones públicas ocupa un lugar especial, con una asignación de 4.2 mil millones de euros. En 2022, la Comisión Europea lanzo varias iniciativas para promover las colaboraciones entre administraciones y govtechs en Europa, por ejemplo, a través del Incubador GovTech.
Los gobiernos – nacionales y subnacionales – invierten cada vez más en la innovación ágil y abierta, y trabajan de la mano con estas startups con vocación pública. Países tan diversos como Singapur y Colombia, Dinamarca y Alemania, Gran Bretaña y Francia, Polonia y Lituania, han desplegado laboratorios, incubadoras y fondos govtech. En Luxemburgo, por ejemplo, en 2019, el Ministerio para la Digitalización creó su GovTechLab, una aceleradora de innovación pública que busca generar una cultura de agilidad, experimentación y gobernanza colaborativa, según nuestra recién evaluación desde la OCDE. A través del desarrollo de desafíos públicos, los ministerios y servicios públicos pueden proponer soluciones a problemáticas específicas que tengan potencial de ser desplegadas y escaladas posteriormente. En Colombia, por ejemplo, con el apoyo de CAF, Banco de Desarrollo de América Latina, el laboratorio de innovación MiLab viene desarrollando soluciones govtech de impacto público a través de retos abiertos.
Govtech ya es una realidad en España. Los emprendimientos govtech son particularmente relevantes a nivel municipal para resolver problemas concretos de los ciudadanos con los trámites de sus principales momentos de vida. El GovTechLabMadrid de la Comunidad de Madrid fue el primer laboratorio govtech desde donde, en plena pandemia, se lanzaron 10 retos de municipios madrileños para pilotar soluciones de startups, tanto en ciudades grandes como Madrid, Las Rozas o Alcabendas, como pequeños municipios de la Sierra Norte. Asimismo, la diputación foral de Bizkaia acaba de lanzar su aceleradora govtech, GovTechBizkaia, con el apoyo de la aceleradora española Gobe. Durante los próximos 3 años trabajará 15 retos públicos de sus departamentos. La misma estrategia de transformación digital de España Digital 2025 prevé la creación de un GobTechLab para incubar soluciones digitales para el propio estado. Para Carmen Artigas, Secretaria de Estado para la Digitalización y la Inteligencia Artificial de España, "no podemos modernizar la economía si la administración pública no se moderniza y, si no se hace, tendremos una administración del siglo XXI con procesos del siglo XIX."
Ciudades como Madrid, Bogotá, Monterrey o Córdoba, también se están atreviendo a desarrollar sus propios programas. En el caso de Madrid, el trabajo con startups ya es parte de su estrategia digital, son parte del consorcio que desarrollará la primera incubadora govtech de la Comisión Europea y a finales de este año empezarán a identificar 6 retos para pilotar soluciones innovadoras. Con el apoyo de Bloomberg Philanthropies, Bogotá ha venido fortaleciendo su ecosistema de innovación abierta con la creación del Laboratorio de Innovación Pública de Bogotá y la Agencia de Analítica de Datos del Distrito (Ágata) para mejorar la gestión pública distrital. En Monterrey, la Secretaría de Innovación y Gobierno impulsa la innovación digital para agilizar los servicios municipales, aliándose con startups govtech.
Por su lado, Córdoba desarrolló un programa ambicioso de innovación pública digital a través de un fondo de inversión en emprendimientos de startups y scale-ups para agilizarla administración municipal y la gestión urbana, el Fondo Córdoba Ciudad Inteligente, el primer fondo municipal de capital riesgo para inversión en govtech de Latinoamérica. Financiado por un impuesto local y apoyado por la banca multilateral de desarrollo, su primera ronda de inversión en octubre incluyó 10 startups por más de 1 millón de dólares. Además de contribuir a modernizar las administraciones, estas iniciativas apoyan los micro emprendedores locales para desarrollar soluciones digitales para las administraciones. Par el Intendente Martín Llaryora se trata de "ser disruptivos. Esto es una decisión política: apostamos por la innovación … Queremos hackear la forma en la que el municipio se mueve." No es sorpresa, por lo tanto, que instituciones multilaterales como el Banco Interamericano de Desarrollo empiecen a invertir en estas startups govtech operando en las ciudades latinoamericanas a través de iniciativas como GovTechLatam lanzada en 2022.
En la cumbre govtech de la Haya se planteó si la ola ya estaba pasando. La conclusión a la cual llegaron los participantes fue, sin embargo, la opuesta: esta ola sólo está empezando a subir. Las govtech y sus hermanas de la sociedad civil, las civic-techs, son centrales para renovar la democracia en la era digital, como lo subrayaron los ministros de transformación digital en la cumbre de la OCDE sobre la confianza y la democracia al lanzar una iniciativa para reforzarlas.