Launch of Rules as Code forum for government officials

Last week, the OPSI hosted a Rules as Code meet-up for government and inter-governmental organisation (IGO) officials. The meet-up was the first of several that the OPSI intends to host in support of a growing movement in public administration inspired by the promise of Rules as Code (RaC). We at OPSI believe in the promise of RaC as an emergent approach, something we explored in our RaC primer. We think that this is something which should be encouraged and supported, firstly by connecting and sharing lessons between government practitioners. This new forum is open to all officials working on or interested in RaC (see below for details on how to join).
At last Tuesday's event, we were joined by Jacki Muir and Asghar Kazi of the New South Wales (NSW) Government Department of Customer Service, as well as Liam McCann of the Department of Planning, Industry and Environment. Together, they spoke about the impressive work currently underway to scale and mainstream a RaC approach across the NSW Government. After emerging in certain pockets, it now seems clear that a broader recognition of RaC and its potential benefits is developing.
Illustrating this, the team outlined the findings of a NSW Treasury Report from 2020 (see Figure 1) that highlighted the considerable percentage of prescriptive rules which could be amenable to a RaC approach, as well as the potential for significant benefits and cost-savings. From "just a 5% compliance cost reduction in New South Wales" the Treasury estimates that anywhere between $500M and $6B AUD could be saved. As we often get asked about how RaC could drive benefits for both the public sector and the broader community, this was an illustrative insight.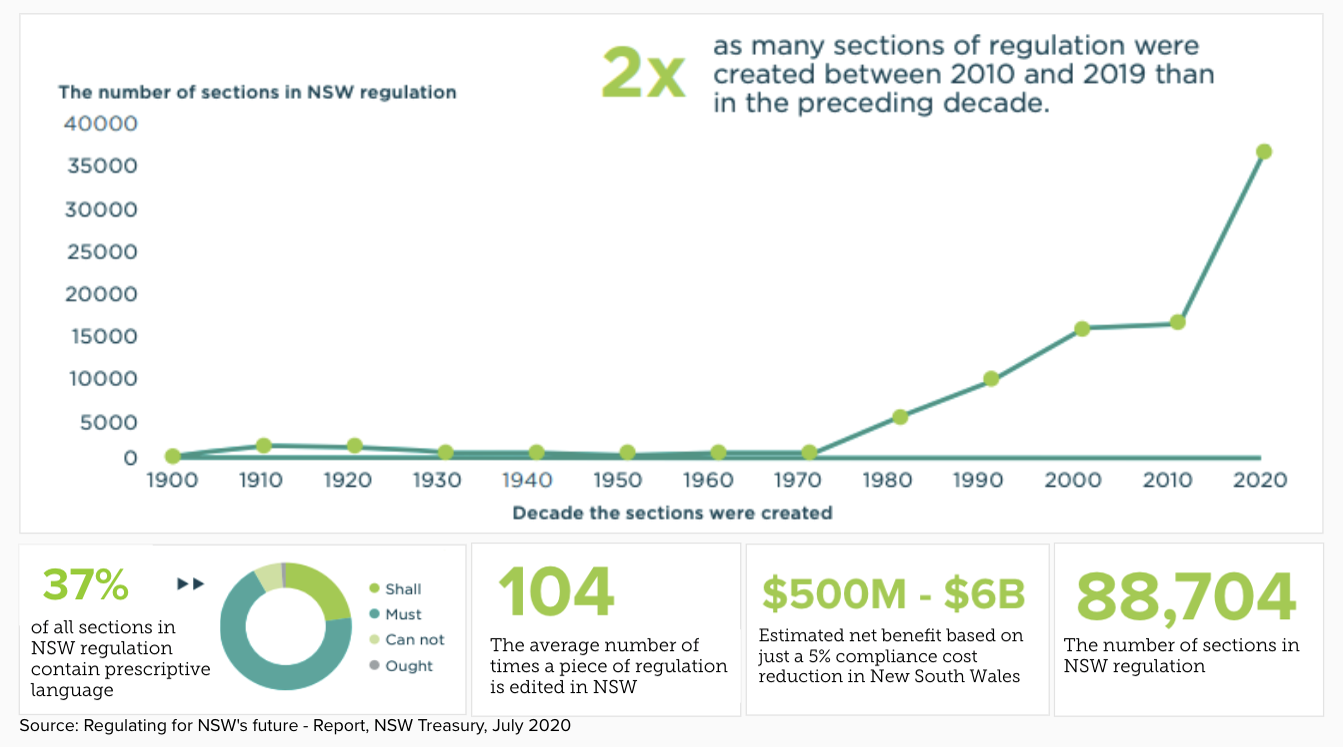 The meet-up then heard from Marina Yastreboff, Natalia Crnomarkovic and Esther Semo on behalf of the Australian Society for Computers and Law (AUSCL). Recently, the AUSCL have commenced a new event series focused on RaC – with their first event drawing significant interest across government and industry. This was also an opportunity to hear about their Australia and New Zealand RaC Community of Practice (which is also open to members from across the world).
These discussions informed the final session of the meet-up, where the OECD introduced its new RaC forum. This forum will serve as an informal, dedicated space for officials to share information, exchange experiences and collaborate on global RaC initiatives. The forum's members will be invited to engage in future meet-ups and it may later form the basis of an official RaC working group.
Of course, we would like as many people as possible to join and contribute to this new forum. So, if you or someone you know is working in government or in an IGO and is interested in joining, Contact Us (using an official email address) and we will add you. Please note, recordings of the presentations from the meet-up will only be available through the forum.