Creating Time for Caregivers: Care Blocks as pathways to social inclusion in Bogotá

English
Time is a scarce resource. It is even more scarce for female caregivers who devote their lives to sustaining life, families, and society. The City Government of Bogota, under the first female elected Mayor, designed and implemented the Care System to create time for these women, close gender gaps as well as address climate, mobility and public management challenges faced by cities globally.
In Bogotá, 52% of the population are women. Thirty percent of them, that is 1.2 million, do unpaid care work as their main activity. They spend an average of seven hours per day washing, cleaning, cooking, and caring for children, the elderly, and people with disabilities. Although these tasks are indispensable for life, they are neither recognised nor remunerated. It is very common for someone to ask "what does your mother do?" and the answer to be "she doesn´t do anything. She is always at home", even when that means she spends all day caring for family members and the household.
The sexual division of labour has meant that care work falls disproportionately on women. This imbalance in the provision of care has profound consequences for women and society at large. Women are not only trapped in economic poverty, but also in time poverty, a structural cause of gender inequality.
Because care is not equally shared among men and women, women are often forced to drop out of school or higher education, they lack economic autonomy and time for self-care or participation in politics and face higher probabilities of being victims of gender-based violence. Of the 1.2 million female caregivers in Bogota who do unpaid care work as their main activity, 70% of them have high school as their highest educational level, 33% report having no free time, 20% have diagnosed chronic mental and physical illnesses derived from the care burden and 90% are low-income (ENUT 2017).
Responding to the historic demands of Bogotá's women's social movements, and to avoid that taking care of others results in neglecting women's own lives and enhances gender inequality, Bogotá designed and launched the first city-level Care System in Latin America. It articulates new and existing services from 13 sectors of the City Government, to address care demands in a shared-responsible manner between the City Government, the National Government, the private sector, communities, and households. This modality balances the provision of care so that caregivers have time to pursue personal development, self-care, well-being, income generation and engage in political participation.
Ultimately, the Care System seeks to achieve the 3 R´s: recognize the role of care and caregivers, redistribute care more equitably between men and women, and reduce the time women dedicate to care. In doing so, it levels the playing field in terms of rights and opportunities for women.
How does the Care System work?
The main operating form of the Care System are Care Blocks (in Spanish, "Manzanas del cuidado"). Care Blocks are areas of the city in which we concentrate infrastructure and services to provide proximate and simultaneous care to caregivers and care receivers. They are a land-use planning model that integrates care and tactical urban planning with a gender perspective.
Care Blocks innovative operation design simultaneously provides free of charge professional care to those needing it – children, the elderly, and people with disabilities – and educational, well-being and income generation services for caregivers whose time is freed up. In Care Blocks, services for women include vocational and educational training, psychological and legal counselling, exercise and dance classes, bike and swimming lessons, and free laundry service, all while providing care for their care receivers. This removes barriers to access imposed by care responsibilities. That is the key. To complement this, and under the motto "we can all learn to care", men can engage in "Care School for Men" where they learn to cook, do laundry, iron, or bottle-feed a baby, among other care tasks. Transforming the culture and gender stereotypes around care is indispensable to attain the 3R´s. For example, while a caregiver enrolls in a programme to finish high school or to learn how to use a computer, her grandchild can participate in playful activities and her son with disabilities in physical activity.
Care Blocks offer a context specific solution that uses a radical, ease-of-access modality at a level that has never been tested before. It introduces a new criterion for the city's urban planning that locates caregivers and care work at the centre and organises the city to meet people's needs, instead of the other way around. Care Block locations enhance the use of existing city facilities in favor of caregivers, what we called the "anchor building"; and ensure that services can be accessed within a 15 to 20-minute walk, or the equivalent to an 800-meter vicinity — eliminating the need to take public transport for families, especially for those with medical mobility challenges.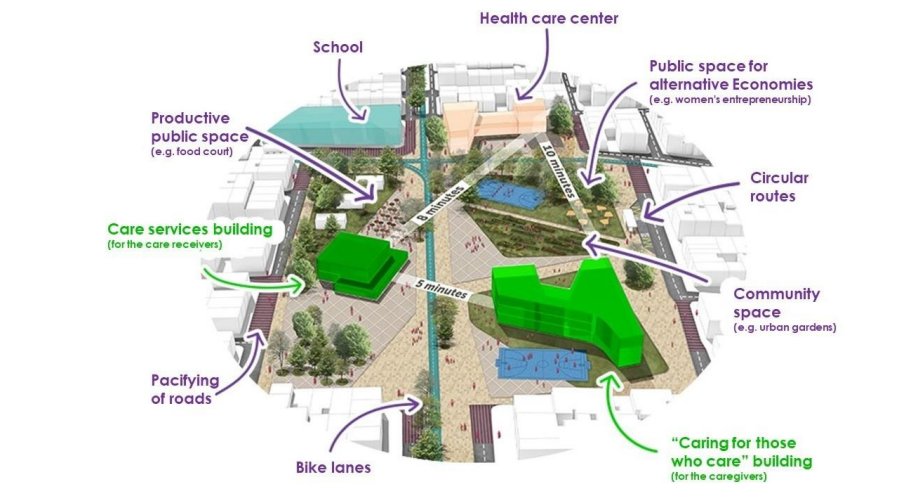 In addition to Care Blocks, Care Buses – the mobile version of Care Blocks – are fully equipped vehicles that take the services of Care Blocks to rural and urban areas that are hard to reach and lack infrastructure in which to develop Care Blocks. Lastly, and thinking about caregivers who cannot attend Care Blocks or Buses because, for example, they care for a person who needs 24/7 care, we launched the Home Assistance programme, with which we bring the Care System directly to the homes of those who need it.
With this system, Bogota put the needs of at least 61% of its population at the centre of the public agenda: women, children, the elderly, and people with disabilities. Between October 2020 and May 2023, Bogota inaugurated 19 Care Blocks and two Care Buses, which have provided more than 420,000 services since March 2021. We have trained more than 12,000 women in alliance with the National Training Service (SENA in Spanish) and supported more than 500 on their road to high school graduation. In addition, we have transformed the lives of more than 86,000 caregivers who, for the first time, have had the time and services to rest, exercise, and promote their own autonomy.
Thanks to the Women's Advisory Council and the Bogotá City Council, the Care System became city law in March of 2023. The law ensures continuity, permanence, and expansion of the Care System in incoming Administrations.
Care Blocks are a social innovation that relieve women of the care overload. In doing so, it creates time and services for these women to fulfil their dreams, while ensuring their loved ones are adequately taken care of. In addition, by offering services in a proximate manner, Care Blocks reduce the use of cars or public transportation becoming a social solution to the climate and mobility crises in cities. Lastly, by articulating services from all sectors of the administration, the System constitutes a public management innovation that overcomes the traditional model of operating in silos.
This guest blog is inspired by the Global Trends in Government Innovation 2023 report from the OECD and MBRCGI. The report presents four major trends in government innovation for 2023, including Trend 2 on new approaches to care. Through this blog series, we hope to provide a deeper understanding of the current state and future direction of government innovation, and generate conversations about how governments can continue to improve and innovate in the years ahead.
Español
Creando tiempo para las cuidadoras: las Manzanas del Cuidado como vías para la inclusión social en Bogotá
El tiempo es un recurso escaso. Es aún más escaso para las cuidadoras que dedican su vida a mantener la vida, la familia y la sociedad. La Alcaldía de Bogotá, bajo el mandato de la primera alcaldesa electa, diseñó e implementó el Sistema de Cuidados para crear tiempo para estas mujeres, cerrar las brechas de género, así como abordar los desafíos climáticos, de movilidad y de gestión pública que enfrentan las ciudades a nivel mundial.
En Bogotá, el 52% de la población son mujeres. El 30% de ellas, es decir, 1,2 millones, realizan trabajos de cuidados no remunerados como actividad principal. Dedican un promedio de siete horas diarias a lavar, limpiar, cocinar y cuidar de niños, ancianos y personas con discapacidad. Aunque estas tareas son indispensables para la vida, no están reconocidas ni remuneradas. Es muy habitual que alguien pregunte "¿qué hace tu madre?" y la respuesta sea "no hace nada. Siempre está en casa", aunque eso signifique que se pasa todo el día cuidando de los miembros de la familia y del hogar.
La división sexual del trabajo ha hecho que el trabajo de cuidados recaiga desproporcionadamente en las mujeres. Este desequilibrio en la prestación de cuidados tiene profundas consecuencias para las mujeres y la sociedad en general. Las mujeres no sólo están atrapadas en la pobreza económica, sino también en la pobreza de tiempo, una causa estructural de la desigualdad de género.
Como los cuidados no se reparten equitativamente entre hombres y mujeres, éstas se ven obligadas a menudo a abandonar la escuela o la enseñanza superior, carecen de autonomía económica y de tiempo para el autocuidado o la participación en política y se enfrentan a mayores probabilidades de ser víctimas de la violencia de género. De las 1,2 millones de mujeres cuidadoras en Bogotá que realizan trabajo de cuidado no remunerado como actividad principal, el 70% de ellas tiene como máximo nivel educativo el bachillerato, el 33% reporta no tener tiempo libre, el 20% tiene diagnosticadas enfermedades mentales y físicas crónicas derivadas de la carga de cuidado y el 90% son de bajos ingresos (ENUT 2017).
Respondiendo a las demandas históricas de los movimientos sociales de mujeres de Bogotá, y para evitar que el cuidado de los otros resulte en el descuido de la propia vida de las mujeres y potencie la desigualdad de género, Bogotá diseñó y puso en marcha el primer Sistema de Cuidado a nivel de ciudad en América Latina. Este sistema articula servicios nuevos y existentes de 13 entidades de la Alcaldía de Bogotá para atender las demandas de cuidado de manera corresponsable junto con el Gobierno Nacional, el sector privado, las comunidades y los hogares. Esta modalidad equilibra la provisión de cuidados para que las cuidadoras tengan tiempo de dedicarse al desarrollo personal, el autocuidado, el bienestar, la generación de ingresos y la participación política.
En última instancia, el Sistema de Cuidado pretende alcanzar las 3 R: reconocer el papel de los cuidados y las cuidadoras, redistribuir los cuidados de forma más equitativa entre hombres y mujeres, y reducir el tiempo que las mujeres dedican a los cuidados. Al hacerlo, nivela el terreno de juego en términos de derechos y oportunidades para las mujeres.
¿Cómo funciona el Sistema de Cuidado?
La principal forma de funcionamiento del Sistema de Cuidado son las Manzanas del Cuidado. Las Manzanas del Cuidado son áreas de la ciudad en las que concentramos infraestructuras y servicios para proporcionar cuidados próximos y simultáneos a las cuidadoras y a sus familias. Son un modelo de ordenación del territorio que integra cuidados y urbanismo táctico con perspectiva de género.
El innovador diseño de funcionamiento de las Manzanas del Cuidado proporciona simultáneamente atención profesional gratuita a quienes la necesitan (niños, ancianos y personas con discapacidad) y servicios educativos, de bienestar y de generación de ingresos a las cuidadoras cuyo tiempo queda liberado. En las Manzanas del Cuidado, los servicios para mujeres incluyen formación profesional y educativa, asesoramiento psicológico y jurídico, clases de ejercicio y baile, clases de ciclismo y natación, y servicio gratuito de lavandería, todo ello al tiempo que atienden a sus familias. Así se eliminan las barreras de acceso impuestas por las responsabilidades de cuidado. Esa es la clave. Como complemento, y bajo el lema "todos podemos aprender a cuidar", los hombres pueden participar en la "Escuela de Cuidados para Hombres", donde aprenden a cocinar, lavar ropa, planchar o dar el biberón a un bebé, entre otras tareas de cuidado. Transformar la cultura y los estereotipos de género en torno al cuidado es indispensable para alcanzar las 3R. Por ejemplo, mientras una cuidadora se inscribe en un programa para terminar el bachillerato o aprender a utilizar un ordenador, su nieto puede participar en actividades lúdicas y su hijo discapacitado en actividades físicas.
Las Manzanas del Cuidado ofrecen una solución específica para cada contexto que utiliza una modalidad radical, de fácil acceso, a un nivel que nunca antes se había probado. Introduce un nuevo criterio para la planificación urbana de la ciudad que sitúa a las cuidadoras y las labores de cuidado en el centro. Así mismo, organiza la ciudad para satisfacer las necesidades de las personas, en lugar del enfoque tradicional que lo ha hecho al revés. Las ubicaciones de las Manzanas del Cuidado potencian el uso de las instalaciones existentes en la ciudad en favor de las cuidadoras, lo que llamamos el "edificio ancla". También garantizan que se pueda acceder a los servicios en un radio de 15 a 20 minutos a pie, o el equivalente a una proximidad de 800 metros, eliminando la necesidad de tomar el transporte público para las familias, especialmente para las que tienen problemas médicos de movilidad.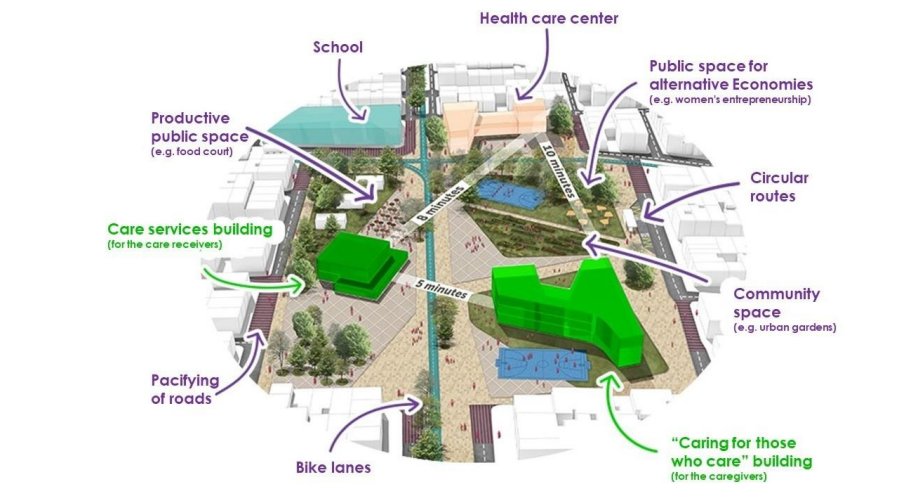 Además de las Manzanas del Cuidado, los Buses del Cuidado (la versión móvil de las Manzanas del Cuidado) son vehículos totalmente equipados que llevan los servicios las Manzanas a zonas rurales y urbanas de difícil acceso y carentes de infraestructuras en las que desarrollar Manzanas del Cuidado. Por último, y pensando en las cuidadoras que no pueden acudir a las Manzanas o a los Buses porque, por ejemplo, cuidan a una persona que necesita atención 24 horas al día y 7 días a la semana, lanzamos el programa de Asistencia Domiciliaria, con el que llevamos el Sistema de Atención directamente a los domicilios de quienes lo necesitan.
Con este sistema, Bogotá puso en el centro de la agenda pública las necesidades de al menos el 61% de su población: mujeres, niños, adultos mayores y personas con discapacidad. Entre octubre de 2020 y mayo de 2023, Bogotá inauguró 19 Manzanas del Cuidado y 2 Buses del Cuidado, que han prestado más de 420.000 servicios desde marzo de 2021. Hemos capacitado a más de 12.000 mujeres en alianza con el Servicio Nacional de Aprendizaje (SENA) y apoyado a más de 500 en su camino hacia la graduación de bachillerato. Además, hemos transformado la vida de más de 86.000 cuidadoras que, por primera vez, han tenido tiempo y servicios para descansar, hacer ejercicio y promover su propia autonomía.
Gracias al Consejo Consultivo de Mujeres y al Concejo de Bogotá, el Sistema Distrital de Cuidado se convirtió en ley de la ciudad en marzo de 2023. La ley garantiza la continuidad, permanencia y expansión del Sistema en las próximas administraciones.
Las Manzanas del Cuidado son una innovación social que alivia a las mujeres de la sobrecarga de cuidado. Al hacerlo, crea tiempo y servicios para que estas mujeres puedan cumplir sus sueños, al tiempo que garantiza que sus seres queridos reciben los cuidados adecuados. Además, al ofrecer servicios de forma próxima, las Manzanas reducen el uso del carro o del transporte público, convirtiéndose en una solución social a las crisis climática y de movilidad en las ciudades. Por último, al articular servicios de todos los sectores de la administración, el Sistema de Cuidado constituye una innovación en la gestión pública que supera el modelo tradicional de funcionamiento aislado de las instituciones de gobierno.
Este blog invitado está inspirado en el informe Tendencias Globales en Innovación Gubernamental 2023 de la OCDE y MBRCGI. El informe presenta cuatro tendencias principales en innovación gubernamental para el año 2023, incluida la Tendencia 2 sobre nuevos enfoques de cuidado. A través de esta serie de blogs, esperamos brindar una comprensión más profunda del estado actual y la dirección futura de la innovación gubernamental, y generar conversaciones sobre cómo los gobiernos pueden continuar mejorando e innovando en los años venideros.