Addressing Global Challenges: Cross-Border Government Innovation in Korea

Even more than two thousand kilometers of coastline can't keep challenges out of Korea. The predominantly water locked country, like many around the world, is grappling with challenges borne out of an increasingly interconnected world. Collective efforts to address them are paramount.
The global response to the COVID-19 health crisis highlighted the potential of partnerships and international collaboration to tackle common problems. Challenges in one country will spill over and so can solutions to address them. Thankfully, Korea is no stranger to working across borders to make changes that matter in our lives.
To fight climate change, Korea joins the global efforts, mostly in the framework of Paris Agreement, to achieve carbon neutrality and reduce greenhouse gas emissions. To implement global commitments in a sustainable approach, Korea legislated the vision to achieve carbon neutrality by 2050. The country's Nationally Determined Contribution (NDC) stands at an emissions reduction goal of 40 percent from 2018 levels by 2030. Galvanizing the world into more action, Korea hosted a summit for P4G (Partnering for Green Growth and the Global Goals 2030), which gathered 67 world leaders and heads of international organisations to advance an ambitious climate action. As a space for stakeholder engagement and multilateral dialogues, the Summit secured political support and strong leadership. Along with actionable efforts, Korea joined the work of the Intergovernmental Panel on Climate Change (IPCC) to draw up reports about the state of scientific, technical and socio-economic knowledge on climate change. By surfacing ground-up insights through collective intelligence, the work supports a growing body of innovative government action. As more regional-focused efforts to address desertification and climate change in the North East Asia, Korea launched the Northeast Asia Network for Desertification, Land Degradation and Drought (DLDD-NEAN) in 2011. The Network, led by Korea, and joined by Mongolia, China and Russia takes an innovative approach by dynamically connecting partners under a common mission to lead green projects and enhancing the flow of information and data for cross-border government innovation. However, insufficient human resources have been a challenge, as the Secretariat does not have its own body but is part of Korea Forest Service. More information can be found in global land outlook reports.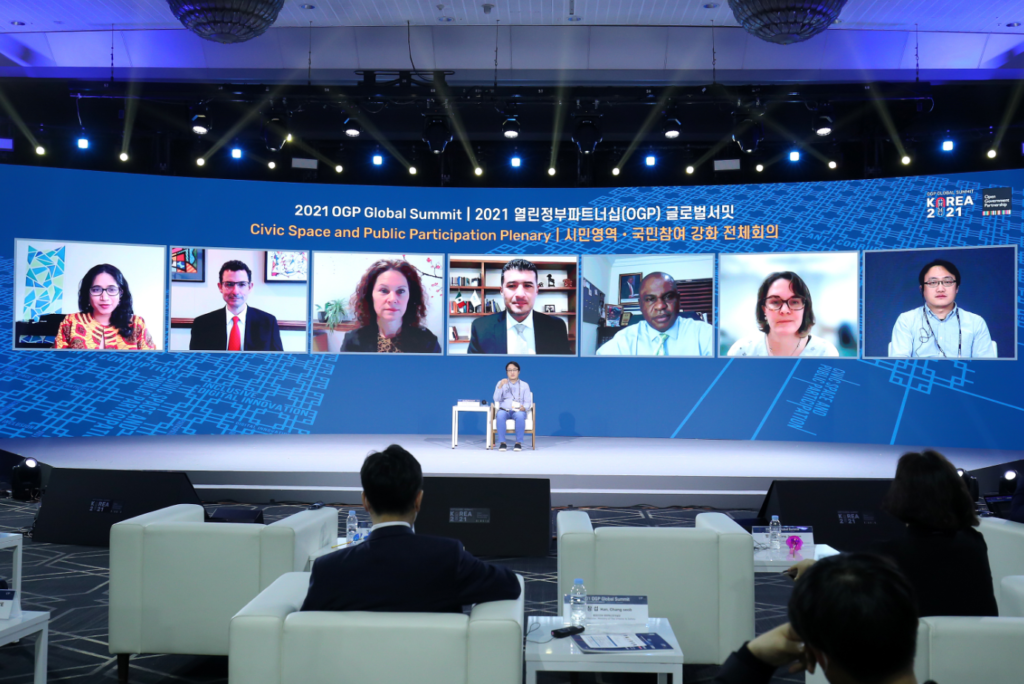 A trend of shrinking civic space is widely recognised as a global challenge to democracies – both emerging and established. Civic space is the set of legal, policy, institutional, and practical conditions necessary for non-governmental actors to access information, speak, associate, organise and participate in public life. As upholding civic freedoms is key to a strong democracy, civic space needs to be strengthened by governments in partnership with civil society. As part of an emphasis on safeguarding democratic values and principles, Korea is part of the Democratic Freedoms Learning Network (DFLN), an informal network by government reformers, civil society advocates and international partners convened by the Open Government Partnership, to share lessons learnt and make more concrete and actionable commitments. Korea has been closely involved in the Network including through the introduction of a multi-stakeholder forum, Open Government Forum Korea, and a civic space commitment co-created with civil society. The Networks' involvement of various stakeholders from both government and civil society has increased dialogue on civic space issues within the Open Government community and echoes the growing trend and understanding of the need to involve diverse actors around common goals, as identified by the OECD's Achieving Cross-Border Government Innovation reports. To further strengthen civic space, Korea issued a global call to action for all OGP members as Co-Chair of the Partnership in 2021. A lesson leant was that while the call mobilised governments and civil society to co-create ambitious commitments, a more long-term approach is needed to monitor the implementation of commitments.
Recognising the importance of enhanced engagement to end the COVID-19 pandemic and strengthen readiness for future health threats, Korea joined a partnership that works on COVID-19 Pandemic Prioritized Global Action Plan for Enhanced Engagement (GAP). The joint cross-border actions include 1) get shots in arms, 2) bolster supply chain resilience, 3) address information gaps, 4) support health workers, 5) ensure acute non-vaccine interventions and 6) strengthen global health security architecture. The Action Plan clearly indicates a common mission based on a shared understanding about the importance of international co-ordination. Strengthening the capacity to prepare for future pandemic crises, Korea has been actively investing into the Financial Intermediary Fund (FIF) by the World Bank and the WHO's Access to COVID-19 Tools-Accelerator (ACT-A), which develops tools to fight disease and deploys tests, treatments and vaccines. The partnership pursues cross-border government innovation by bringing together governments, scientists, businesses, civil society, philanthropists and global health organizations to address a common global challenge.
Addressing global challenges related to climate change, civic space participation, and global health needs long-term approaches and the participation of diverse stakeholders – there is no one-size-fits-all solution. As the Observatory of Public Sector Innovation (OPSI) recommends in the recent series of reports, Achieving Cross-Border Government Innovation, new governance structures and mechanisms, experimentation, cross-border enablers such as skills and capacities can collectively make cross-border innovation successful and yield shared benefits.