Adaptive Innovation: Making responsive and agile practices sustainable in the public sector
Much of what the public sector seeks to do through innovation aims at making life simpler for citizens: adapting to evolving needs while also improving agility in the design and delivery of programs and services. Over the course of the past year in particular, governments have been relying heavily on adaptive innovation and agile approaches to respond to the rapidly changing needs of society. On 8 June 2021, OPSI, with the support of the EU Horizon 2020 Programme and the Portuguese Administrative Modernisation Agency, hosted a workshop exploring adaptive innovation; highlighting how it can be used in practice and showcasing best practices in agile methods and adaptive innovation globally.
"What really drives us is knowing that through each project achieved there are people across our society who have an easier everyday life."
– Secretary of State Maria Fonseca, Portuguese Administrative Modernisation Agency
What is adaptive innovation?
Adaptive Innovation, one of the four types of innovation in the OPSI Innovation Facet Model, aims to adapt to change or put forward new things as they become possible. Much of adaptive innovation is driven from the bottom-up, as public servants and organisations respond to changing operating environments and evolving needs and expectations of citizens. This can occur particularly when the pace of change outside of government is faster than the pace of change within government.
Adaptive innovation often begins with the question: "How might our evolved situation change how we do X?"
These evolving situations can result from a range of environmental, organizational and/or individual factors within or beyond an organization's boundaries. Adaptive innovation often goes hand in hand with other types of innovation, particularly enhancement-oriented innovation which aims at improving services or programmes. Adaptive innovation can also be by-product of goal-oriented activities such as missions on climate change, health challenges etc.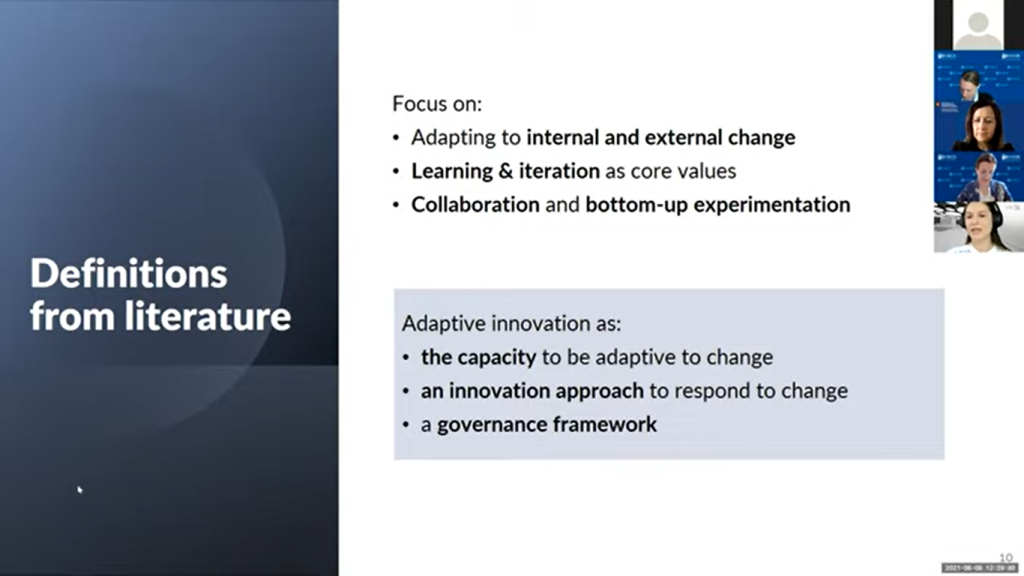 As PhD Researcher and OPSI Consultant Almire Brahami highlights below, the impact of adaptive innovation is often easy to identify as it is largely directed at improving services, organizational processes, or programmes that directly impact citizens or civil servants. For adaptive innovation to be possible, actors need to be willing to sacrifice a degree of stability with the aim of finding new, innovative solutions to changing circumstances. At times, this may mean assuming risk, increasing funding and dedicating resources when the outcomes are not entirely certain.
While adaptive innovation is often driven from the bottom-up, it's crucial to establish supports for it to flourish, particularly as it demands some risk tolerance, openness to change and investment of time and resources. This support is important at the leadership level, as senior leaders and decision makers have considerable influence over culture, priorities, approaches and resources within an organization. As Angela Hanson, Innovation Specialist at the OPSI highlighted in the workshop:
"It's particularly important to hear from people in leadership positions about the role of adaptive innovation because sometimes adaptive innovation reveals the things that are a challenge to the way that our well-oiled machines are functioning. And that openness is key for the success of adaptive innovation."
Adaptation in Practice: Case studies from around the world
This workshop highlighted a range of practice cases that leverage adaptive innovation around the world, including Japan, Portugal, the United States and Germany.
Japan – Governance Innovation – A guide to designing and implementing Agile Governance
(Hiroki Habuka, Deputy Director, Global Digital Governance, Ministry of Economy Trade and Industry, Japan)
During the workshop, Mr. Habuka showcased the Japanese project "Society 5.0", a human-centred society where cyberspace and physical space can promote economic development and solve social problems simultaneously. This society is envisaged as part of the Japanese government's growth strategy. Through his presentation he raised the question:
"How do you make sure that people in Society 5.0 can be healthy and enjoy liberty in a sustainable society? This question is especially important as our society has become complex, uncertain and changes rapidly. "
Mr. Habuka highlighted that the existing governance framework in Japan is not suited for Society 5.0 because of the changes and evolving goals in society. As such, he explained how agile governance could allow governments to continuously and rapidly design rules and evaluate outcomes with reflection on the perspectives of many stakeholders. He mentioned a number of key steps in this process:
Analyse continuously changing conditions and risks
Define goals in accordance with changes in societies and technologies
Reflect on domestic and international systems and applicable rules
Continuously monitor the status of the system based on real-time data and share with stakeholders information on goals, systems, risks and results
Evaluate whether initially defined goals are being reached (constant analysis of risk conditions and re-defining goals)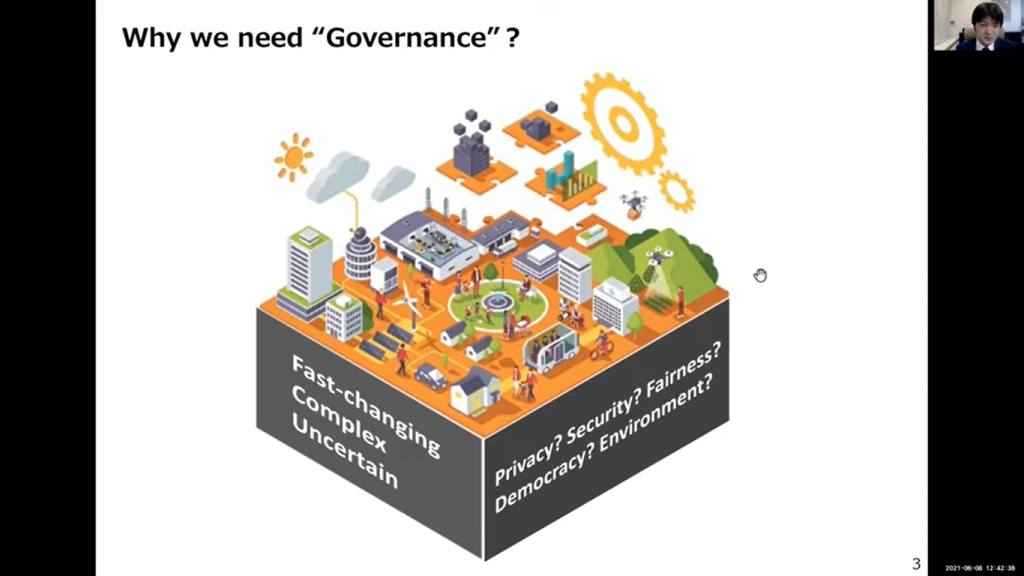 Mr. Habuka emphasised a number of key points for implementation of this new agile governance framework: involve many stakeholders, leverage regulatory sandboxes and promote co-designed, non-binding and flexible standards and guidelines.
Portugal – LABX, Participation, Youth and Public Services
(Jorge Lagarto, Learning and Content Designer, LabX Portugal)
In his presentation, Mr. Lagarto highlighted the use of living labs: spaces to develop and test new prototypes and services based on the insights of users and public servants that leverage co-creation and other methodologies to ensure that services fit citizen needs. Mr. Lagarto showcased a number of projects that leverage participatory and co-creative methods to design better services. These projects include:
Citizen Shops: Service shopping centres established in the 1990s but refined through the work of LabX, serving as a "one stop shop" for public services;
The Portuguese Tax Authority: A project to build more trust, better services, and improved relations and understanding of the perspectives of those interacting with the tax authority;
Education for Citizenship: Card game for kids that works as a method to interview children to understand their needs and what projects they would like to see;
Open Gov & Participation: Working with front-line civil service workers to understand how services can be evolved using an interactive game, card sorting, Lego and other methods to encourage idea sharing and participation.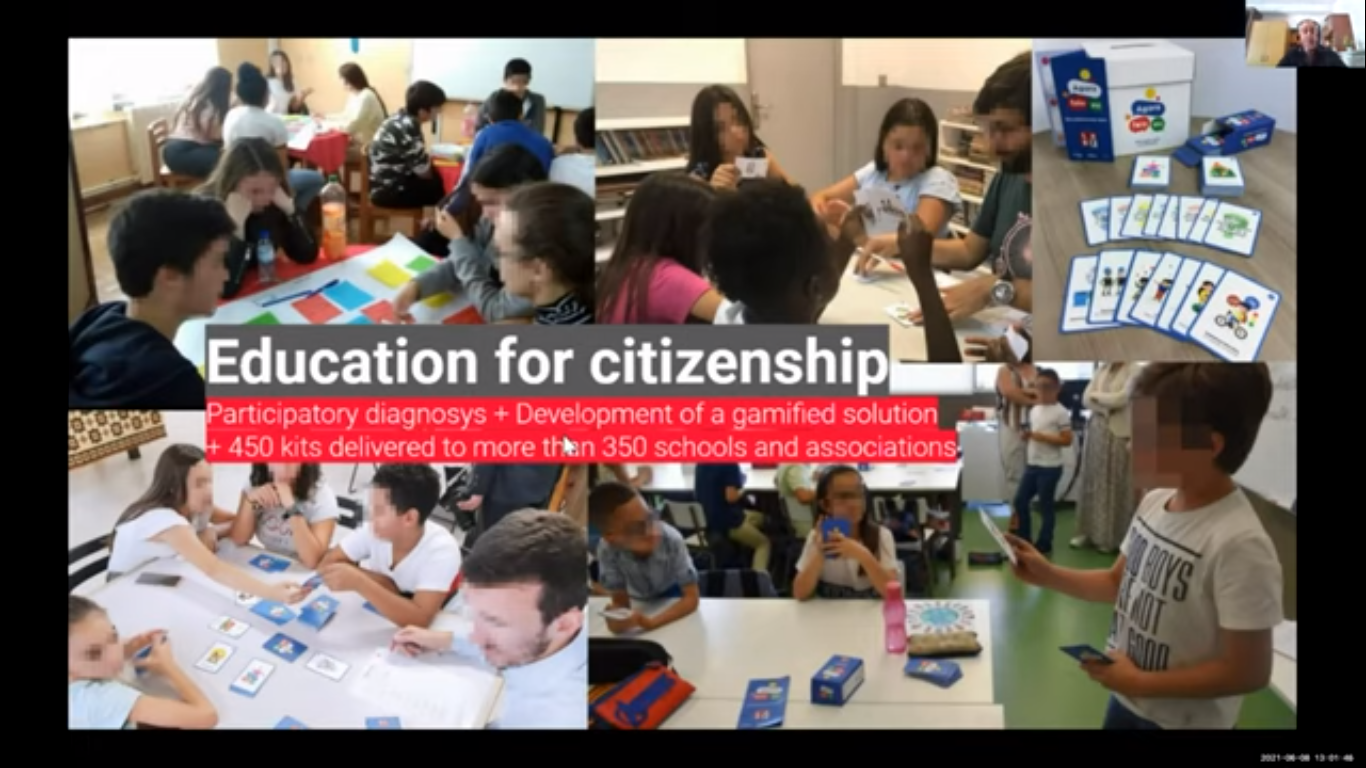 USA – 10x Programme
(Nico Papafil, Director of 10x and Will Cahoe, Coordinator and Evangelist, 10x, General Services Administration, USA)
Mr. Papafil and Mr. Cahoe started off their presentation by noting that many government technology projects fail to deliver, sometimes because the contract isn't set up for success, sometimes because agencies fail to understand how modern software is built, and sometimes because projects aren't focused on solving for user needs. They argue that issues can be addressed to varying degrees through the use of adaptive innovation.
The project model they presented, used by 10x, approaches adaptive innovation through the following project management and selection approach:
Project Sourcing: Leverage ideas from any federal government employees
Funding: Modular funding, start small and ask for more later
Risk Mitigation: More rigour, establish milestones and checkpoints associated with incremental investments
Unknown Outcomes: Embracing uncertain outcomes starts with the problem and figure out the rest along the way; leveraging creative freedom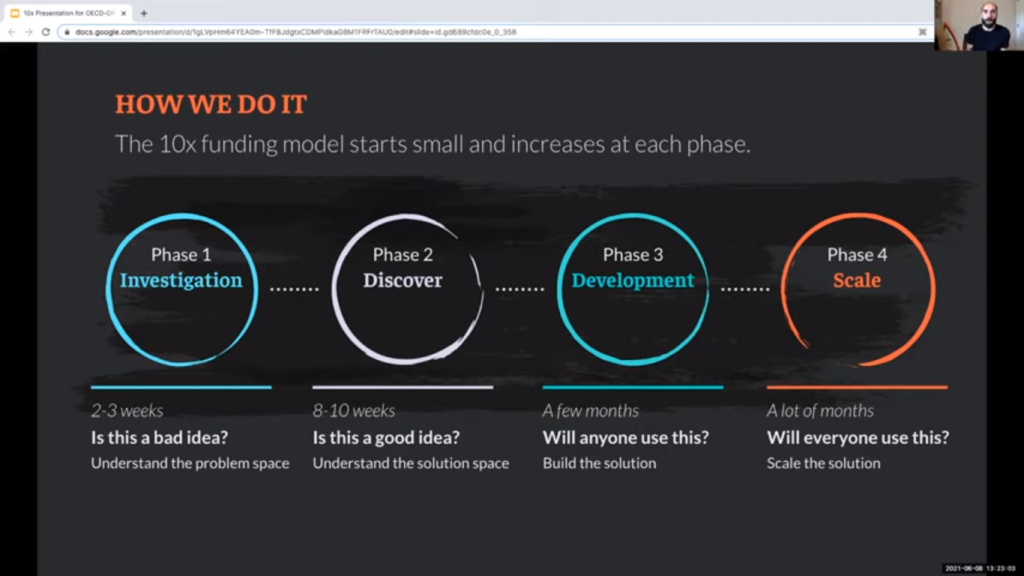 "We are not afraid of failure as long as we fail fast, we fail forward, and we fail small. We assume that many projects won't be successful… we'd rather spend a very smaller dollar amount on an idea that might not work instead of a much higher sum of money."
– Nico Papafil, 10x
Systemic supports for adaptive innovation
While adaptive innovation is often necessary, it is not always easy. During the workshop, Angela Hanson provided a few key suggestions on leveraging adaptive innovation in practice:
Provide some organisational slack and spare capacity to allow public servants to explore alternatives and empower them with autonomy to try new ideas
Consider how feedback can be given in organisations in which frontline staff do not tend to generate innovative ideas or initiatives
Clarify the reasons to innovate, without being prescriptive on how
Clarify the level of risk or magnitude of experimentation that is acceptable without explicit authorisation or permission
Foster informal and formal learning to help staff stay on top of changes in practice, emerging opportunities and shifts in public expectations.
"Resilience is good, but can be too accommodating, allowing missed opportunities for transformation and inspiring overconfidence in prepared or engineered solutions."
– Angela Hanson, Innovation Specialist, OECD Observatory of Public Sector Innovation
Angela also noted a number of known challenges (listed below).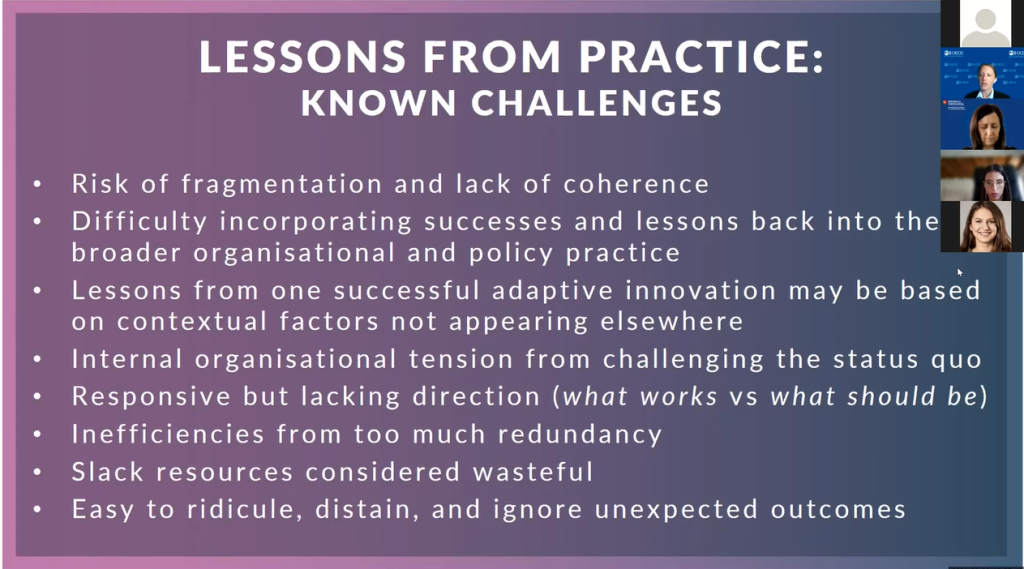 Democratic principles and adaptive innovation
During the workshop, a number of case presenters highlighted the importance of citizen participation and engagement of frontline civil servants in the adaptive innovation process. They underlined that creating services that meet citizen needs depends on a clear understanding of what those citizen needs are. Moreover, engaging top management with both the projects and the results helps to ensure that changes are sustainable into the future.
In conclusion, it is important to note that adaptive innovation and agile government must not come at the cost of sacrificing the basic principles of democratic society.
In her presentation, Dr. Sabine Junginger raised an important question that can guide the use of adaptive innovation and agility in government:
"What kind of agility do we need in government? Agility in a way that supports a sustainable, pluralistic society that offers us the kinds of services and policies that enhance human living, and address the problems of our time."
To learn more about the topic of adaptive innovation, check out the YouTube recording of this workshop.