Building a project incubator at OPSI

We're building an incubator at OPSI and we'd like to share the current thinking, hear your thoughts, and put out an preliminary call for interest for the (free) alpha version of the model.
Typically, incubators provide start-up or scale-up private and social sector organizations with office space, administrative services, financing, coaching, and networks to help them build and scale rapidly. This will be inspired by a similar value proposition, but customized to support and develop new and novel public sector initiatives, and based on where OPSI can provide value: support, structures, and convening a network around common goals.
Background
We developed the idea of an incubator jointly with the European Commission through the Horizon 2020 project to maximize the spread of learning and knowledge from initiatives to a larger ecosystem of actors. At the same time, our hypothesis is that an OPSI-convened incubator can connect experts and practitioners to provide insights and validation of transformative work, reduce duplication, and streamline replication efforts. All of that said: the primary goal of an alpha version is to learn, evaluate, and improve.
Model elements
Here's a sketch of what we're envisioning, though the model will be – and has to be – highly customized to the needs of any organisation and initiative going through it.
The model starts with navigational tools and workshops: assessments of the initiative status, how the organisation is structured to deliver, and what the biggest complements would be (e.g., user research support for a team without that skillset)
It's designed for ongoing support: the earlier in an initiative's lifecycle the better, and the nature and benefits of the incubator will change in lockstep with the initiative's maturity to support different phases
Based on needs assessments and phases, we'll provide access to a network of uncommon skills, expertise and advice: the core team at OPSI will be responsible for working with the initiative proponent to continuously identify gaps and activate the OECD's network in support
Intake criteria
This is our early thinking on what will make a good candidate initiative. The ideal would be cohorts that complement each other, which would add another contextual dimension to the below:
Shareable: Likely to provide lessons learned across international contexts
Sprintable: likely to benefit from targeted and time-bound injections of support
Supportable: aligned with the host organisations' priorities
Achievable: mapped to the available skills ecosystem
Changeable: the earlier in the initiatives' lifecycle, the better
Because it's an EC-funded initiative, this is also currently limited to EU countries.
What it'll look like
What the incubator looks like will depend on your feedback to this post, what initiatives apply and are selected, and what gaps and needs emerge. However, we envision a few core parts of the experience.
Core
A self-assessment of the initiative and its supporting environment and gap areas
A kick-off workshop to establish relationships, working patterns, the state of the problem definition, and to validate the needs assessment
Weekly community catalyst calls to check in, create a regular heartbeat and challenge function, and determine which modular elements to incorporate
Field exchanges to peer or leader organizations and countries
Build sprints in the initiative's key locations with the proponents, the OPSI team, and skills and expertise partners
Initiative and incubator evaluation and knowledge mobilization in lockstep, exploring and sharing lessons learned about the project, the incubator, and the intersection between them

Beyond those core elements, OPSI will work with proponents to deliver some combination of high-value modules.
Potential modules
Workshop to teach foundational innovation concepts
Design support: problem definition, research, ideation, prototyping, and testing
Advice and input from similar pathfinder projects
Access to relevant leading experts
Curated learning and toolkit pathways
Specialised skills (e.g., behavioural insights, user research, digital design, data science, foresight, emerging technologies)
Peer support and collaboration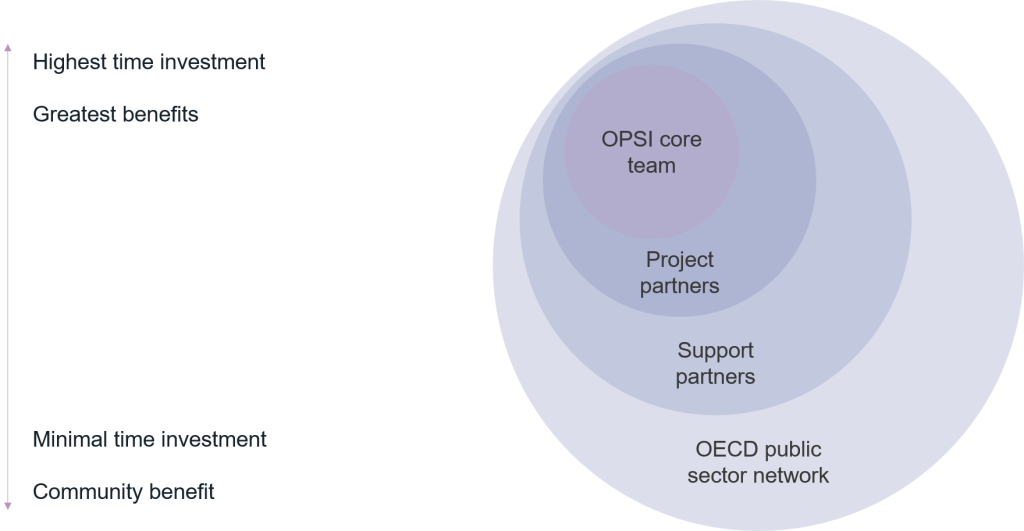 Next steps
We're looking for three things.
One, we'd like to talk to you if you have an early-stage or prospective initiative that you'd consider running through the alpha version of the incubator starting in fall 2020.
Two, we'd like to hear if you'd be willing to – subject to timing and capacity – support the pilot with occasional support with skills and expertise as part of our partner ecosystem and advise on the development of the model.
Three, we'd welcome any feedback, particularly if you've tried an incubator-like model in the public sector before. The above is a lightweight treatment, trying to keep this to blog length. So we're happy to set up a call if you'd like to discuss further, and otherwise we'd love an email to [email protected]. What are your biggest needs to support innovation projects and initiatives? Where do you think are the opportunity spaces for increased international collaboration and knowledge mobilization? Do you have any other general suggestions or comments?
Based on these steps, we'll formalize and communicate more details on the timeline and intake process. Looking forward to working with you!
This project has received funding from the European Union's Horizon 2020 research and innovation programme under grant agreement No. 870913.