Call for Innovations on Cross-Border Collaboration (due 21 May)

Submit your innovation today
We want to know more about your innovative projects and initiatives—both big and small—that involve bringing together governments from different jurisdictions to collaborate and innovate. The OECD Observatory of Public Sector Innovation (OPSI) and the UAE Mohammed Bin Rashid Centre for Government Innovation (MBRCGI) are excited to launch the 2021 Call for Innovations in government, focused specifically on ways government are innovating through cross-border collaboration. For example, multiple countries, regions, or cities working together in new and interesting ways to solve common challenges, or multiple governments collaborating to achieve new types of policies and services.
Innovators around the world are encouraged to submit innovative practices to fuel this research and to inspire others to work in new and creative ways (see instructions below). This call is open to government officials, international organisations, civil society organisations, academia, and the private sector. However, to be considered, the initiative must have goals aimed at improving government, and the public sector must be integrally involved in the work.
As in previous years, many of these innovations will be featured in high-profile OECD work and events (details below). These teams benefit from:
Global visibility: Featured innovation initiatives are promoted to event participants and thousands of readers of the OECD's reports.
Platform for scale: Based on the experiences of previously featured teams, selected initiatives receive enhanced attention and support at home, and new partnerships are formed that enable projects to scale and be duplicated in other countries.
Global movement: Featured innovations and their teams serve as leaders and examples of impact to inspire others and build global momentum for innovation.
Submissions are open from now until the deadline of 29 April 21 May 2021.
How to submit an innovation
You can preview the submission questions and share them with your team using the .doc version available here.
Why cross-border collaboration?
Since 2017, OPSI and the MBRCGI have worked in partnership to conduct research and analyse thousands of innovation initiatives in order to surface key trends and case studies in public sector innovation. What we have found over the last four years has been remarkable, with governments increasingly building out innovation agendas and implementing exciting and innovative approaches to transform the ways in which they operate and serve their people. Notably, government efforts have rapidly evolved in their level of maturity and sophistication. For instance:
The initial 2017 trends and cases were largely project and organisation-focused, which limited the potential for significant shifts in culture and operations.
Over time, trends and cases uncovered in 2018 and 2019 demonstrated a shift towards systems approaches to completely re-align and re-envision policies and services in ways that allow governments to get to the real purpose of change and deliver public value.
Most recently, identified efforts in 2020 sought to build out "collaborative infrastructure" to allow such systems innovations to flourish and to bring together new forms of partnership across sectors and with the public.
This trajectory demonstrates a significant and rapid shift in how governments use innovation to bring about meaningful change. However, as the COVID-19 crisis has shown, major challenges do not remain within jurisdictional borders and silos, and neither should the approaches to address them. While we have identified some examples of the positive steps that governments are taking in this regard (e.g., the Intellectual Property Global Artificial Intelligence Network, or the world's first data embassy), we want to shine a light on the power of bringing together multiple governments to achieve common goals and tackle common challenges.
OPSI and the MBRCGI see this as a critical area that needs additional attention and enhanced efforts on our part to uncover how governments are working towards this. Governments must be able to recognise their role in the global community and work with other governments to build something greater than any one can build on their own. If done well, cross-border innovation may represent the next stage in evolution of public sector innovation.
With the COVID-19 crisis serving as a catalyst for government innovation, there is a rare window of opportunity to re-envision the future and role of government and to accelerate the pace of change for the better. Without a united, global approach, the fruits of government efforts will continue to be locked within their borders, limiting the potential for success in achieving global progress on the world's biggest issues, such as overcoming the pandemic and achieving the Sustainable Development Goals (SDGs).
Selected innovations to be featured in publications and events
With the opportunities posed by cross-border collaboration in mind, the research and Call for Innovations submissions this year will culminate in a series of publications and events on innovative approaches for The Road to Recovery: Cross-Border Government Innovation for Global Public Goods.
Global Public Goods
Global Public Goods are issues of cross-cutting importance that cannot or will not be adequately addressed by individual governments acting alone. Therefore, they must be defined and addressed through cross-border collaboration and other legitimate processes of decision-making.
Source: The International Task Force on Global Public Goods, as adapted by OPSI.
The sub-themes, topics, and case studies to be covered will be informed directly from what we learn from research and the Call for Innovations.
Series of high-profile reports and global dialogue sessions
In previous years, OPSI and the MBRCGI issued reports on key trends in government innovation. This year, we're doing things a little differently. Rather than doing a broad call for all types of innovation products and then synthesizing trends, we are instead identifying a key topic up-front: cross-border collaboration.
Based on the themes and key initiatives that we surface from the research and Call for Innovations, we will:
Issue a series of reports on cross-border collaboration, highlighting how they support Global Public Goods. Each report will feature in-depth case studies identified directly from research and the Call for Innovations.
Convene a virtual series of global dialogue sessions, featuring senior government leaders, leading experts, and successful practitioners to provide their insights on how to achieve progress in these critical areas.
While the focus is different this year, you can read more about the 2020 series of reports and watch the video of the latest global dialogue on our blog.

Invitations to dedicated international workshops and the OPSI innovation conference
As a new element to inform this year's reports and dialogues, the OECD and MBRCGI will hold a series of global workshops to further refine what we have learned, to generate key insights and ideas on how governments can collaborate across borders, and to build a collective vision around what governments are transforming towards and what kind of future governments can build if they seize the current window of opportunity for innovation.
Submitters of select case studies will also be specifically invited to a dedicated workshop, bringing together the innovators leading projects from around the world, in order to help practitioners share lessons, make connections and gain insights from peers and OECD experts. These individuals will also be named on the product launch website as contributors to the work.
In addition, several teams identified through the Call for Innovations will be invited to OPSI's annual innovation conference in autumn 2021 to present their work and contribute their experience. If things go well regarding progress against COVID-19, this event will be held in-person (transportation, hotel, and per-diem expenses covered). If a physical meeting is not possible, the event will be held virtually.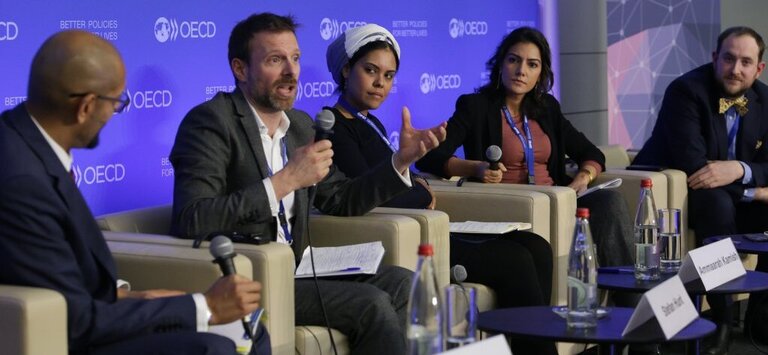 Amplification of international best practices in innovation
While only a handful of innovations will be showcased at the OPSI conference, or make it to the report as full case studies (and many others included as shorter examples), others will also be recognised as international best practices in our Innovations Platform. The OPSI team will review all submitted innovations and add innovative cases to the platform to promote excellence and to help replicate innovation and inspire new thinking.
Have you worked on an innovative cross-border collaboration project that we should know about? Or perhaps you know of one? Please let us know by registering and then completing our online submission form by 29 April 21 May.
Please direct any questions to [email protected] or @OPSIgov. We also encourage you join our newsletter to receive innovation updates.