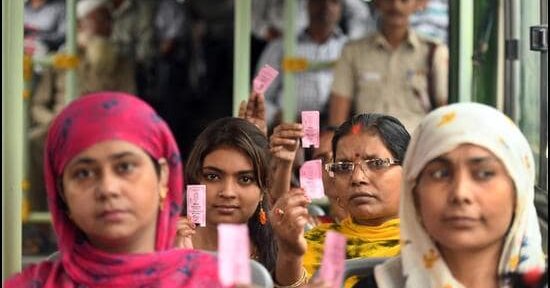 Women workforce participation is a key enabler of social development and economic growth. In developing countries, female labour workforce participation has continued to be sub-optimal due lack of avenues to support women's mobility. Pink Passes along with universal deployment of bus marshals and ICT features provide free travel to women in a safer environment in public buses of Delhi to encourage their mobility. It increases women's window of opportunity to become part of labour workforce.
Innovation Summary
Innovation Overview
In many cities of the emerging economies, women's mobility is considerably restricted, limiting their access in becoming part of the economy and potentially leveraging the various opportunities that might be available in an urban growing economy. Studies have suggested various barriers such as lack of affordability a, low frequency, low network coverage of public transport systems and last mile connectivity, lack of safety, lack of information or low numbers of fellow female passengers, which adds up to create a sense of hesitance towards accessing public transportation systems for women.
In June 2019, an idea was mooted by highest political leadership in Delhi to make all public transport free for women in Delhi. The policy was drafted and adopted by the Government in August 2019, and it was finally launched for women in Delhi on October 29, 2019. As per the policy, women are provided pink passes to travel in all public buses (total 5589) serving the city of Delhi free of cost. The network of these buses and the benefits of the scheme were extended to neighboring areas within the Delhi National Capital Region (NCR) as well. Under this intervention, women are handed over the pink tickets by the bus conductor as soon as they board the buses, instead of paying a cost for it from their pocket. The state government itself bears all expenditure for women who travel in public buses in Delhi.
In addition to free passes, the government also implemented an initiative to attain 100% coverage of bus marshals through massive expansion of the bus marshal program across the city buses. These marshals are unarmed, uniformed officials— civil defense volunteers and home guards who acquire formal training for this job. The marshals are mandated to promote safety, including reportoing and responding to cases of sexual harassment. Prior to the policy, these marshals were present in fewer than 20 percent of the buses. The scheme took the coverage of bus marshals in Delhi buses to 100%.Further, the buses were also equipped with modern ICT features which include 24*7 surveillance through CCTV camera, Panic buttons, live tracking of buses, two-way connection with command-and-control center and e-ticketing facility to increase accessibility and safety for women passengers. Lastly, the implementation of many initiatives such as relaxation of recruitment norms for women drivers within buses of the city transportation fleet which has resulted in hiring of more than 20 women drivers for heavy motor vehicles. To ensure a supportive ecosystem for women travelers, a large number of female bus conductors and bus marshals have also been introduced in the city transportation fleet.
Pink passes were introduced in 2019 as a demand side incentive to encourage women to travel in public buses, providing them flexibility and comfort to travel without any hindrance. The default arrangement of handing over pink passes to all women at the time of boarding the buses, aimed to eliminate any hesitation amongst women in using public transport due to affordability constraints. Further, incentives such as deployment and universal coverage of bus marshals, installation of ICT based safety features and relaxation of recruitment norms for recruitment of bus drivers and conductors further intends to create a safer atmosphere for women to travel in public buses. Increased use of buses by women can also lead to a modal shift towards public transportation reducing congestion and pollution on roads and overall improvement of quality of life.
Since the launch of the pink pass initiative, over 25 crore women have traveled for free in Delhi's public buses. The ridership of women in public buses has increased from 33% pre-implementation of the pink passes scheme to an average of 40% with about 1.4 million women traveling in Delhi buses every day. The free travel and increased safety standards for women have further been supported by the introduction of more buses in Delhi, taking the overall strength of the fleet from 5589 to about 7300 buses. The initiative initially envisioned as a incentivisation scheme for a shorter period has been lauded and has continued till date due to its efficacy in improving women's mobility systems. Similar schemes are also being conceptualized for other modes of public transportation to ensure multi-model last mile connectivity to commuters. Such initiatives were extremely helpful in supporting people of economically weaker sections as well. Realizing the benefits of such initiatives, a similar scheme of free passes was also started for contract laborers traveling frequently from one part of the state to another.
Innovation Description
What Makes Your Project Innovative?
A unique combination of demand and supply side incentives was offered to promote women's mobility. While there is a strong case to introduce gender sensitive transport initiatives to improve equity in mobility, such an intervention was implemented by offering free travel to women, for the first time by any Indian state. Due to a strong emphasis on creating a safer travel environment and therefore improving the confidence of women, all public buses were equipped with modern technological features such as CCTV cameras, panic button, two-way communication with the command-and-control center to ensure safety.
While pink passes tacked a severe barrier to access, affordability, incentives such as hiring of women and bus conductors further boosted the confidence of women to travel in buses. It was also the first instance of deploying a bus marshal scheme at such a large scale. Universal coverage of bus marshals was achieved by deploying at least 2 marshals/bus in day and night shifts.
What is the current status of your innovation?
The pink passes initiative received massive response from women travelers after its launch in 2019. As per the bus ridership data of DTC (Government's arm operating city buses), between March 2021 and July 2021 after the first wave of COVID pandemic, 2,014,650 ticketed journeys were recorded, of which 1,543,986 were pink tickets issued to women passengers. During the period of no strict lockdown, the share of women passengers reached as high as 80%. In July, when the wave ebbed and the Delhi government relaxed public transport norms to allow more passengers to travel in buses or the Metro, the share of women passengers continued to be as high as 68.94%. Initially planned for a shorter duration as a pilot, the initiative has continued till date and the government has decided to offer similar incentives to contract laborers. Government has also been discussing similar demand side initiatives for other sectors as an enabler to boost economic activity.
Innovation Development
Collaborations & Partnerships
Citizen surveys informed gaps around lower participation by women public transportations systems and the labor force at large.
The transport department realized that mobility of the women was instrumental for their limited participation in the labor force which took a considerable hit during the covid lock-downs. The policy weeded out practical impediments to their labor force participation.
Resource organizations in the mobility space were duly consulted while drafting the policy.
Users, Stakeholders & Beneficiaries
Citizens: Women were positively affected by means of greater mobility across the city in a safer environment, free of charge.
Government: Continued the policy for subsequent years and created an atmosphere echoing greater inclusivity in Delhi's economic workforce.
Studies and references were taken from civil society to inform the policy formulation, taking a positive step towards advocacy efforts on the space of gender and inclusivity studies.
Innovation Reflections
Results, Outcomes & Impacts
Since the said policy intervention bears economic implication, it also is a proxy for participation of women in the labour force and economic activity that echoes an inclusive socio-economic character of the capital city. A considerable proportion of bus travelers are now women, which has gone as high as 80% during non-covid lockdown periods. For the period between March 2021 and July 2021 (after the first wave of COVID pandemic), 2,014,650 ticketed journeys were recorded, of which 1,543,986 (75%) were pink tickets issued to women passengers. Overall the implementation of the pink passes policy has increased women ridership in buses from 33% to a sustained average of 40% currently.
While we see this as a straight-forward cost to the government, we must acknowledge the resultant gain to Delhi's GDP and per capita income which will increase consumption expenditure and translate into higher revenue through direct and/or indirect taxes for the government.
Challenges and Failures
Last Mile Connectivity: While bus service is now free for women, the upkeep of a few other complementary aspects around walkability and street-lighting are essential to ensure their safety through the entire stretch of their trip rather than just the bus-trip length which still requires attention.
Other modes: Significant number of women who travel longer distances use the Delhi metro. SImilar systems need to be in place to ensure that women traveling longer distances for work do not face affordability constraints and feel safe in their journey.
Response: The Delhi Government has been increasingly focussed on route rationalization to reduce problems of last mile connectivity. The idea is to optimally allocate buses in different routes and further ensure that women traveling longer distances do not face bus connectivity issues.
Conditions for Success
Supporting infrastructure & service: Any concerned administration that intends on implementing this scheme needs to have sufficient bus fleet to service the expected ridership i.e an estimate of increased women ridership after the implementation of a similar scheme.
Policy and Rules: The administration must further ear-mark funds to service the costs related to facilitating this service.
Personal Values, Leadership and Guidance: Since this is closely linked to the values around inclusivity and participation a certain government may want to pursue, political and administrative will is essential to design such programmes.
Human and Financial resources: The government, apart from keeping aside funds to service the scheme, must also look at related factors around safety and human resources that may feed into the successful implementation of the scheme (Bus marshals, CCTVs and street-lighting over and above enhanced walkability).
Replication
Other state governments have implemented similar policies to fuel access to public transport for women. In 2021, Punjab announced free travel for women in all government buses. In 2021, Tamil Nadu also took a similar step to make bus travel free for women with the idea of increasing women's labour force participation in the state. In 2022, Himachal Pradesh, under the scheme 'Naari ko Naman' offered a 50% concession on bus fares for female passengers. Even within Delhi similar schemes are being conceptualized for other modes of public transportation in the city. A similar scheme of free passes was also started for contract laborers in Delhi traveling frequently from one part of the state to another.
Lessons Learned
The pink passes policy holds lessons in leveraging simpler policy level changes that have the ability to create impact at scale.
Most importantly the policy is a running example of making mobility more gender inclusive. The scheme provides much impetus to women who intend to step-out and add to family income and the establishment provides an enabling environment for them to do so through an inclusive system for increasing women's participation in economic activities.
Website:
Level of Government:
Regional/State government
Status:
Diffusing Lessons - using what was learnt to inform other projects and understanding how the innovation can be applied in other ways
Date Published:
18 January 2023