Launch | Embracing Innovation in Government: Global Trends 2019

We are happy to announce that OECD Secretary-General Angel Gurría launched OPSI's report "Embracing Innovation in Government: Global Trends 2019" today at the World Government Summit! The event in Dubai is the largest annual gathering in the world focused on shaping the future of governments through innovation. The report is the result of a global innovation review conducted by OPSI in partnership with UAE's Mohammed Bin Rashid Centre for Government Innovation (MBRCGI). The review included extensive research and a global Call for Innovations crowdsourcing effort, which collectively identified 542 innovations from 84 countries for analysis. The report contains 10 in-depth case studies on innovations to illustrate three key trends identified through the review.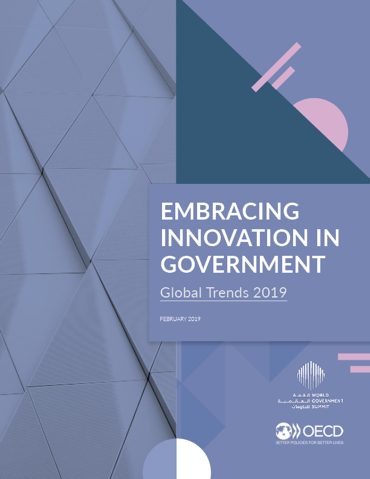 This is the third report on global trends that we produced in partnership with the MBRCGI. The global trends reports from 2017 and 2018 were each also launched at the annual World Government Summit. These reports identified and number of trends that demonstrated tremendous progress by governments to create innovative programs and initiatives. The 2019 report builds on the trends identified in previous years and examines how governments are taking steps to build the infrastructure needed for more impactful systems-wide transformation and maturing and strengthening public and private sector practices for greater effectiveness.
Interested in learning more about the top global trends and cases in public sector innovation? Check out the digital story and report here.
Connect with us
Interested in public sector innovation? Feel free to get in touch with us at [email protected] or @OPSIgov. We also encourage you to join our OPSI LinkedIn community to exchange ideas with fellow innovators and our newsletter to receive innovation updates.