Mapping the global behavioural insights community
Since the first behavioural insights (BI) unit in 2010, many BI teams have emerged around the world. While varying in missions, models, and methodologies, they share the common goal of enhancing our understanding 'what makes people tick' and how we might use this information for the betterment of policy and society. In 2017, the OECD published a first report on BI and Public Policy that presented data and insights from 60 pioneering BI units.
Unsurprisingly, many advances in BI have been achieved since then, calling for an updated assessment of the BI community's governance, activities, functions, and methodologies and as well as a review of the new and lingering challenges and opportunities it faces.
About half of the BI units known to the OECD were created in the last 5 years. Around the globe, policymakers are increasingly asking behavioural scientists to help them unpack policy problems, design solutions that go with the grain of human behaviour and evaluate them rigorously.
To highlight the global knowledge base of behavioural insights work in public policy, and bring the achievements of institutions to the fore, the OECD launched the Behavioural Insights Knowledge Hub and map in 2021.
Mapping the BI community
The OECD was the first to spearhead the ambitious project of mapping and collecting longitudinal data on institutions applying BI to public policy around the world. To date, the OECD has compiled data from over 300 institutions applying behavioural science to public policy in 63 countries, including over 200 within the governments of 56 countries. Using a mixed methods approach of surveys, interviews, and data from our online BI Units Map and Project Repository, we have generated a unique database of information about government BI functions.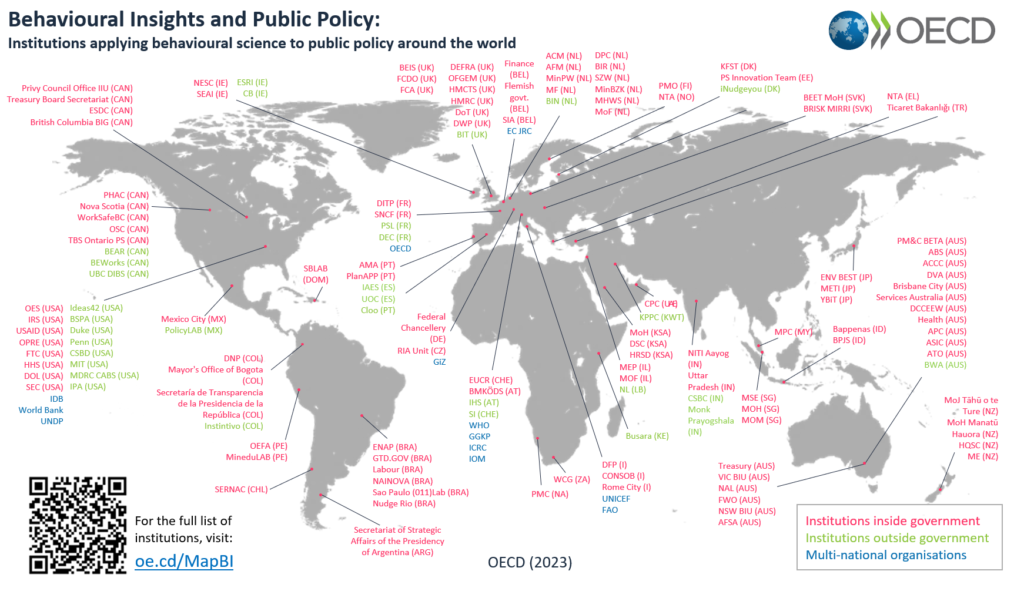 The OECD Behavioural Insights Knowledge Hub supports knowledge-sharing and community building though an open-source, freely available database. All the maps are living documents, meaning that as the BI community continues to grow, so does our knowledge base and the global network of support.
The hub has three functions:
The BI units map showcases institutions applying BI to public policy around the world
The BI project repository lists ongoing and completed BI projects
The pre-registration portal enables practitioners to share pre-analysis plans at the early stages of their projects.
The Knowledge Hub helps you to see the scope of applied behavioural public policy work taking place around the world as well as check whether someone's already working on your latest challenge. The repository, which as of today details more than 140 projects and counting, is a fantastic source of inspiration when you're starting a new project. Let's say you're considering running a field experiment using social norms in education or perhaps you're considering a survey on sustainable consumption – the Hub provides projects to inspire your journey.
The pre-registration portal offers another handy service to do principled research. Pre-registering analysis plans with a credible institution is a great way to demonstrate your team's commitment to scientific rigour and transparency.
We encourage you to dive in and help us keep it up to date by adding your unit and projects!
The OECD's global Network of Behavioural Insights Experts in Government
To further strengthen the BI community of practice in governments around the world, the OECD launched the Network of BI Experts in Government in 2021 (the "Network"). The Network meets regularly to share knowledge, identify common needs and find opportunities for cross-country collaboration in applying behavioural science to public policy. The next meeting, 16-17 May 2023, will gather nearly 150 BI Network experts from over 40 countries at the OECD Headquarters in Paris.
The discussions, led by the Network, reflect the multitude of opportunities for behavioural scientists in government, including how to organise and manage BI functions in government, support the green transition with behavioural science, and remove "sludge" (unjustified frictions) from government services.
Throughout the years, this Network has become imperative for the OECD. The OECD actively draws on the BI community, including for the OECD BASIC toolkit, good practice principles for ethical behavioural science in public policy and designing and testing behavioural interventions.
The Network has also acted as a platform for developing a shared behavioural design and research agenda – multiplying efforts for mutual benefits. Joint activities generate new evidence with cross-country policy relevance, enabling the behavioural insights community to deliver trusted and rigorous advice to governments around the world.
In 2022, the OECD facilitated one such collaboration between Canada and France on the global behavioural challenge to tackle the spreading of mis- and disinformation online. By involving multiple experts with unique country perspectives, we were able to generate more relevant and impactful findings that contributed to strengthen government responses to dis- and misinformation.
Today, the Network is deepening its exploration of multilateral collaboration on BI activities related to the green transition, including surveys and field experiments in the areas of enhancing public understanding and support for green reforms, counteracting climate misinformation, and improving government decision-making on green agendas. The OECD is also working with Network members on new guidance materials, including a guide for selecting fit-for-purpose research methods, a working paper on the ways in which BI can be used to encourage more sustainable tourism, and a set of good practice principles for managing and organising BI functions in government.
Common challenges despite diverse governance models
The OECD has used a mixed methods approach of surveys and interviews to understand how the global BI community has evolved over time, in collaboration with researchers from Behavioural Economics in Action at Rotman (BEAR). We've seen tremendous growth in the last decade, as the graph on the cumulative number of BI units created in governments around the world since 2010 indicates.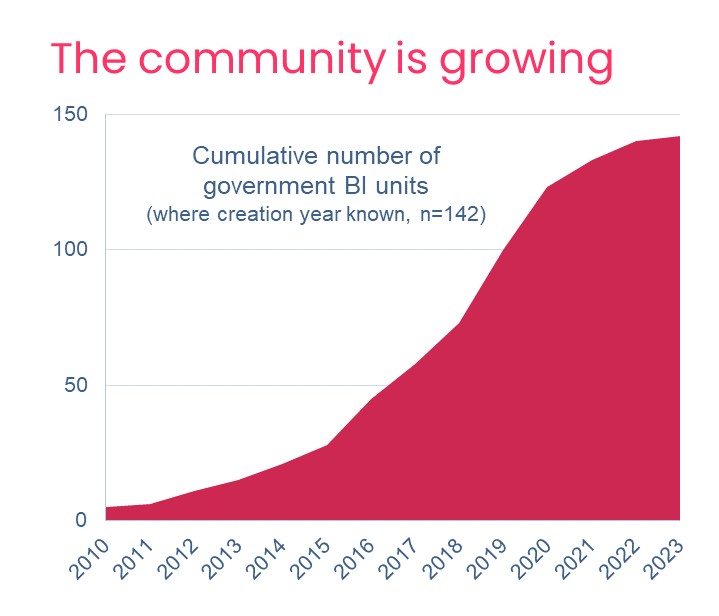 Governments organise and manage their behavioural insights functions differently. In our 2017 report we identified three common models. In our research conducted between 2021 and 2023, 83 behavioural insights institutions described which of the three models best applies to them:
24% identify with a "central model": specialised units, usually within the Centre of Government (e.g. prime minister's office, etc.), focusing on applying BI across government.
37% identify with a "diffuse model": Units embedded within a department or specialised agency at the central government or local government level applying BI.
14% identify with a "project model": behavioural insights applied for specific projects and initiatives.
Of course, these models overlap, co-exist, and evolve over time. Indeed, 12% of respondents noted that their model is a combination of the three, and yet another 12% stated that their model is something else entirely.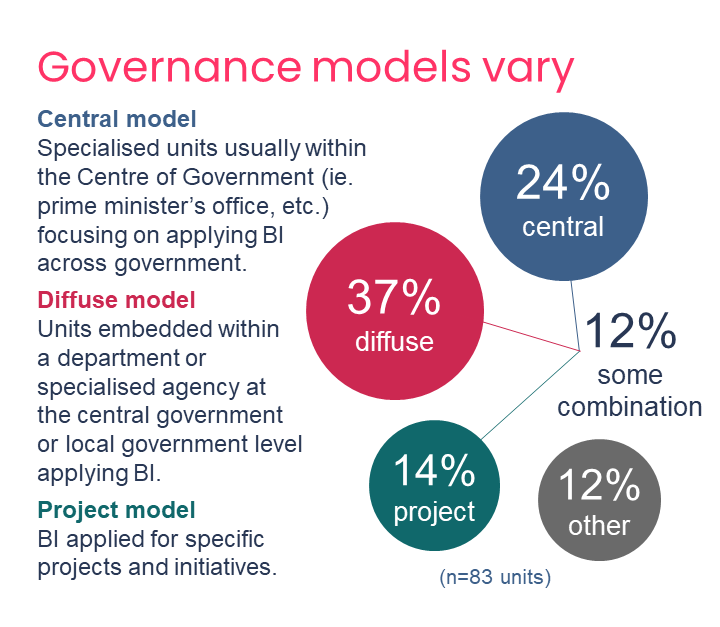 Despite this variance in how the work is organised, the data shows that the large majority of behavioural insights teams in government agree on the success factors of BI functions in government over time. Ninety-three units identified the following as the top seven success factors: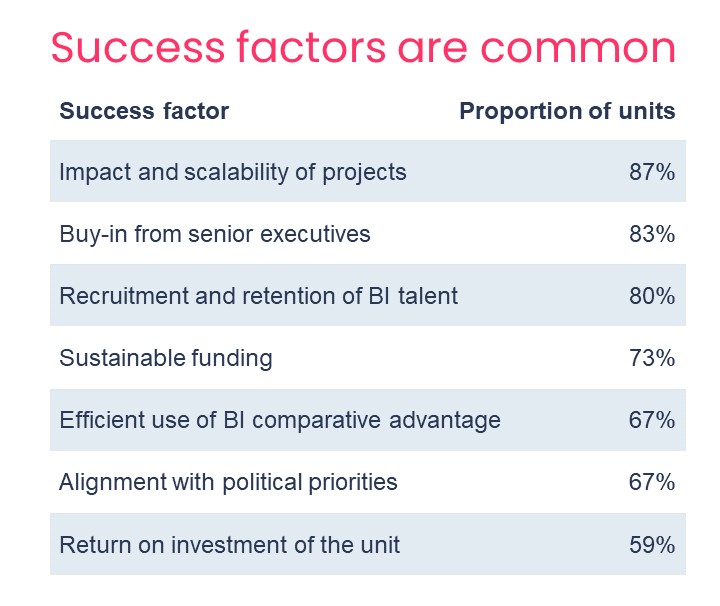 At the OECD, we are currently leveraging this and other data to identify good governance principles for behavioural insights functions in government. These principles will help government institutions decide if and how to establish new behavioural science functions to maximise the impact on their strategic goals. We also hope these principles will challenge and guide established practitioners to consider alternative ways of working.
In drafting these good practice principles, we will continue to work closely with our partners in governments around the world.
Interested in learning more? Get in touch with OECD Lead Behavioural Scientist, Chiara Varazzani: [email protected]