Create a new team or partnership
Contact other experts in this area
See how other governments are doing this work
Organisational Design toolkits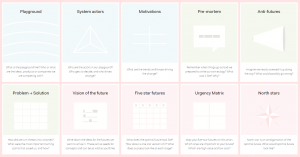 Nordkapp
This resource is a modular set of tools (10 methods in 3 phases) that can be run in various ways, from a general tool to discover and ideate futures into a premeditated, repeated and ever-focusing exercise to build a vision on one or more lines of work. The resource can also be used to bring transparency and alignment to any organization through repeated exercises. It consists of three types of tools: Worldbuilding, Predictive Analysis and the Optimal Futures. The authors also suggest a process that includes a Setting Up and Follow-up steps. The resource is tailored for group work. The publishers suggest using it in diverse groups around 6-10 people and run as round robin — meaning at the end of canvas, each group presents their findings briefly, and continues to work on the next canvas / topic. The publishers suggest that all parts can be executed over a long intensive day, or over several days session, one task each day. The website also includes facilitation tips for each phase. The resource is oriented toward private sector but could be adapted for use in a public sector context. The toolkit itself is free to download in exchange for your email.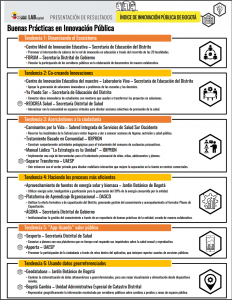 Veeduría Distrital de Bogotá (Colombia)-LABcapital
La Veeduria Distrital de Bogotá, por medio de su Laboratorio de Innovación Pública Distrital LABcapital, ha diseñado e implementado el primer Índice de Innovación Pública (IIP) para ciudades. El IIP fue diseñado en 2017 e implementado en noviembre de 2018 con 39 entidades públicas de Bogotá. Los resultados de la medición fueron socializados en julio de 2019.
Esa herramienta esta dividida en 4 componentes esenciales:
1. Capacidad Institucional
2. Procesos y prácticas
3. Resultados
4. Gestión del conocimiento
El IIP es una herramienta fundamental para analizar el estado de la Innovación Pública de una entidad gubernamental. Así mismo, es un instrumento que busca definir una hoja de ruta para mejorar las acciones que una entidad pública desarrolla para potencializar su innovación.
Dentro de la información compartida sobre el IIP se encuentran:
• Los resultados de la medición del IIP: En este documento se encuentra el desglose de los componentes, variables, indicadores y valores del Índice; la información general sobre las cifras de innovación pública de Bogotá; y la clasificación de las entidades públicas distritales según el nivel de Innovación. Al final del documento de plantean algunas conclusiones.
• Bases conceptuales del IIP: En este documento se menciona la bibliografía consultada para la creación del Índice, así como la descripción de cada uno de sus componentes. Al final del documento se propone una primera versión del IIP
• Infografía sobre el proceso, resultados y buenas practicas: Breve resumen del proceso de diseño del índice; información relevante sobre la Innovación Pública en Bogotá; así como relación de algunas buenas prácticas de innovación pública identificadas las cuales han sido diseñadas, prototipadas, validadas e implementadas.
El IIP es un insumo clave para funcionarios públicos, así como académicos que busquen la generación de nuevos y mejorados indicadores y herramientas de medición, que permitan generar una primera línea base sobre el estado de la innovación en entidades públicas.
Por último, el objetivo fundamental de esta herramienta es promover y fomentar la Innovación Pública. En este sentido, el IIP busca que las entidades gubernamentales, así como los servidores públicos que conforman estas entidades, puedan: diseñar e implementar productos y servicios públicos mas costo-eficientes; con mejor calidad para los ciudadanos ;que promuevan la participación ciudadana, la rendición de cuentas y la transparencia ;generando así mejores resultados en la gestión pública y en la calidad de vida de la ciudadanía.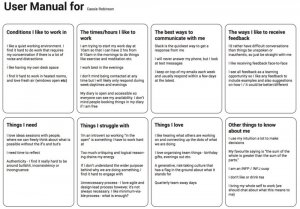 Cassie Robinson
A canvas for individual sharing about work preferences, meant for building good teams and working relationships. The publisher intends for this to be used for making preferences explicit but not for making demands. PDF and Adobe Illustrator file available.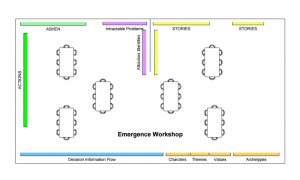 Sonja Blignaut
The author provides step-by-step guidance on how to conduct a short term strategic planning workshop based on knowledge management and contextualisation frameworks used by the private company Cognitive Edge. The publisher's suggests that it can be used to conduct pre-hypothesis research project to understand a complex problem. The outputs are comprehensive sets of cultural indicators, knowledge objects (comprising both codified and experiential knowledge artefacts), and large volumes of tangible suggestions to address complex issues. Another key objective of these processes is to increase the levels of interaction and dialogue between key stakeholders whether internal to an organisation or external, thereby establishing new social networks, or increasing the cohesiveness of existing social networks. Previous experience with the Cognitive Edge frameworks and methods is helpful when approaching this resource.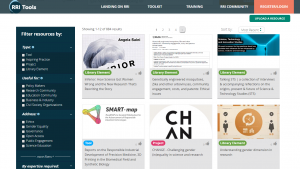 Responsible Research and Innovation
This online repository contains knowledge products, tools, inspiring practices, and projects to guide those interested in developing a research and innovation system that puts societal needs and desires at its center. The repository can be filtered by who it is useful for, topic, expertise required, related social challenge, category, and language.
The site also offers a self-reflection tool to assess your research and innovation practice on the basis of Ethics, Gender Equity, Governance, Open Access, Public Engagement, and Science Education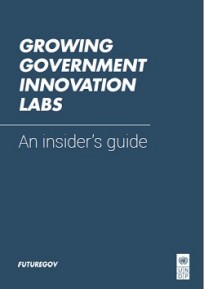 United Nations Development Programme
FutureGov
This resource gives the real story of how government innovation labs develop in the development context in Eurasia, Asia and Middle East: organic and people-driven, often operating under the radar until safe to emerge. It shares a truthful examination of the twists and turns of seeding, starting up and scaling labs, covering the challenges UNDP faced and their failures, as much as their successes. It includes in-depth histories and lessons regarding 4 UNDP innovation labs.
The resource is meant for those interested in how innovation lab creation might look different in an international development context compared to labs in more developed countries.