Often there a gap between the kinds of problems governments must address and their capacity to do so. By focusing on how the 'system' of government (its processes, methods and practices) can better work in concert, we can overcome silos, engage citizens and the right partners to address the cause of issues, not just their symptoms.
To promote 'system thinking' within government, we are developing a conceptual framework, with case studies and recommendations, to guide leaders and managers to adopt this approach to governance.
This work encourages governments to reflect on how the operation of their organisation and how its culture either supports or stifles innovation.
For this project, we produce research and, upon request, work directly with governments to analyse their system and its capacity to support innovation and conduct workshops to develop systems approaches to real-world policy problems.
To request systems analysis, workshop or advisory services for your government, send us an email.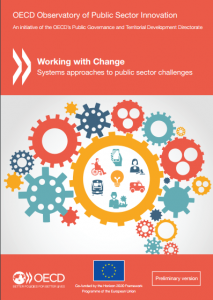 Our 2017 report is our flagship report on Systems approaches. Systems can be defined as elements joined together by dynamics that produce an effect, create a whole or influence other elements of a system. Changing the dynamics of a well-established and complex system is not easy. This requires not only a new way of examining problems but also bold decision making that fundamentally challenges public sector institutions.
Traditionally, public policy makers have addressed social problems through discrete interventions that are layered on top of one another. However, these may shift consequences from one part of the system to another, or address symptoms while ignoring causes.
Since the recognition of this complexity gap (the gap between the problems faced by institutions and their capacity to tackle them) systems thinking, and other systems approaches such as design thinking, have gained traction. Looking at the whole system rather than the parts allows one to focus on where change can have the greatest impact.
To read more about what we uncovered and to read the case studies, please check out the full report.