Announcement: #CallforInnovations at the Edge of Government

Note: The Call for Innovations deadline has been extended until 21 February 2020. Thank you so much to everyone who has already submitted an innovation! We apologise that we have had some technical difficulties with the submission process this year. We want to make sure everyone has a chance to submit a case, so we are happy to provide a bit more time.
The OECD Observatory of Public Sector Innovation (OPSI) and the UAE Mohammed Bin Rashid Centre for Government Innovation (MBRCGI) are excited to launch our fourth annual #CallforInnovations. Innovators from around the world are encouraged to submit innovative practices to fuel research on innovation trends and to inspire others to work in new and creative ways (see instructions in the box below).
This call is open to government officials, civil society organisations, and the private sector, as long as the goals are to improve government and citizen lives, and the public sector is integrally involved in the work.
As in previous years, several of these innovations will be featured in a high-profile OECD report, and several of the teams will be invited to Dubai to present their work to the global audience at the World Government Summit and its interactive Edge of Government experience. These cases benefit from:
Global visibility: Featured innovation initiatives are promoted to the 4,000 delegates to the Summit, over 10,000 readers of OECD's global trends reports, and thousands of visitors to the OPSI and Edge of Government websites. One team will win the UAE's prestigious Edge of Government Award.
Platform for scale: Based on the experiences of previously featured teams, initiatives receive enhanced attention and support at home, and new partnerships are formed that enable projects to scale and be duplicated in other countries.
Global movement: Featured innovations and their teams serve as leaders and examples of impact to inspire others and build global momentum for innovation.
The deadline for submissions is Sunday, 15 December 2019 21 February 2020. Submit your innovation today!
Selected innovations will be recognised at an event in Dubai
As in previous years, a number of teams will be invited to Dubai to present their work at the World Government Summit, the largest annual gathering in the world focused on shaping the future of governments through innovation. Taking place 22-25 November 2020, the Summit features sessions with world leaders and heads of industry. For 2019, the event brought together over 4,000 government officials, thinkers, policy makers, and industry experts from over 150 countries to discuss ways to harness innovation to address the challenges and opportunities faced by the world.
As part of the Summit, our partners at the MBRCGI hold the Edge of Government experience, a series of interactive exhibits that bring innovation to life. The teams invited to Dubai will work closely with the MBRCGI team and professional designers to transform their innovative projects into interactive exhibits to be displayed at the Edge. You can read more about the experiences of one of the selected teams for the 2019 Edge experience here, and two of the 2018 teams here.
One of the innovations featured at the Edge exhibit will be selected to receive the prestigious Edge of Government Award, which is fully managed by the MBRCGI and judged by their Innovation Council. The 2019 award was to Carrot Rewards by the Prime Minister of the UAE and the Secretary-General of the OECD.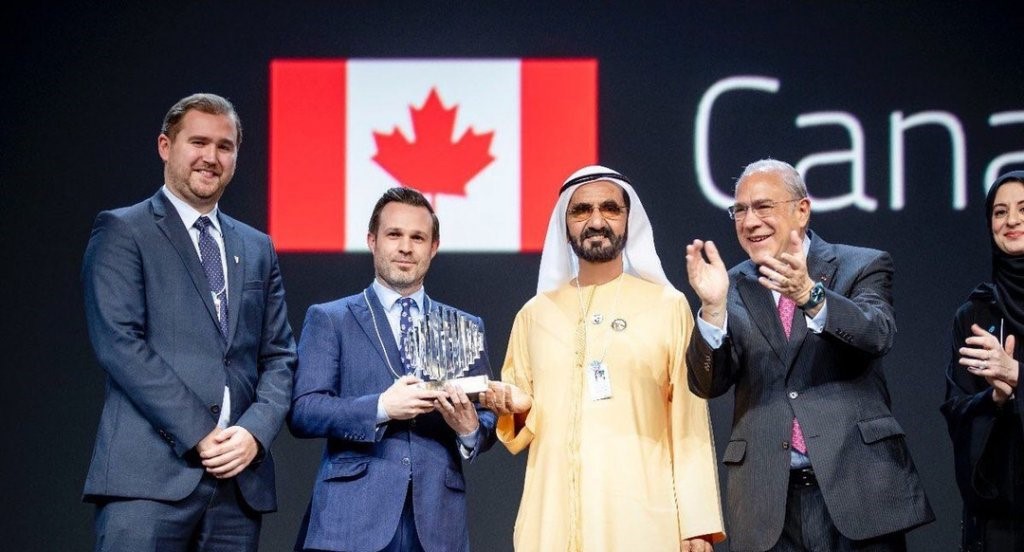 Check out YouTube videos on cases surfaced through the 2019 Call for Innovations and featured in OPSI's report and the Edge of Government.
The OECD will feature selected innovations in a published report
The OECD OPSI will also feature several selected innovations as in-depth case studies in our annual series of reports, Embracing Innovation in Government: Global Trends. In these reports, we surface key trends in public sector innovation and illustrate how government innovators are making it happen in real-world examples. You can check out our 2017-2019 reports below to see how your innovation could be presented. The global attention received after being featured in the report has helped many innovators in building additional support for their project.
While only a handful of innovations will make it to the report as full case studies (and many others includes as examples of best practices), others will also be recognised as international best practices in our Innovations Platform. The OPSI team will review all submitted innovations and add innovative cases to the platform to promote excellence and to help replicate innovation and inspire new thinking.
Have you worked on an innovative project we should know about? Or perhaps you know of one? Please let us know by registering and then completing our online submission form by 21 February 2020. Please direct any questions to [email protected] or @OPSIgov. We also encourage you join our newsletter to receive innovation updates.