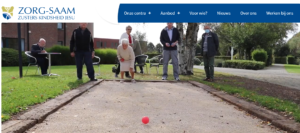 More than 80% of the residents in residential elderly care suffer from unwanted urine loss. This is why care staff check on them regularly, day and night. In order to minimize these disturbing and time-consuming incontinence rounds, the residential care organization Zorg-Saam set out to test new incontinence solutions equipped with sensor technologies that detect when bandages are saturated and alert care staff. With this innovation, supported by the The Programme for Innovation Procurement of the Government of Flanders, the care team can offer more comfort to residents, free staff from unnecessary handling, and reduce waste. After a short run-in period of 'trial and error', the smart solutions have proven to add value for both Zorg-Saam's residents and personnel: more comfort, less work. Moreover, they enabled incontinence policies to be tailored to each resident's needs.
Innovation Summary
Innovation Overview
More than 80% of the residents in residential elderly care suffer from unwanted urine loss. This is why care staff check on them regularly, day and night. In order to minimize these disturbing and time-consuming incontinence rounds, Zorg-Saam (a non-profit group of 15 residential care centres in Flanders) wanted to test new incontinence solutions, equipped with sensor technologies that detect when bandages are saturated and alert care staff. In this way Zorg-Saam wishes to offer more comfort to its residents, save its staff unnecessary handling, and reduce waste. The Programme for Innovation Procurement of the Government of Flanders supported Zorg-Saam financially and with innovation procurement.
First, Addestino Innovation Management was appointed to assist Zorg-Saam in preparing the procurement. This process (January-June 2020) included
A thorough needs analysis, identifying and prioritizing the needs of Zorg-Saam's staff, by means of workshops;
A prior open market consultation with potentially interested suppliers to examine to what extent they can provide solutions for Zorg-Saam, and how mature, risky, innovative, feasible (in terms of time, budget, development trajectory, etc.) and scalable these solutions are.
Confidential face-to-face interviews with suppliers to gain a better understanding of the available solutions, what they look like, how they should be handled and installed, etc.
The results of this preparation made clear that diverse types of 'smart nappies', matching partially the needs of Zorg-Saam, were already available on the market. Some of them had already been tested in limited settings, but uncertainties still remained about their actual performance and added value. It was therefore advisable to run parallel pilots. These pilots were also needed to make informed decisions later on as to whether or not the required infrastructural investments to integrate the 'smart nappy' into the existing call systems and care record are worth making. In order to come to an objective definition and evaluation of the pilots, Kunigi was appointed as a neutral evaluator (November 2020). Once the set-up of the pilots was clear, and an evaluation framework was defined, a call for participation in the pilots was launched towards the suppliers. Two were selected: Essity and Ontex. Each of them was given the opportunity to test its technologies and services successively for each eight weeks in two different residential care centres from Zorg-Saam, involving 15 residents suffering from incontinence per centre (2021-2022).
The ORIZON incontinence material from Ontex looks like an ordinary diaper, but it incorporates an ink sensor. In addition, the diaper is fitted with a clip that transmits data from the smart diaper. That clip connects to a software program which provides information, through a mobile app and web portal, and alerts staff. When the bandages are saturated, a notification arrives on the caregivers' screen. The Essity Smart Care solution uses two phases. First, using the TENA Identifi, equipped with a logger, the resident's urination pattern is charted over 72 hours. Once the pattern is known and fine-tuning is finished (adjustments of correlations according to assessment and resident expectations) the second phase starts with TENA Change Indicator. This is an electronic moisture indicator in the form of a reusable strip that is attached to the TENA bandage. It indicates in a user friendly way when the bandage is saturated and alerts staff.
After a short run-in period of 'trial and error', the smart solutions have proven to add value for both Zorg-Saam's residents and personnel: more comfort, less work. Moreover, they enable incontinence policies to be tailored to each resident's needs, and at the same time also reducing waste. Not only did the pilots provide useful insights for Zorg-Saam, but also for the suppliers concerned, and the whole industry. Pilots offer industry opportunities to further optimise products and services. As was the case in this project. For example, one of both suppliers just recently fine-tuned their prototype for the clip and put it into production. Also, the pilots led to useful suggestions for further development, such as stool detection, need to have all information available on one device; etc. The Incontinence 2.0 innovation trajectory turned into a very successful co-creation story, in which all involved partners, both public and private, intensely cooperated towards the same goal of increasing resident's comfort, and in doing so, succeeded in creating a win-win for each. The fact that this was accomplished in the midst of the Covid-19 pandemic, with several outbreaks, staff shortages, etc. makes this combined achievement only more impressive. Convinced of the added value, Zorg-Saam wishes to further explore the use of smart incontinence solutions in its care centres in the near future.
Innovation Description
What Makes Your Project Innovative?
With the help of the Programme for Innovation Procurement the innovation trajectory was managed quite differently from what Zorg-Saam was used to. First, the early engagement of Zorg-Saam's staff (defining needs) and early consultation of suppliers (checking solutions), prior to tendering, created a shared and joint drive from the start, as well as a smooth uptake and close cooperation afterwards. Second, using smart incontinence solutions was quite different from the regular bandages the staff was using before. It impacted their handling and daily routines, and made them question their work processes. It allowed them to further optimize the quality of their care and work. Third, appointing an impartial evaluator to define, monitor, and collect the results of the pilots, proved to be a key element. It would have been difficult for Zorg-Saam's staff to do this themselves, as they are primarily focused on offering high-qualitative care.
What is the current status of your innovation?
The 4 pilots (2 suppliers, each 8 weeks in 2 care centres, involving 15 residents per pilot) ran between September 2021 and July 2022. At the End of September 2022 Kunigi finalized its evaluation and discussed the results with all stakeholders involved. Feedback was passed on, key success factors were identified, and areas for improvement and future developments were suggested. The general insights and learnings are published on the PIP-website and were publicly presented on a press conference on 29 September 2022. The months to follow, Zorg-Saam and PIP will further disseminate all lessons learned through different channels and forums so that other potentially interested parties in the Flemish health and care sector, and even beyond, can benefit thereof. Focus hereby will be both on the innovation in itself and its added value, but also on the innovation trajectory and how it can inspire and be used by others to address the challenges they face.
Innovation Development
Collaborations & Partnerships
Zorg-Saam: identifying the needs and criteria for evaluation and provision of pilots (residents, staff, infrastructure, etc.)
Programme for Innovation Procurement: end-to-end advice and financial support with public procurement of innovative solutions
Addestino Innovation Management: needs assessment and open market consultation prior to tendering
Kunigi: design, set-up and neutral evaluation of pilots
Ontex and Essity: suppliers running smart incontinence pilots
Users, Stakeholders & Beneficiaries
Zorg-Saam's staff, management and residents prepared the procurement and pilots, tested the innovative solutions, adapted their handling, shared their feedback with the evaluator and suppliers, benefited from the solution and are willing to further explore potential next steps. Other residential care centres and hospitals in need of smart incontinence solutions benefited from the innovation, for inspiration or replication. Also, the pilots enabled Ontex and Essity to test their solutions in a real-life environment, capturing feedback and optimizing them accordingly.
Innovation Reflections
Results, Outcomes & Impacts
Generally speaking, the pilots proved to be a very positive experience for the care staff and the residents. All were disappointed the pilots could not be prolonged. The results and impacts were monitored systematically by a neutral evaluator (Kunigi) based on a prior definition of criteria. Kunigi was present on the floor, analysed the quantitative data generated by the smart solutions, and conducted interviews and surveys to capture feedback from the staff, management and suppliers.
After a run-in period the results demonstrated that the solutions lead to:
Less handling and thus more quality work from staff
Less unnecessary changing, and thus more sleep and comfort for residents
Less waste
Additional data allowing for a personalised and tailor-made incontinence policy
The exact reductions realised, are not publicly shared, as they are considered commercially sensitive.
Challenges and Failures
The covid 19 pandemic heavily impacted the elderly care sector in Flanders and delayed the project. However, fortunately there was a shared will to keep on going, as the project proved to become a true game changer, energizing the staff and alleviating their work. When introducing the smart solutions on the work floor, it was key for the suppliers to offer hands-on assistance in case of problems and train the staff in order to avoid handling mistakes that could cause malfunctioning of the devices. Their support was also important in convincing more critical staff of the added value of the solutions. In a certain period during the implementation of the solution, there were too many false positive alarms (> 25%) due to the absorbent material in the incontinence bandages. This caused frustration among the staff. Immediate action was taken by the supplier and the pilot was put on hold in order to allow for the production of new bandages with other absorbent material. Also, network problems caused irritation and required immediate action of the supplier.
Conditions for Success
An innovation-friendly management and culture in the organisation, in the form of a dedicated budget and personnel, was critical for exploring new bottom-up initiatives of employees. The additional advice and support, also financially, of the Programme for Innovation Procurement, was also an important factor as it lowered the risk of the innovation procurement trajectory and made it more feasible. In the end, the primary focus of Zorg-Saam is not to introduce innovations, but to offer high-qualitative care to its residents in the best possible circumstances. The project demonstrated how an intense co-creation trajectory between public and private partners can lead to a win-win for both sides and at the same time also create a big win for society as a whole, in this case as qualitative care of the elderly. This was only possible in a positive atmosphere of mutual trust, of overcoming each parties' self-interest, of creating a common language and a shared goal to succeed.
Replication
Zorg-Saam wishes to further explore the use of smart incontinence solutions in its care centres. First, Zorg-Saam wishes to expand to those care centres where the infrastructure is up-to-date and ready for smooth integration. Afterwards, it will examine whether the smart technologies can also be rolled out to its older facilities, and at what investment cost. During the innovation trajectory other residential care centres expressed their interest in the pilots, as they face identical challenges. Together with PIP and the suppliers, Zorg-Saam will proactively disseminate the results within Flanders and beyond. As the pilots have demonstrated, further testing of smart incontinence solutions in real working environments will be necessary to optimise both technology and service. Stool detection remains a big challenge, as does the integration with existing handling processes and care infrastructures. At the same time developers should continue to focus on usability.
Lessons Learned
At first Zorg-Saam believed its project would not be 'sufficiently innovative' to be selected within the Programme for Innovation Procurement (PIP), as some solutions were already available on the market, albeit with no tangible evidence of their actual performance in reality. From PIP's experience, it was clear that also so-called "incremental innovation" can be very challenging, risky and even 'disruptive' for its end-users. It requires more work, cooperation, coordination, resilience and flexibility, than one could have envisaged upfront. Input and feedback of end-users in each phase of the innovation trajectory are crucial for successful innovation. Their wishes and daily routines should be taken into account. When the same handling mistakes are made over and over again, even after several training sessions, adaptations to the design should be considered. The same goes for irritating features. Only by testing in a real-time environment do these types of issues come to the surface.
Anything Else?
Besides the added value it offers for its residents and staff, Zorg-Saam believes that using smart incontinence solutions can also make it easier to attract qualitative care personnel, a huge challenge in the care sector. This project is of great value for both the elderly care sector and the industry of smart care products and services as it allowed both to work together and make use of each other's knowledge and experience. This project also proves that technology has its place in future care but always with respect for the people using it. Making sure that the concerns and wishes of the actual end-users are heard and addressed during the whole trajectory is crucial to make the innovation successful in the long run. Innovative procurement is hereby a very valuable, but yet underused, instrument allowing to prioritize the end-users needs but at the same time match these with the innovation knowledge and capacity of the industry.
Level of Government:
Regional/State government
Status:
Diffusing Lessons - using what was learnt to inform other projects and understanding how the innovation can be applied in other ways
Date Published:
4 August 2023