Mission-oriented innovation has the potential to become one of the most significant vehicles for change in the coming decades.
What is mission-oriented innovation?
Mission-oriented innovation includes any new or improved technological, social and organisational solution (product, process or service) that aims to respond to one or several of the grand societal challenges (missions) and create public value to society (e.g., climate change, clean oceans, sustainable economic growth, future of work and automatisation etc.).
Supporting the development and diffusion of such innovations requires specific policy intervention.
A mission-oriented innovation policy is a co-ordinated package of policy and regulatory measures tailored specifically to mobilise innovation in order to address well-defined objectives related to a societal challenge, in a defined timeframe. These measures can span different stages of the innovation cycle from research to demonstration and market deployment, mix supply-push and demand-pull instruments, and cut across various policy fields, sectors and disciplines (OECD, 2021).
Mission-oriented innovation at the OECD OPSI
In short, mission-oriented innovation tackles complex challenges by taking a purpose-oriented market-shaping approach: the public sector takes an active role in convening and coordinating actors around complex, cross-sectoral issues that cannot be solved by individual actors alone. A measurable, ambitious and time-bound mission is derived from the challenge, for example, to become carbon-neutral by 2030. The challenge, however, is operationalising the ambitions associated with mission-oriented innovation in practice.
While there are various examples of mission being undertaken (e.g. the mission areas launched at the European Commission level), there is no established practice on what drives mission to success. Objectives, governance and funding mechanisms related to mission vary depending on the context. As a result, many teams and public sector organisations are struggling to make missions work in practice and are looking for guidance on the practical implementation of a mission-oriented approach, especially concerning the long-term governance of missions.
The OECD OPSI is currently conducting work to support national and local actors to build a workable mission-oriented innovation approach.
OECD Mission Action Lab
Has your country or organisation set and ambitious mission and now you would like support with innovating to achieve it?
What the Mission Action Lab provides
The OECD Mission Action Lab is a joint initiative from the OECD Observatory of Public Sector Innovation (OPSI), the OECD Directorate for Science, Technology and Innovation, and the OECD Development Co-operation Directorate.
The OECD Mission Action Lab sets out to identify and analyse governance practice, and package insights into advise to governments. This advice aims at supporting governments in defining, setting up and governing large-scale missions. The Mission Action Lab will identify, compare and analyse practices, develop in-depth knowledge and issue practical guidance addressing both science and technology concerns, and broader policymaking and governance issues around mission-oriented innovation.
The OECD Mission Action Lab aims to advance the knowledge, practice and experience on mission-oriented innovation and strengthen cross-sectoral and cross-disciplinary collaboration in countries. This work will be action-oriented and focus on tools and methods developed together with countries in concrete missions.
Who the Mission Action Lab targets
The insights and advice developed by the Missions Action Lab are mainly for government decision-makers who are considering a mission-oriented innovation approach or who are already implementing missions. The Mission Action Lab is seeking public sector innovators who are currently implementing missions to partner with the Lab team on action research, analysis and learning.
The Mission Action Lab is seeking :
Demonstration cases from those who are currently implementing or supporting missions and have activity planned in 2021/2022. Your case will be part of an inaugural cohort of case studies that will guide the development of insights generated and disseminated by OECD. You will receive advisory services from the OECD, be the first to test new tools, and be part of a peer learning network to learn and share lessons.
Funding to support or augment the activities of the Lab and/or to focus the Lab's action research in a specific country/region or on a specific mission (climate, circular economy, etc.) across multiple contexts.
Research partners who can contribute ideas, insights, and analysis to test the thinking and/or model of the Lab to advance the knowledge base and the practice of mission-oriented innovation.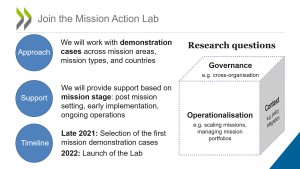 Resources and supporting materials