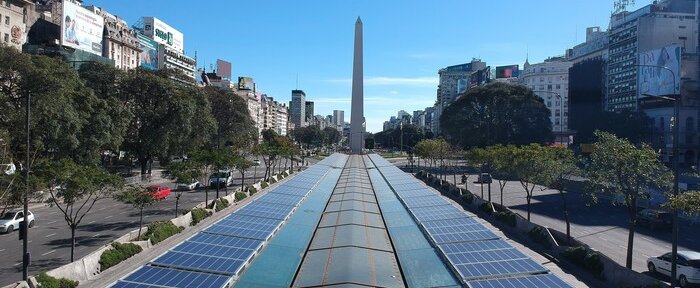 Solar Panels in the Streets of Buenos Aires
The Buenos Aires City Government launched Climate Action, an open data platform that brings together energy efficiency, sustainability and waste management policies to combat climate change in the city. The platform is based on transparency, co-creation, collaboration, citizen participation, accountability and innovation. BA Climate Action was co-created with civil society organizations, environmental experts and citizens.
Innovation Summary
Innovation Overview
All over the world, we are already witnessing the impacts of climate change. From the increase in temperatures on the land, sea and the Arctic, to floods that generate massive displacement of the population and droughts that destroy crops, climate action is an urgent call to national and local governments. Although cities only take 3% of the global surface, they consume 80% of the energy and emit around 70% of greenhouse gases. Local action plans are essential to developing climate policies that help create more resilient, inclusive and sustainable cities. Yet equally important is how other stakeholders are involved and the access they have to governmental information.
In this context, in 2020, the Buenos Aires City Government launched BA Climate Action: an online platform that opens information on environmental management in clean energy, sustainable mobility, and comprehensive waste management, among other indicators of climate change. In this way, it fosters public dialogue and contributes to raising awareness of the urgent nature of climate change. In addition, it gathers activation and participation actions so that citizens, civil society organizations, the private sector, and academia add their contribution to make Buenos Aires a carbon-neutral, resilient, sustainable, and inclusive city by 2050.
This site was the first site co-created with more than 600 citizens, experts, and civil society organizations. Through multiple instances of dialogue and participation, a process of opening and visualization of more than 30 data sets was designed, such as the location of green points in the city or aerial photos that locate the solar roofs.
BA Climate Action's main objectives are:
Creation of a platform that combines the opening of environmental public information, accountability of government actions and civic activation,
Collaborate with the democratization of information regarding climate change and accountability on government actions to reduce carbon emissions,
Achieve the participation of citizens through concrete actions in the process of cultural change to mitigate the risks of climate change.
Buenos Aires is the first city in the world to link the open government and climate agendas to involve citizens in climate action while being accountable for the actions and commitments taken to be a carbon-neutral, resilient and inclusive city by 2050. Tackling climate change necessarily demands collaboration, cooperation and accountability for sustainability. Following an open government strategy strengthens democratic systems, promotes transparency and accountability of public policies, increases the levels of trust of citizens in public institutions, encourages participation and collective intelligence, strengthens civic commitment and improves the quality, effectiveness and efficiency of governments and their administrative apparatus.
With a solid base on opening information on Buenos Aires 2050 Climate Action Plan, BA Climate action allows the City Government to continue expanding the accessibility of information and developing new tools for evidence-based decision-making. Such is the case of green jobs indicators that, following the International Labour Organization's methodology, measure where the city stands on green employment, highlight the opportunities to boost green jobs through a collaborative process, and build bridges with the private sector.
Innovation Description
What Makes Your Project Innovative?
Buenos Aires City is the first city in the world to implement a project of this nature, making it a new and innovative experience globally. On the other hand, the co-creation process is undoubtedly a factor that gives the initiative an innovative character, having allowed the government to generate a platform adapted to the specific needs of citizens, experts and civil society organizations, reported by the beneficiaries themselves. Its information is accessible, easy to read, and relevant. The co-creation of BA Climate Action has enriched it both in the distribution of information, visual resources, strategies aimed at citizens so that they are also part of climate action, deepening of the available information, among others, thus being able to bring citizens a platform that adjusts to their needs.
What is the current status of your innovation?
BA Climate Action was implemented in 2020 and published environmental indicators, GHG inventory, 30 environmental-related data sets, civic activation and civil society initiatives. In 2021, to allow citizen monitoring, it published an interactive version of the Buenos Aires 2050 Climate Action Plan which gathers the initiatives to reduce the emission of greenhouse gases and be a carbon-neutral, resilient, and inclusive city by 2050. In addition, The Plan includes a commitment to reduce more than 50% of emissions by 2030.
This is a tool that allows you to visualize and explore the climate goals in detail and keep track of the progress of each one. In addition, it adds graphics, project details, and milestones for each of the 24 goals. In this way, it facilitates how citizens can explore climate goals, promoting inclusion in climate action. In 2023, it will incorporate new features regarding green employment indicators.
Innovation Development
Collaborations & Partnerships
For the development of BA Climate Action together with the Government of the City of Buenos Aires, the Development Bank of Latin America (CAF) was involved as a collaborator, and strategic actors from Buenos Aires participated as co-creators, such as environmental organizations from the civil society, experts on climate change and residents of the city.
Users, Stakeholders & Beneficiaries
The general population and stakeholders benefit directly from the BA Climate Action initiative with the more than 3 million citizens of the City of Buenos Aires, with special emphasis on those residents, members of organizations, and experts who worked as part of the co-creation of the platform, which allowed it to be targeted to a specific audience. In turn, it benefits researchers, academics and journalists who wish to collect the information on the site to re-use in their projects.
Innovation Reflections
Results, Outcomes & Impacts
As the first result of the initiative, BA Climate Action has received a total of 87,600 unique and organic visits since its implementation. On the other hand, it paved the way for the City Government to develop new Open Government policies such as green employment indicators in order to identify urban environmental activities (urban gardens, urban waste recycling, ecodesign, etc) that could source environmental jobs, identify companies whose traditionally non-environmental activities could transition towards more sustainable forms of production. Thus, this process seeks to learn about opportunities for the creation of new green jobs, existing training needs, public promotion policies, experiences, good practices and lessons learned in the matter.
Challenges and Failures
The challenges that arose were the coordination between a great variety of actors and achieving a truly collaborative work that would allow creating a platform with comprehensive and easy-to-understand data, aimed at citizens, experts, public servants and civil society.
To solve this, work was done on a comprehensive strategy on climate change in charge of a strategic roundtable led by the General Secretariat and International Relations together with the Environment Secretariat by organizing follow-up meetings with the Chief of Cabinet of Ministers every 45 days. On the other hand, numerous work groups were held so that all the information presented by the different government departments was standardized and could in turn be presented coherently on BA Climate Action.
Conditions for Success
First of all, effective intra-governmental coordination is essential to achieve data standardization. Second, the fact that the platform is generated through co-creation processes is a factor that influences its success, since by having the vision of the recipients themselves, it can be tailor-made to effectively meet the needs of citizens. Lastly, the interviews with experts also favored the final result by also providing a professionalized vision of the central theme of the platform, climate change.
Replication
The platform is made up of 30 sets of open data and public information linked to climate action, which are associated with the demands collected from the various actors that have participated in the collaborative processes. It is precisely these 30 sets of open data that allow for promoting citizen monitoring and its reuse for the generation of public value and evidence-based public-private decision-making.
Likewise, the methodology applied during the process has been thoroughly documented and can be replicated and adapted by any government according to local characteristics and needs.
Lessons Learned
By working jointly with other actors, as a government, it is possible to respond to their demands for information and citizen activation and make available data that serves as input to nurture the open data agenda in the future. In turn, to improve dialogue with citizens, it is necessary for the government to open permanent channels of communication with the users of the platform in order to identify their needs and requirements, while the web grows and is reformed as the city, thus allowing constant transparency and accountability, favoring citizens' trust in public institutions and making them part of climate action.
Supporting Videos
Level of Government:
Local government
Status:
Implementation - making the innovation happen
Date Published:
13 February 2023