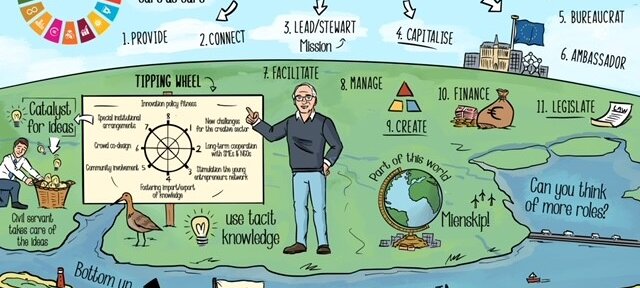 Together with partners from 5 other European countries, the Province of Fryslân developed an innovation model (so-called Tipping Approach) to catalyse and stimulate bottom-up innovations and harness ideas from local stakeholders. Complementing this, a governance model is being developed to provide civil servants with tools to implement these innovations in the social process in a simple and user-friendly way.
Innovation Summary
Innovation Overview
Communities all over the world face major challenges in the coming decades. Urgent attempts are needed to achieve the UN Sustainable Development Goals (SDGs) and the EU grand societal challenges (GSCs), including a Circular Economy (CE). Systems, regions and people must build up resilience and be able to anticipate shocks and disasters. Starting from a regional perspective, the FREIIA‐project will stimulate joint initiatives and leadership of local communities and their municipalities, with co‐involvement of all partners from the Quintuple Helix, to give a highly impactful boost to the development and acceleration of the local/regional CE.
Innovations are central to the EUGSCs. Innovation policy, nowadays modernized and comprehensively expressed as 'mission‐oriented, multilevel innovation governance', is increasingly focused on sustainability transitions, i.e. the change towards a more sustainable and inclusive society. In the innovation literature however, governance of innovation models predominantly focus on fundamental R&D and high-tech solutions. These models tend to be top‐down and academic-oriented, with limited understanding of (the practice‐based 'secrets' of) bottom‐up initiatives, joint community leadership and co‐involvement from the local/regional perspective. They begin with new technology development rather than an applied and social approach. The FREIIA‐ project, however, starts from the belief that existing governance of innovation models, in view of substantially contributing to grand transitions, have limited value and are hardly applicable or effective in the many European regions outside city and industry conglomerates.
In addition, the grand transitions require input and availability of easy‐to‐apply new skills and bottom‐up governance models for strategic innovation action planning, with a leading role for skilled local/regional government and community-based "transitioners." Therefore, the objective of the FREIIA‐project is to create skills, resources, competences, capabilities, and structures that support the public sector in becoming effective and successful in transformative policies and in building resilience, with a focus on the GSCs/ SDGs. In this way, FREIIA develops a necessary design-thinking and practice‐oriented governance framework, considering easy application and fast diffusion in and beyond regional European areas: the Governance of Innovation Intervention Learning Model.
This model will be developed by partners from 6 EU countries and, within these countries, includes partners from the so-called quintuple helix. The partners from the European countries are mainly islands because they have a track record of sparking innovation and have shown to be excellent breeding grounds for new ways of problem solving. Just like migratory birds, people visit the islands, come and go, bring ideas, share insights, capture learnings, and explore creative ways to make the system more resilient.
Innovation Description
What Makes Your Project Innovative?
We aim to achieve synergy in the four areas of:
Shaping a bottom-up approach within the context of top-down EU's GSCs;
Connecting government's different levels (multi-level governance);
Connecting the Quintuple Helix's different actors (multi-actor); and
Learning from perspectives in EU countries by taking advantage of the diversity of approaches and incorporating cultural differences.
We will do this in the context of a Mission-based approach (Blue Delta).
The project addresses a challenge that is common to local and regional actors in the EU: the need to reform innovation governance. It argues that it is necessary to develop a bottom-up governance model for strategic innovation action planning. It is grounded upon on design-thinking methodologies and the involvement of the quintuple helix actors, meanwhile clearly considering the role of local and regional governments as innovation transitioners.
What is the current status of your innovation?
The FREIIA project was approved by the EU in September 2022. Prior to this project, we implemented another FREIIA project, Islands of Innovation. In this project, we developed the so-called Tipping Approach and often ran into government bodies, which lacked the tools to implement the valuable ideas generated by local stakeholders (innovation policy readiness). Relevant authorities often have too narrow of a view on the role of governments in innovation processes. This can lead to disappointment and sometimes frustration amongst local participants. Organising bottom-up processes requires a (pro-)active role of the participating authorities for which additional skills need to be built.
Innovation Development
Collaborations & Partnerships
In the project, all parties from the so-called quintuple helix work together. Both at local, regional and international level. The regional government is at the core of the model by engaging all parties from quintuple helix (citizens, tourists, civiel society organisations and companies; multi-actor) and all levels of government (EU, national, regional and local; multilevel governance).
Users, Stakeholders & Beneficiaries
This project, we aim to catalyse & stimulate innovative bottom-up processes. Tools will be developed for public authorities that will strengthen the implementation of stakeholder ideas. The aim is increase the chances of successful implementation and strengthen the necessary cooperation between parties. Turning ideas into actual realised projects benefits governance and the local innovation ecosystem, while simultaneously improving and strengthening the self-confidence of participating parties.
Innovation Reflections
Results, Outcomes & Impacts
The outputs of the FREIIA‐project are multifold. The main results will be:
a new Governance of Innovation Intervention Learning Model for a creative, easy, and thus efficient adoption of the EU's GSCs, in particular the Circular Economy, as well as the potential of a self‐sustaining recurrent innovation process;
10 Strategic Innovation Action Plans with follow‐up programs and projects ready for take‐off;
digital learning materials to promote the outcomes efficiently amongst a large European group of local community and municipality leaders and their quintuple helix partners;
a pioneering cohort of first applicants of the FREIIA approach and
the exploration & deepening of crucial scientific questions on and challenges in sustainable transitions, amongst others aimed at local governance of sustainable innovation, community‐municipality cooperation models, the role of critical friends and young professionals, and students' design and entrepreneurship (4PhD dissertations).
Challenges and Failures
A mission-driven approach requires a different attitude and role of governments. An active role is fostered by governments, which is a paradigm shift from the currently common role of governments facilitating the market and ensuring a level playing field. This made it particularly difficult to engage government parties in FREIIA, which was often met with resistance and pull towards the status quo i.e. "business (governance) as ususal".
Conditions for Success
A mission-driven approach requires a different attitude and role of governments. An active role is fostered by governments, which is a paradigm shift from the currently common role of governments facilitating the market and ensuring a level playing field. This made it particularly difficult to engage government parties in FREIIA, which was often met with resistance and pull towards the status quo i.e. "business (governance) as ususal".
A pre-condition is: soul in the game. That means participation is limited to participants who are intrinsically motivated to take the process (one) step(s) further.
Participation of representatives of local and regional governmental bodies is key.
Replication
The approach was launched to the global network at the Virtual Island Summit (Sept. 2022) afterwards which 100+ new participants registered to participate in a beta cohort of one of the previously developed governance tools.
Lessons Learned
As indicated earlier, the FREIIA project was preceded by the Islands of Innovation project. During the lifetime of the latter project, the so-called Tipping Approach was developed. This method has been used in several countries. The experiences have been very positive. A lot of enthusiasm and the input of a lot of bottom-up ideas. The enthusiasm threatens to be dampened if governments do not proceed with the implementation of the ideas generated in local contexts by the TIPPING Approach. An active government is a pre-condition. The will is usually there, however, participants lack the necessary implementation tools, which is what FREIIA intends to provide.
Anything Else?
The FREIIA project provides a model to catalyse and stimulate the process of implementing societal innovations. It brings forward the need for cooperation between governments (multi-level) and between parties from quintuple helix (multi-actor) and is applied to ideas relevant to the SDGs and EU Grand Challenges. In other words, it is an approach that fully meets Joseph Schumpeter's definition of innovation: doing things differently. With emphasis on doing and differently.
Level of Government:
Regional/State government
Status:
Identifying or Discovering Problems or Opportunities - learning where and how an innovative response is needed
Generating Ideas or Designing Solutions - finding and filtering ideas to respond to the problem or opportunity
Date Published:
26 January 2023