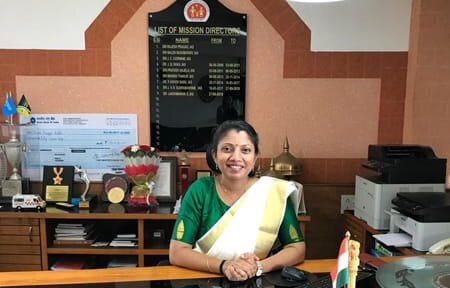 Project Sampoorna, successfully implemented in Bongaigaon district of Assam, is a model that can be easily implemented anywhere in reducing child malnutrition. This project has resulted in reduction of malnutrition in children by 95.6 % within 1 year in Bongaigaon district using very less economic investment. It is an initiative for tackling SAM and MAM by using Weight for Height growth chart & Empowering Mothers by employing Buddy Mother concept along with community participation.
Innovation Summary
Innovation Overview
A malnourished child growing into an unhealthy adolescent, and then further growing into an anemic pregnant young woman who will give birth to an asphyxiated low birth weight baby. This baby then facing possible developmental delays, grows into a malnourished child and this child will further struggle for nutrition. In order to break this vicious cycle, the main thing to be targeted is children's nutrition. Bongaigaon district in Assam had a total of 2,416 malnourished children; 246 cases of Severe Acute Malnutrition (SAM) and 2,170 instances of Moderate Acute Malnutrition (MAM) in September 2020.
Project Sampoorna was launched targeting the mothers of SAM/MAM children, the tagline being 'Empowered Mothers, Healthy Children'. The mother of a healthy child of the same Anganwadi Centre (AWC) was identified and paired with the target mother, that is the mother of SAM/MAM children; they would be called 'Buddy Mothers' (2,416 pairs). They were usually neighbors and shared similar socio-economic backgrounds. The pairs were given diet charts to indicate the daily food intake of their children. Buddy mothers would have discussions about this on all Tuesdays at the AWC. The local practices related to nutrition would also be discussed.
Active intervention under Project Sampoorna was done only for first 3 months by providing protein rich food in the form of 100 milliliters of milk and an egg on alternate days was arranged for all 2,416 malnourished children giving time for their mothers to stabilize themselves in their newly found jobs. The mothers who became financially independent by end of 3 months through the Self Help Groups continued to provide nutritious & protein rich food to their children, thereby making 95.6% of children totally healthy at the end of one year, making Project Sampoorna a grand success. The project has further yielded encouraging results and by March 2021, 84.96% of SAM children and 97.3% MAM children were normal.
The Objectives of the project:
Accurate Identification & Reduction of Malnutrition among children.
Sustain the result by education & economic empowerment of the mothers of the children.
Community Management of malnutrition & reduction of hospitalization.
Breaking the vicious cycle of malnutrition & ill health.
Decentralized 4- tiered model of implementation along with community participation at the grass-root level.
Implementation Strategy:
Identification of all Malnourished children of the district- Assessment of Nutrition level of children using Simplified WHO Growth Chart by Anganwadi centers which helped in identifying & comparing malnourished children (SAM/MAM).
Replace weight by age growth chart by Simplified WHO Growth Chart in Angadwadis.
Buddy Mother Concept-The mother of a healthy child becomes the buddy mother of a malnourished child of the same Anganwadi center and they meet on weekly basis and discuss about various practices related to nutrition.
Community Participation.
Regular Follow up-A Dietary chart was given to each mother of SAM/MAM child to follow regularly and the same was monitored daily by Anganwadi Workers (AWWs).
Providing Protein Supplement (Eggs & Milk) for 3 months- Supplements provided till the mothers become economically empowered by being a part of the self help groups. After 3 months , since they were financially stable by then and educated about nutrition through Project Sampoorna.
Education of the mothers regarding nutrition- Pre and Post Questionnaires to assess the relevant knowledge of the buddy pairs. Based on the assessment,
training was imparted on the basics of nutrition and indigenous food practices.
Economic empowerment of the Mother- The project facilitated economic empowerment of the mothers of SAM & MAM children by inclusion in Self Help Group under National Rural Livelihood Mission
Innovation Description
What Makes Your Project Innovative?
Project Sampoorna is an innovative governance. Malnutrition is a major problem and even after application of various strategies it still remains a major problem everywhere. Project Sampoorna employs a decentralized, technology-based model using community participation and women empowerment as the positive deviance factor for achieving result. Project Sampoorna has prevented a lot of children from becoming malnourished over the last year. The National Nutrition Mission and the State government and Indian government has recognized this project in the 'Innovation Category'. This model can be easily implemented anywhere in the world.
What is the current status of your innovation?
As of this date of submission in 2022, the project has already completed its implementation in Bongaigaon District of Assam and after initial evaluation it has shown reduction of malnutrition. Further long term evaluation is going on by compiling data from surveys. After the huge success of this project in Bongaigaon District, it is being implemented in the whole state of Assam after the lessons learned from the project.
Innovation Development
Collaborations & Partnerships
The Project was supported by IIT Guwahati, Centre for Public Policy & Governance (CPPG), Tezpur University, UNICEF and together this project was made possible.
Users, Stakeholders & Beneficiaries
The malnourished children were benefited by this project and mothers of SAM and MAM children were economically empowered by inclusion in Self Help Group under National Rural Livelihood Mission. The economic and health burden of the Government was also reduced both for present and future.
Innovation Reflections
Results, Outcomes & Impacts
A Marvelous achievement is that only 1178 children were newly identified to be malnourished in Sep 2021 as compared to 2416 in Sep 2020 and 2628 in Sep 2019 in Bongaigaon District. This is attributed to Project Sampoorna. It further dropped to 327 by Dec'21 & 191 (reduced by 92.7%) by Jan'22. 2416 malnourished children were identified in Bongaigaon in Sep- 2020 using simplified WHO growth Chart. Of these 246 malnourished children identified were SAM and 2170 were MAM. 2416 pairs of Buddy Mothers were created. Huge public participation of 69,828 people were directly involved in Sampoorna.
Challenges and Failures
The major challenges to the project was patriarchy. So the mothers had to be empowered financially to get sustained results. One of the response strategies against these problems was to enroll the mothers in Self Help Groups (SHGs) under the National Rural Livelihoods Mission (NRLM). And by the end of 3 months, 74.3% of mothers were enrolled in SHGs and by the end of a year, it was 90%.
Conditions for Success
Support from senior management to implement the project has been crucial. Access to both human and financial resources has been helpful. Willingness of the community regarding the acceptance of this project has also allowed the success of this project.
Replication
The project was initially tried on pilot basis in Dangtol Block of Bongaigaon district, and later it was implemented and replicated successfully in the rest of the district after doing necessary course correction and consultation with others. This shows that the project can be replicated. Project Sampoorna is the singular kind of project in India which ensured reduction in malnutrition by employment of mothers without any financial implication. It can easily be replicated anywhere in India and other similar countries.
Lessons Learned
This project gave us an idea on one of the ways to reduce malnutrition. Working this way, by creating Buddy Mothers has worked wonderfully. The entire project has scalability to involve bigger areas like countries.
Supporting Videos
Status:
Evaluation - understanding whether the innovative initiative has delivered what was needed
Diffusing Lessons - using what was learnt to inform other projects and understanding how the innovation can be applied in other ways
Date Published:
24 January 2023