Exploring and Developing Public Sector Innovation Skills
To reform the public sector so that it can deliver better value to citizens, public servants need the skills, motivation and opportunity to innovate. We need to unlock ways of embedding innovation capacity and capability, at scale. OPSI's skill work helps define innovation and how those skills can be built within individuals, leaders, and organisations.
Offerings
OPSI performs a series of projects which include:
Workshops: OPSI conducts innovation workshops around the world to help leaders and organisations tackle specific problems, understand public sector innovation, innovation's impact on how the public sector works, and mapping out a strategic path forward. Workshops are hands-on and combine OPSI's knowledge of public sector innovation with participants' context. Workshops can range from half-day to multi-day depending on complexity. They can also serve as an introduction to public sector innovation; solve specific problems, or anything in between.
Innovation Skills Review: Together with OECD's Public Employment team, OPSI conducts Innovation Skills Reviews of countries. The review studies the innovation-related skills and capabilities of the public service and identifies ways to support and improve them. It is guided by the 6 core skills for public sector innovation and looks at the abilities, motivations, and opportunities in the public sector to contribute to innovation. Additionally, the report provides a series of recommendations for how to improve the innovation skills of the public sector. The first Innovation Skills Review was conducting in 2017.
Webinars: OPSI hosts monthly webinars that cover a wide variety of subjects like the Innovation Lifecycle, Innovation Skills, and various other subjects. The goal of the webinars is to help develop the knowledge and skills of current and future innovation practitioners. To hear about upcoming webinars, sign up for our newsletter (link).
Ad hoc: OPSI is working with various countries on other projects such as training trainers on public sector innovation, organisational transformation projects, and longer workshop engagements for more complex subjects.
To request an in-country strategy session or guidance, send us an email.
Research
Public sector innovation skills, implementation of those skills, and how those skills and mind-sets interact with organisational culture and leadership is an emerging research area. OPSI strives to be at the forefront of this field by conducting original research that helps improve the development of innovation skills in the public sector.
Access the latest research here.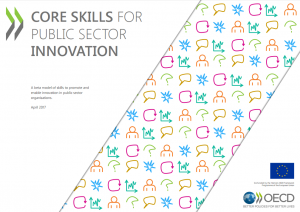 Our 2017 report Core Skills for Public Sector Innovation is a beta model of skills to promote and enable innovation in public sector organisations.
To meet today's public policy challenges – continued fiscal pressures, rising public expectations, more complex public policy issues – there is a crucial need to increase the level of innovation in the public sector. There is a fundamental need to increase the level of innovation within the public sector of OECD countries and EU states if they are to meet the challenges of the 21st century, a need which has only been increased by the fiscal pressures placed on many states by the 2008-9 crisis.
Preliminary data from the OECD's 2016 survey of Strategic Human Resource Management practices in government (the SHRM Survey) indicates that innovation is among the highest priorities for HR reform across OECD countries. In 28 countries public sector innovation features in government-wide strategic objectives, many are developing learning and training programs for civil servants and civil service leaders, and almost half of responding countries include innovation-related concepts in their competency frameworks.
To read more about what we uncovered and to read the case studies, please check out the full report.